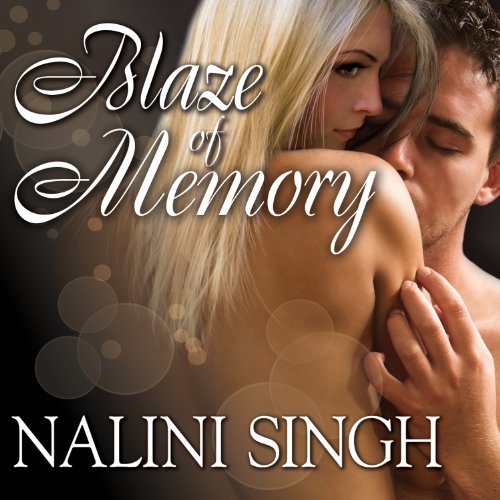 Blaze of Memory
by
Nalini Singh
Narrator:
Angela Dawe
Series:
Psy-Changeling #7
Published by
Tantor Audio
on August 30, 2011
Genres:
Paranormal Romance
Length:
11 hours, 26 minutes
Format:
Audiobook
Source:
Library
Goodreads
Amazon
, 
Audible
, 
Libro.fm
, 
Barnes & Noble
, 
Apple




A woman without a past becomes the pawn of the man who controls her future...

Dev Santos discovers her unconscious and battered, with no memory of who she is. All she knows is that she's dangerous. Charged with protecting his people's most vulnerable secrets, Dev is duty-bound to eliminate all threats. It's a task he's never hesitated to complete...until he finds himself drawn to a woman who might prove to be the enemy's most insidious weapon yet.

Stripped of her memories by a shadowy oppressor and programmed to carry out cold-blooded murder, Katya Haas is fighting desperately for her sanity. Her only hope is Dev. But how can she expect to gain the trust of a man who could very well be her next target? For in this game, one must die...
On we go into the latest book in the Psy-Changeling Read-along event and my re-listen of the series. I've enjoyed delving back into the world and brushing up my memories of the earlier events in the series. I love the series so much that I'm not particular what racial combo we're going to get with each book's romance or action plot focus. However, I admit to being intrigued by getting a Forgotten/Psy story since they were once one race in identity and took separate philosophical stances on Silence. Dev Santos was first encountered in Clay and Tally's book and he, along with the existence of The Forgotten intrigued me. I was glad to get his story.
Dev is a Forgotten- a mixed race descendant of the Psy who chose not to accept Silence, but live free. He is the director of Shine an organization who looks out for the Forgotten both helping those who are lost in the system or thought to be human and help their families. New psychic gifts are emerging with the Forgotten due to their mixed blood and environment outside the rigid Psy protocol of Silence.  After the horrific loss in his childhood, military service, and the emergence of his psychic gift, he grows more cold and driven so that he will do anything even hold a mystery woman captive to protect his people.
Once a Psy scientist and fellow researcher with Ashaya Layne, heroine from Hostage to Pleasure, Katya is a broken blank slate- or so she thought. As she heals under the mistrustful watchful care of Dev, she begins remembering and figuring out her life and her past. She's a ticking time bomb and knows she has been broken and rebuilt for one purpose. But she will not give in.  She learned secrets during her time of torture and Ming's conditioning and she will do whatever she can to investigate the truth being hidden by the Council. There is freedom for the first time to do what she can with the time she has. And being with Dev, who makes her feel and love for the first time, is something she will treasure always even if he must put her down in the end.
Blaze of Memory went by quickly and I reluctantly paused the audio when I had to. It went a different direction than the earlier books because it had to introduce the Forgotten into the world of the series and fit them in with the storyline. It felt like a transition book and much of it is moving pieces around on the chess board quietly with no big strong action or suspense moments though there was this certain lab visit that creeped me completely out. It is not boring, but this second go around had me feeling a few lagging moments and wanting something more to happen which it did by the end. The romance was an enemies to lovers, though the attraction was there from the get go.  I had a few moments when I wanted to thump Dev for blowing hot and cold, but in the end I was feeling pretty emotional about them as a pair when things got desperate.
The rise of the Psy Arrows group and what is going on with them and the dark areas of the Psy Net and what happens as that deteriorates really stretches the suspense taunt as I anticipate future books.  I love this mixed race group, The Forgotten, and the rise of more going on within the Psy factions.  Ming needs to die, just had to slip that in here. The author truly has a gift for expanding and detailing out her world while also delivering strong character and action plots.
Can't wait for the next installment in the series and hope to see more of the broadening cast of characters.
Narration:
Angela Dawe continues to amaze as she brings the Psy-Changeling world to vivid life.  She manages to inflect the Psy with the cold of Silence while still giving them personality and shows the distinction between the races and the growing cast of characters.
Listen to a clip: HERE
---
Games:
Who said (enter the answer in the Rafflecopter, don't put in the comments)
"Here's a tip — don't snarl at women. It makes them mad."
There are other options in the rafflecopter for you to enter discussion questions and quotes to share.
The quote for Who said "Wait a second." She looked down then back up. "Nope, I haven't grown a cock in the last few minutes. I have no need to prove whose is bigger." in Branded by Fire was Mercy.
The villain was Human Alliance.
---
Share your review/ thoughts on Blaze of Memory:
I thought it might be fun to link up reviews so we can find them all easily.  It can be a link to Goodreads or a blog, or wherever you have a review (short or long).
Mister Linky's Magical Widgets — Easy-Linky widget will appear right here!
This preview will disappear when the widget is displayed on your site.
If this widget does not appear,
click here
to display it.
---
Observations and questions you shared from Branded by Fire:
(Thank you  so much for sharing!)
I wonder if the Psy in both packs will be better connected now. Can they cross the invisible barrier between packs?
I love the glimpses we get of Mercy's brothers and her mom and dad, too.
Mercy is strong, and dominant.
 What species will the children of Sacha and Lucas be? Will they have characteristics of one or both parents?
How will the new Psy – Changeling net work out?  How much mental connection will there be with Changelings?
---
Quotes you readers shared from Branded by Fire:
(Thank you for sharing!)
"Sascha decided she liked cooking. It didn't like her back."
"Be gentle with him, Mercy. He's got a heart as big as Texas—he'll die for you without blinking. But he doesn't expect anyone to do the same for him." – Andrew
"Do you want to claw at me, kitty-cat?"
"Sorry, I don't beat defenseless puppies."
---
Here's your to-do list:
Find your copies of these books, borrow them from a friend, get them at the library or buy them.
 Read the novella 7.5 Christmas in the Kitchen which is free on the author's website.
Read Book 8, Bonds of Justice, by June 18.
Make a list of a favorite quote or two as you read the book.
If you haven't read the books before, make a list of questions you have for the discussion. If you have read them, please don't spoil new readers.
Link up your review on Goodreads or your site to the post.
Join the COYER book chat on the Sunday following the post.

Enter the giveaways!
---
COYER Challenge is adopting our Read-along.  You can read about COYER and join that challenge or just the Facebook community chat HERE.
Blaze of Memory chat in a FB room (like we do for COYER book club) is:
May 30 at 12 PT, 2 CT, 3 ET and 9pm Europe, for a one hour chat.
You do not have to join the COYER challenge to participate, only the Facebook group.
---
Schedule:   
We are doing one book every 3-4 weeks, posting on Fridays. We should have a review for most of the books with the team here at Books of My Heart plus some of our friends.
May 28:  Blaze of Memory          – Sophia
Jun 18:   Bonds of Justice           – Angela @ Angel's Guilty Pleasures 
Jul 16:   Play of Passion              – Robin
Aug 6:   Kiss of Snow                   – ?   
We need someone for this review.  Someone volunteered and I thought we had all of them covered and now I can't find their email. But email me at BooksMyHeart@gmail.com if you want to share your review for this one.
Aug 27:  Tangle of Need              –  Victoria @ First of All
Sep 17:   Heart of Obsidian        – Linda @ Unconventional Bookworms
Oct 15:    Shield of Winter         – Samantha @ The Book Disciple
Nov 5:    Shards of Hope            –  Jen @ That's What I'm Talking About
Dec 3:    Allegiance of Honor   – Anne
Miss a post?
Jan 1:    Slave to Sensation       – Stephanie @ Once Upon a Chapter
Jan 29:   Visions of Heat           – Rachel @ Waves of Fiction
Feb 19:   Caressed by Ice           – Kim @ Caffeinated Reviewer
Mar 19:   Mine to Possess          – KC
Apr 16:   Hostage to Pleasure   – Berls @ Because Reading
May 7:   Branded by Fire             – Kai @ Fiction State of Mind
---
Be sure to enter the giveaways!!!
Giveaway: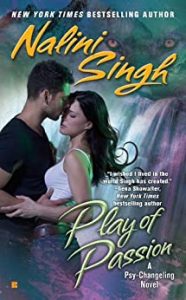 A copy of Play of Passion, book 9.
Grand-Prize Giveaway: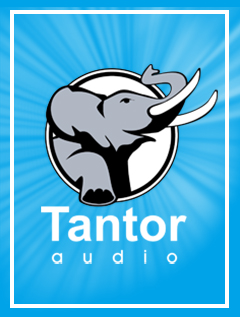 Tantor Audio is generously donating a set of 15 codes for the entire set on audio.  Codes will work US or Intl.
Rating Breakdown
Plot
Writing
Narration (Audio)
Overall:
Reading this book contributed to these challenges:
Related Posts