Review copy was received from Publisher. This does not affect my opinion of the book or the content of my review.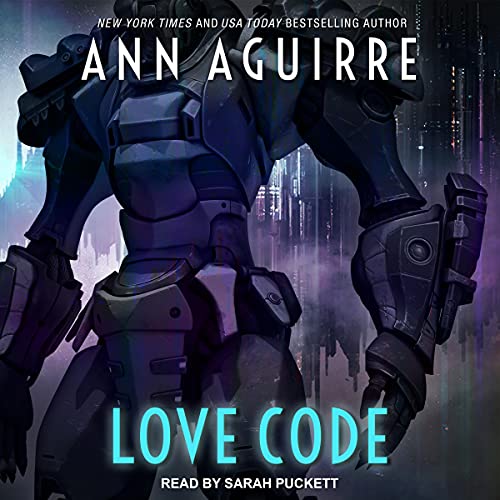 Love Code
by
Ann Aguirre
Narrator:
Sarah Puckett
Series:
Galactic Love #2
Published by
Tantor Audio
on June 8, 2021
Genres:
Romance
,
Science Fiction
Length:
7 hours, 51 minutes
Format:
Audiobook
Source:
Publisher
Goodreads
Amazon
, 
Audiobook





He's cute. He's cranky. His code is sleek as hell.
What's an amnesiac AI doing in a place like this? Helix has no idea. He knows he planned to build a life for himself on Gravas Station, but he has no clue what he's been doing for the last half cycle. Nor does he understand why his ship crashed. A genius Tiralan scientist saved him by copying his code into an organic host, and after meeting her meddling mothers, it seems like his problems have only just begun...

She's clever. She's creative. She claims that he's her mate.
Qalu has no interest in relationships. She'd much rather be working in her lab, innovating instead of socializing. Problem is, the Tiralan believe that one cannot be happy alone. When a solution literally falls from the sky, she leaps at the opportunity to advance her research and teach Helix how to be Tiralan while calming her mothers' fears. It might be unconventional, but she's ready to break all the rules for a little peace.

They agree to pose as each other's mates for the most logical reasons, but love always finds a way.
Love Code is the second book in the Galactic Love series, which seems so far to involve strange couplings.  Helix was just an AI system, he had to leave his first master, Zylar and home planet after he made some very un-AI choices when he tried to help the Barathian he served find a mate.  When he wakes up in a meat suit, it is unexpected and gross.  Biological creatures sweat, and defecate and need to sleep.  It would be totally awful if not for the woman who put him in that suit.
Qalu is a scientist who has spent her career trying to integrate biologics and AI.  She was on the brink of testing when the perfect test subject fell into her lap.  He can't remember why his ship crashed or what he is doing on her planet but Qalu makes Helix an offer.  She will help him stay under the radar from whatever is chasing him across the galaxy if he will pretend to be a potential mate and get her mothers off her back.  Sounds easy, unless the meat suit you are in is opening you up to all kinds of feelings you didn't know you could have.
This is a pretty cute read.  Qalu is easy to like, she is just bad at peopling and would rather spend time in her lab doing research.  She has the cutest pet that seems like a cross between a cat and ferret, but more poisonous and better at calculus.  But Helix in her life is going to change her in some ways she didn't expect.  Maybe she is just a girl who loves a guy sporting some sleek code.  They are a little awkward as they try to negotiate the desire simmering between them and also go on the run for their lives.
While I enjoyed this story, there isn't anything that made it extra special.  Also, the fact that multiple times we had to stop and get everyone's pronouns straight was distracting.  I wish it would have blended into the story a little better.  Helix and Qalu both are rather unexperienced and sometimes in the sciencing out your feelings some of the emotion of the moment was lost.  But I did like the adventure they went on and how Helix came to enjoy being in a meat suit with all of its bodily needs.  I was happy to see Zylar and Beryl again to catch up with how their life is going as well as meet a few other humans who have seemed to found their way off earth as well.
Narration:
Sarah Pucket gives a solid performance.  I like her voice for the female characters more than the male but she gave a good performance all around.  I especially like her voice for the pets in this series.  I was able to listen at my usual 1.5x speed.
Listen to a clip:  HERE
Rating Breakdown
Plot
Writing
Characters
Dialogue
Narration (Audio)
Overall:
Reading this book contributed to these challenges:
Related Posts