Review copy was received from NetGalley. This does not affect my opinion of the book or the content of my review.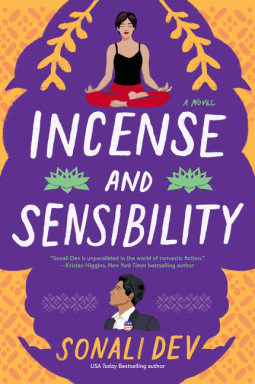 Incense and Sensibility
by
Sonali Dev
Series:
Rajes #3
Published by
William Morrow
on July 6, 2021
Genres:
Contemporary Romance
Pages:
400
Format:
eARC
Source:
NetGalley
Goodreads
Amazon
, 
Audible
, 
Audiobook
, 
Barnes & Noble
, 
Apple




Yash Raje, California's first serious Indian gubernatorial candidate, has always known exactly what he wants—and how to use his privileged background to get it. He attributes his success to a simple mantra: If you control your feelings you can control the world around you.

But when a bigot with a gun attempts to assassinate him, critically injuring his friend, Yash's easy life suddenly feels like a lie, his control an illusion. When he tries to get back on the campaign trail, he blacks out with panic.

Desperate to keep Yash's condition from leaking to the media, his family turns to the one person they trust—his sister's best friend, India Dashwood, California's foremost stress management coach. Raised by her grandmother and mother immersed in the practice of yoga long before it became trendy, India has helped San Francisco's stressed-out overachievers for a decade without so much as altering her breath. But this man with his simmering intensity and absolute faith in his political beliefs is like no other client she's ever had. Yash has spent a lifetime repressing everything to succeed.

India knows that for Yash to heal, he must face the feelings he's buried, including the ones they once shared—a too brief, too bright passion that if rekindled threatens the life he's crafted for himself. Sorting through the lies to get to the truth might be the only way to save him but it's also guaranteed to destroy the dream he's willingly shouldered for his family and community . . . until now.
After one brief, disappointing romantic encounter, two dutiful, put together people go on with their set paths until unforeseen circumstances make them take stock and also bring them back together for a possible second chance.  The Raje family stories are a heartwarming encounter with Austen in a modern Indian American family.
Incense and Sensibility is the third of the standalone romances in a series of modern retellings of Austen's novels.  They are connected by family, but work just fine out of order.  This latest is flavored by Sense and Sensibility which the reader does not need to have read to appreciate this fresh new tale.
Yash Raje is the shining star in the Raje family as he has risen in politics to be a strong runner for California's race for governor.  But, then his latest rally is disrupted by an attempt on his life and he finds himself struggling with fear to go before a crowd, survivor's guilt, and a shake-up to his life priorities.  At the same time, India Dashwood, who lives a lifestyle that follows her adopted mom's yoga teachings, with her goal to keep their newly-renovated yoga center going and find a way to care for her mom and the mounting health bills.  Her sister, China, has always lived a very different lifestyle embraces her emotions and taking life's chances especially with love.
I was very taken with these two people who seem to love what they do even though they are nearly rigid in responsibility to family, duty and careers.  It was interesting seeing them both go through things that shook them up and forced them to contemplate other paths in their lives and figure out what they really want.  The surrounding group of family and, in Yash's case, a girlfriend of convenience who turns out to have her own agenda, are as well-developed as the main pair.
There are a lot of real life complications in this one due to Yash's involvement in politics, their race, their culture, India's yogi lifestyle, family expectation, and more.  But, I was glad that front and foremost, the new chance at a relationship is strongest.  The biggest conflict was setting aside what they thought they should do and other people's influences to reach for what they really wanted.  I really wanted him to deep six the pretend girlfriend much sooner and couldn't figure out why everyone was buying what she was selling for so long.  It was a well-plotted second chance in that they weren't right for each other the first time and had to get to where they are for them to make sense and stand a chance.
Austen's Sense and Sensibility is at the heart of the story and is there, but I would say it influenced this story more than drove it.  The author's own voice and story are strongest.
All in all, it was a heartwarming, sometimes wry, and character-driven second chance.  Those who want romance with modern problems and thinking set against a colorful Indian American backdrop, do pick up this book/series.
Related Posts