Review copy was received from NetGalley. This does not affect my opinion of the book or the content of my review.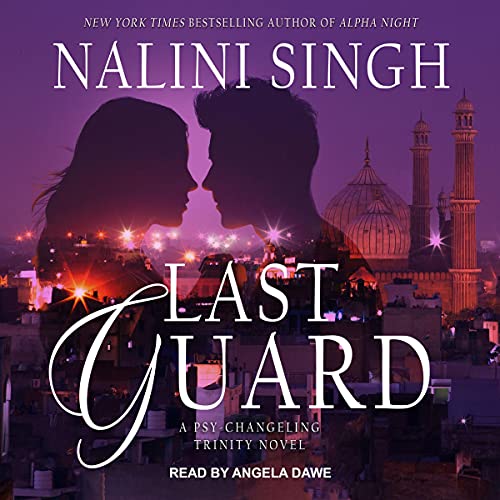 Last Guard
by
Nalini Singh
Narrator:
Angela Dawe
Series:
Psy-Changeling Trinity #5
,
Psy-Changeling #20
Published by
Tantor Audio
on July 20, 2021
Genres:
Paranormal Romance
,
Urban Fantasy
Length:
10 hours, 52 minutes
Format:
Audiobook
Source:
NetGalley
Goodreads
Amazon
, 
Audible
, 
Audiobook
, 
Barnes & Noble
, 
Apple






Termed merciless by some, and a robotic sociopath by others, Payal Rao is the perfect Psy: cardinal telekinetic, CEO of a major conglomerate, beautiful—and emotionless.

For Canto Mercant, family and loyalty are everything. A cardinal telepath deemed "imperfect" by his race due to a spinal injury, Canto cares for the opinions of very few—and ruthlessly protects those he claims as his own. Head of intel of the influential Mercant family, he prefers to remain a shadow in the Net, unknown and unseen. But Canto is also an Anchor, part of a secretive designation whose task it is to stabilize the PsyNet. Now that critical psychic network is dying, threatening to collapse and kill the entire Psy race with it.

To save those he loves, Canto needs the help of a woman bound to him by a dark past neither has been able to forget. A woman who is the most powerful Anchor of them all: Payal Rao. Neither is ready for the violent inferno about to ignite in the PsyNet…or the passionate madness that threatens to destroy them both.
The Last Guard is the fifth book of The Psy-Changeling Trinity the spin off series to Psy-Changeling.  While I think you can start the spin off series without having read the main series, you would miss some of the nuances that intermingle a lot of the side characters.  But the new Big Bad is different in the Trinity series.
We don't get two Psy main characters very often so I'm always intrigued on how it is going to work when both have had some form of silence imposed on them at some time in their life.  Both Payal and Canto are Psy and Anchors.  They are integral to the nets survival and all of the Anchors are taxed to extremes right now.  Canto and Payal need to figure out how to work together to make other Psy understand how important the Anchors are and what will be needed to adjust them in a way to combat the Scarab disease affecting the Psy.
Canto is fantastic.  I really liked that he wasn't the perfect Psy, being in a wheelchair made his life a bit different and so he has been in the shadows working on all the secrets of the Mercant family.  But they see him as an asset and have never made him feel less for not being able to walk.  Payal, on the other hand comes from a very different family and everyday she has had to play the perfect Psy, watch her back and fight for everything she has.  They were a great compliment to each other as Canto shows her what a family could be.
This was actually one of my favorite books in the series.  Both of the main characters were strong, I loved the reason behind why they were bonded from childhood and how that event followed them long after.  I made the transition to being in love just that more sweet.  Being in bear country is always a good time and I love all the bear moments.
It is fantastic that this many books in I am still having a great time with this series and I'm excited to see, after that ending, what will happen next.
Narration:
Angela Dawe is the voice of this series for me.  She has been the voice of it for so long that I really can't imagine anyone else doing it.  She brings all the characters to life for me and can make some of the steamy scenes all the more hot for the emotion in her voice.  I always know going in that it will be some great audio.
Listen to a clip:  HERE
Rating Breakdown
Plot
Writing
Characters
Dialogue
Narration (Audio)
Overall:
Related Posts