Review copy was received from Publisher. This does not affect my opinion of the book or the content of my review.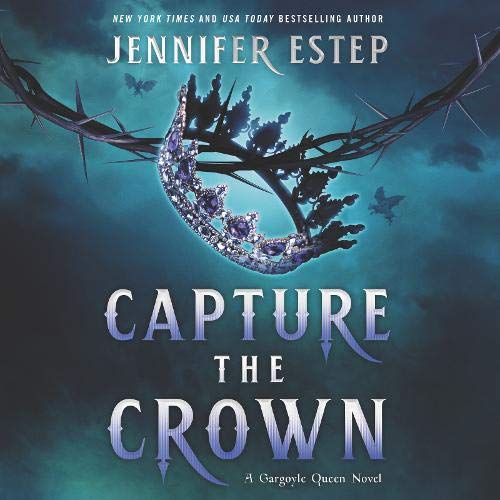 Capture the Crown
by
Jennifer Estep
Narrator:
Lauren Fortgang
Series:
Crown of Shards #4
,
Gargoyle Queen #1
Published by
HarperAudio
on July 6, 2021
Genres:
Fantasy
Length:
13 hours, 30 minutes
Format:
Audiobook
Source:
Publisher
Goodreads
Amazon
, 
Audible
, 
Audiobook
, 
Barnes & Noble
, 
Apple





Gemma Ripley has a reputation for being a pampered princess who is more interested in pretty gowns, sparkling jewelry, and other frivolous things than learning how to rule the kingdom of Andvari. But her carefully crafted persona is just an act to hide the fact that Gemma is a powerful mind magier - and a spy.

Gemma is undercover, trying to figure out who is stealing large amounts of tearstone from one of the Ripley royal mines when she encounters Prince Leonidas Morricone of Morta - her mortal enemy. Gemma tries to steer clear of the handsome prince, but when she finds herself behind enemy lines, she reluctantly joins forces with Leo. Also coming to Gemma's aid is Grimley, her beloved gargoyle.

Despite the fact that Andvari and Morta are old, bitter enemies, a dangerous attraction sparks between Gemma and Leo. Further complicating matters is Leo's murderous family, especially Queen Maeven Morricone, the mastermind behind the infamous Seven Spire massacre.

The closer Gemma gets to the stolen tearstone, the more deadly plots she uncovers. Everyone is trying to capture the crown, but only one queen can sit on the throne..
I loved the Crown of Shards trilogy.   As with any urban fantasy or even other types of series, I prefer to read in order and have the full world building and character backgrounds.
The  Gargoyle Queen is a continuation, but a full 16 years later.  Gemma Ripley is now grown.  However, Gemma still has fears and doesn't know how to control or use her power effectively.   She still feels very young. I tired of her repeating her past, her guilt, her shoving down her power and being a little too daring.
Gemma pushes herself to be a spy to try to help her people and to make up for her past inactions.  She does learn some things but she also goes too far getting herself terribly injured. She finds Leonides from Morta tangled up in her activities.  She feels he betrayed her as a child and his mother was responsible for the massacre which killed so many of her family and others.  She doesn't trust him but she somehow can't let his own people kill him.
Gemma is attracted to Leo and falls into a false sense of security.  She ends up in even more trouble but she does learn more about Morta and the stolen tearstone.   Gemma and Leo share a common set of values as far as killing if needed in self defense but feel no need to torture or kill for pleasure.  They are also both willing to put themselves at risk for others.
Gemma learns that much is not as it seems about Morta or even Queen Maeven.  She makes some new friends, and learns more about her own power.  I will be excited to learn more about the vines and Leo's sister.  I also love the stryx and the gargoyles who bond so fiercely with their humans.    It's only the beginning for Leo and Gemma, who are sure to find their way to each other again.
Narration:
Lauren Fortgang is a narrator I have enjoyed previously.  Her voices for different people and creatures were distinct with the emotions infused appropriately.   I listened comfortably at 1.5x speed.
Listen to a clip:

Rating Breakdown
Plot
Writing
Characters
Narration (Audio)
Overall:
Latest posts by Anne - Books of My Heart
(see all)
Reading this book contributed to these challenges:
Related Posts