Review copy was received from Publicity team. This does not affect my opinion of the book or the content of my review.
Totally Folked
by
Penny Reid
Series:
Modern Folktales #1
Published by
Self-Published
on July 20, 2021
Genres:
Contemporary Romance
Format:
eARC
Source:
Publicity team
Goodreads
Amazon
, 
Barnes & Noble
, 
Apple






Jackson James follows the rules. He has to. He's a sheriff's deputy in a super small town with a super big personality. However, strict adherence to the law during the day has been enjoyably balanced by rakish rules at night. Jackson, typically happy to protect and serve (and serve, and serve), starts questioning the value of wayward evenings when getting laid starts to feel more like being waylaid. Could it be that Green Valley's most eligible—and notorious—bachelor longs for something (and someone) real?

Mega movie star Raquel Ezra follows only one rule: always leave them wanting more. Studio execs, reporters, audiences, fans, lovers—no one can get enough of the smart, savvy, and sexy bombshell. But when "generous offers" begin to feel more like excessive demands, years of always leaving has the elusive starlet longing for something (and perhaps someone) lasting.

When Raquel abruptly returns to the quirky Tennessee hamlet, her path crosses with the delectable deputy with whom she spent one unforgettable night. Unfortunately, scandal and intrigue soon follow. Raquel and Jackson must decide which is more important: following their rules? Or, at long last, finding something real.
I have loved every Winston Brothers series book  and now we have a new spinoff series,  the Modern Folktales.  The characters featured are friends and sort of relations to the Winstons.  It begins with Jackson James, the son of the sheriff and a sheriff's deputy himself.   Let me just say if you do something in a small town, everyone will remember it forever.  Just ask Jethro or Jackson James.
Jackson James ends up connecting with Rae at Jethro and Sienna's wedding. They really talk and get along. But Rae has just broken up with her cheating ex Harrison,  and Jackson is in the process of reformation.  Neither one has ever had a true relationship. But they have influences from their parents and the short term relationships they have had.  They don't see each other until about 5 years later.
Rae is unhappy with the "fake" in her life.  Everything is fake and where is Rae? Who is Rae?  She decamps to visit Sienna who is the most real person in the industry she knows.   She wants to see Jackson. She has thought about him.
Jackson is trying to do the work to have a real relationship. So he has been courting his long-known friend, Charlotte.  She works and has four kids and an interfering mother, so she has very little time. As the blurb indicates, both Rae and Jackson are looking for something real.  Their efforts trying to find it without hurting anyone is a difficult but worthwhile process.  Communication is SO important and their inexperience makes for some missteps. Even though they do a fairly good job of being honest with each other and caring about each other, not everything is smooth.
But what I loved is they have friends who support them and help them look at their misconceptions and help them grow into some emotional intelligence in a relationship. When Cletus and Jethro talk to Jackson, and Sienna and Dave talk to Rae, and Jackson talks to his Dad are my favorite parts of the Totally Folked.  The emotional journey of these supporting and loving conversations are outstanding.  Both Jackson and Rae needed perspective and their friends and family made sure they got it. Now I can't wait for the next book because I hear it is about Charlotte!
Excerpt:
"Rae. It's late."
"I know, but—" "Rae," he ground out, using my hold on his hand to bring us back to a stop. I faced him, my stomach erupting in uncertainty butterflies as I encountered the stern line of his jaw and the glittering, frustrated spark behind his eyes. "We need everyone to believe we're just friends, right? And if we go inside the house, I don't think I'm a good enough actor to pull that off."
My mouth formed an O, and I released him, folding my arms over my chest while I wrestled with a strange combination of disappointment and pleasure at his words. I wanted to spend time with him, talk to him, get to know this mystery of a man so I could understand my feelings better. But . . . I conceded his point. We couldn't seem to be around each other without kissing. Bringing him inside a dark, empty house in the middle of the night was something better left to my fantasies. For now. Oh really, inner voice? Now you're impudent? Now?
He exhaled a short breath, it also sounded frustrated, but his tone was soft as he said, "Hey." I placed a tight smile on my face, it was the best I could manage. "Hey." Jackson seemed to be considering me, debating what to do next. He didn't take too long. "Do you want to go for a drive?"
"Yes," I said immediately. "Yes, I do. Let me grab a jacket."
"Okay. I'll wait here." He shifted his weight to his back foot and hooked his thumbs in his jeans pockets. I wanted to take a picture of him like this, all handsome reluctance and sexy self-control. This man, he just did something to me. I couldn't explain it. But maybe if we took this drive and spent some time together talking—just talking—I'd start to figure it out.
TOUR Giveaway: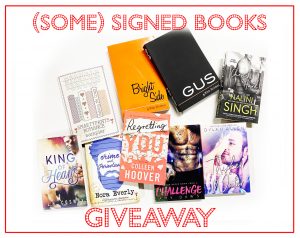 To celebrate the release of Totally Folked, Penny has an incredible Giveaway!
Enter now for a chance to win a bundle of incredible signed books  HERE

Latest posts by Anne - Books of My Heart
(see all)
Reading this book contributed to these challenges:
Related Posts