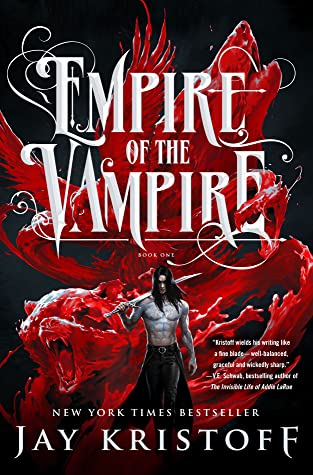 Empire of the Vampire
by
Jay Kristoff
Series:
Empire of the Vampire #1
Published by
St. Martin's Press
on September 14, 2021
Genres:
Urban Fantasy
Pages:
752
Format:
eARC
Source:
NetGalley
Goodreads
Amazon
, 
Audible
, 
Audiobook
, 
Barnes & Noble
, 
Apple






From holy cup comes holy light;
The faithful hand sets world aright.
And in the Seven Martyrs' sight,
Mere man shall end this endless night.

It has been twenty-seven long years since the last sunrise. For nearly three decades, vampires have waged war against humanity; building their eternal empire even as they tear down our own. Now, only a few tiny sparks of light endure in a sea of darkness.

Gabriel de León is a silversaint: a member of a holy brotherhood dedicated to defending realm and church from the creatures of the night. But even the Silver Order could not stem the tide once daylight failed us, and now, only Gabriel remains.

Imprisoned by the very monsters he vowed to destroy, the last silversaint is forced to tell his story. A story of legendary battles and forbidden love, of faith lost and friendships won, of the Wars of the Blood and the Forever King and the quest for humanity's last remaining hope:

The Holy Grail.
I was so done with Vampire books, like so over then.  But then what happens is a favorite author of mine is like 'hey I'm writing this book and it is about vampires'.  And I TOTALLY fall over myself saying "What! I love vampire books, tell me more." If I didn't ultimately enj0y myself through this book, I might feel like a fraud, reading yet another vampire story.
What the Empire of the Vampire is, it is dark, it is not for children, heck I don't even think it is for some adults.  That is how dark it is! Think Vampires and zombiesk creatures that want to kill and drink you dry and blood families fighting against each other and losing so many characters you love (seriously Fortuna, how could you do that to me) and well…so much more death, pain, lost faith and more, so much more.  Only Jay Kristoff makes you love him and hate him all at the same time as he brings you to the conclusion of this tale only to want more…more hurt, more pain and more of this dark world that will ultimately break your heart as you hug it to console all the characters you love in it.
I hated this story as much as I loved it, it's complicated.  It is not for the faint of heart reader.  It is for the reader that travels with the hero for promise of redemption, even if it never comes.  It is for those who root for the underdog even when you know in the end they might not survive.  It is for the reader who has lost faith in a true story telling ability.  Not all heroes are all good and some have scars deeper than you've ever dreamed of feeling.  Our hero is a man who has lost his faith; he is an addict to blood smoke; he is a bastard most days instead of a fool and he has lost more in his short/long 32 years in this world than many with double his years.
Gabriel, our hero, you will love him, you will hate him and ultimately you will cry for the life he has lived and the people he has lost.  As he tells his tale to his Vampire jailer, you will live his life through two different time frames and become attached to the boy he was and the man he became, I think it would be impossible not to.  He is both a hero and a villain, a saint and a sinner, he is the main character and a sidekick.  Let's just say he is complicated and his tale even more so.  It might take a little while to get rolling but once the story takes flight there is no landing until the crash at the end.
Better to live one day a lion, than 10,000 a sheep.
Jay Kristoff kept me with bated breath until the end and then all I wanted was the next tale in this saga.  I was left bereft that I needed to wait to see what would transpire in this dark saga.  This will not be for everyone.  It is dark, dangerous, a little smutty in a few areas and heartbreaking.  But it is a fantastically brutal tale that will leave some wanting and waiting for more.
Rating Breakdown
Plot
Writing
Characters
Dialogue
Overall:
Related Posts