Review copy was received from NetGalley. This does not affect my opinion of the book or the content of my review.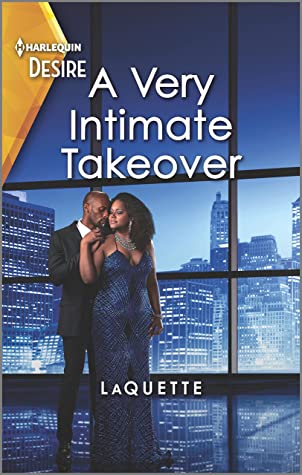 A Very Intimate Takeover
by
LaQuette
Published by
Harlequin
on September 28, 2021
Genres:
Contemporary Romance
Pages:
224
Format:
eARC
Source:
NetGalley
Goodreads
Amazon
, 
Barnes & Noble
, 
Apple





Falling for the enemy never felt this good in the debut novel of LaQuette's Devereaux Inc. series.

She's ruthless in business, but vulnerable in his arms.

Trey Devereaux is out to prove her corporate mettle to her skeptical father. When she sees a chance to take control of Devereaux Inc. from her estranged grandfather, she pounces. But Jeremiah Benton, his second-in-command, is fiercely protective of the Devereaux patriarch…and absolutely enticing. The intensity of their attraction overwhelms her defenses, and Trey even finds herself warming to her grandfather under Jeremiah's influence. Can Trey maintain her resolve—or is Jeremiah winning this high-stakes merger? The fate of a billion-dollar Brooklyn legacy lies in the balance…
A shrewd, successful businesswoman finds herself caught between duty to a beloved parent and desire for a man in the rival company in this lush, sexy upscale work romance. I've loved each encounter with this author's books from the engaging plots, to the well-drawn characters, and her sensual romances so it was with eagerness I picked up this start to a new series, set in her beloved Brooklyn, NY.
A Very Intimate Takeover introduces a strong, force of nature heroine who is not bashful to go big and do it with a flair, but Trey has one vulnerable spot- the need for a father's approval. Her dad is a successful businessman, who started with nothing and climbed until his finance company only has one rival in the city, his own father. Trey followed in his footsteps and has earned her way into the second spot in the company. Her dad questions her business moxy and Trey impulsively promises to serve up his rival, Devereaux Inc. on a platter. Then things get complicated when her plan to smooze her granddad out of the company shares goes pear-shaped when she cops a conscience and feelings for her granddad's second, Jeremiah.
It has been a while since I picked up a city-set, office romance, but I had no trouble slipping into this story. Trey's predicament made for a complex situation I enjoy. She thought it was a clear-cut plan until she actually met her grandfather and spent time with him, her cousins, and gorgeous and charming Jeremiah who thinks the world of Ace like she does her dad.
Trey and Jeremiah have some obvious and early sizzle between them. They liven each other's lives and start to fall in love even while she is keeping big secrets and he isn't sure she can be trusted. I loved how they shared a love of specialty sneakers, their city, food dates, and both were open about what they enjoyed together. The tension of Trey's takeover plans along with the aunt's conniving for her share got it as exciting as wondering what would happen when the truth of Trey's plan came out.
A Very Intimate Takeover read swiftly, but was not lacking. I love this author's writing style. I am glad this is a series because I want more Devereaux family story, Brooklyn setting, confident women, suave men, and those dazzling, sexy romances. Definitely recommend.
Related Posts