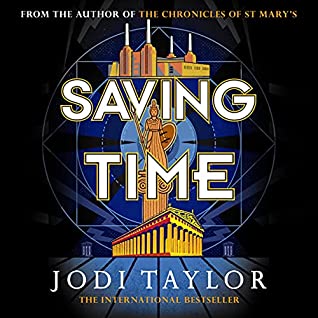 Saving Time
by
Jodi Taylor
Narrator:
Zara Ramm
Series:
The Time Police #3
Published by
Headline
on October 14, 2021
Genres:
Science Fiction Fantasy
Length:
12 hours, 59 minutes
Format:
Audiobook
Source:
Purchased
Goodreads
Amazon
, 
Audible
, 
Barnes & Noble
, 
Apple




Life is good for Team Weird, now heroes and fully fledged Time Police officers. Luke can't wait to bear arms. Jane has a date. And Matthew still hasn't had his hair cut.

But Time waits for no one, and neither do criminal masterminds. A major threat to the Timeline is looming, one far deadlier than mere idiots who want to change history. And when a familiar face becomes a Very Important Lead, will conflicting family loyalties spell trouble for Team Weird?

One missing. One guilt-ridden. And one facing the end of their Time Police career before it's even begun. Not so good then, after all.
Saving Time is the third book in The Time Police, the spin off series to  The Chronicles of St Mary's.  It follows Max and Leo's son Matthew and a few other characters, one of whom might be a tad schizophrenic and the other is a recovering playboy.  While you don't need to have read the Chronicles of St. Mary's (although you should as it is absolutely hilarious) I think it will add to the enjoyment of this series all the more if you have that background to the world.  Also, St. Mary's characters inevitably make a few appearances in the series, so it is fun to know their previous stories.
Matthew, Jane and Luke have graduated by the skin of their teeth and are a real unit now.  It is time to get out there and protect time and there is a lot of time to protect.  When the crew go in to check on a minor offender, they find a neighborhood completely destroyed and the suspect dead.  This leads off onto a merry chase and they will have to discover who is trying to cover their tracks by blowing up an entire neighborhood and what the end game goal is.  There could be some huge ripples through the time line if they don't succeed so no pressure.
Matthew has blossomed in his role as a time cop and it is so good to see how much he has grown over the years.  The best part of this book though, were the few new blossoms of some potential romances.  One was particularly unexpected but I enjoyed it none-the-less.  Luke is getting a bit used to his role as team leader and is less of a playboy these days but that could just be because he has made it through all of the female Time Cop staff and has limited options anymore.  Jane, still hears her tougher and wimpier self in her head and might suffer from some minor schizophrenia but not enough to hamper her ability to get the job done and honestly, they are funny.  Together they make up a great team who all bring something different to the table.  So go Team Weird; you are doing great.
Jodi Taylor has a great sense of humor and character dialogue is really why I read these books.  It is witty, quick and smart and really makes me smile.  Someone is usually kidnapped or presumed dead or lost in time for a while but that is just the fun of the story really.  I usually don't enjoy time travel books due to the paradoxes and such but this series seems to have figures out some interesting ways around that so it is not a concern for me. 
Overall, both the Chronicles of St. Mary's and the Time Police are a fantastic jump through time and "see a little history" along the way stories.
Narration:
Zara Ramm has done all the books set in the world and she is fantastic at the narration.  Her delivery of the dialogue really adds to the humor of all the books and I think she makes the books even better than if I'd just read it.  She really has a great grasp of the authors intent and gives the reader a great delivery of the story.  I was able to listen to this book at my normal 1.5x speed.
Listen to a clip:

Rating Breakdown
Plot
Writing
Characters
Dialogue
Narration (Audio)
Overall:
Related Posts