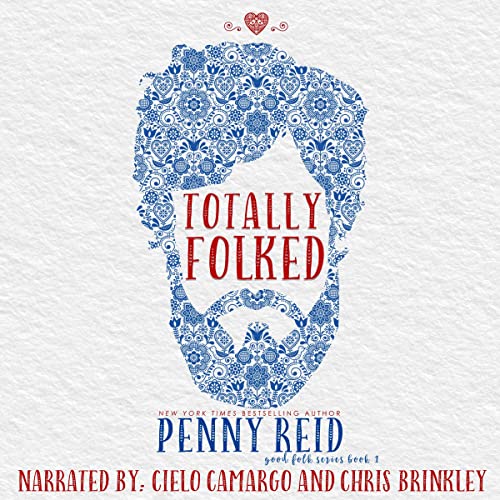 Totally Folked
by
Penny Reid
Narrator:
Chris Brinkley
,
Cielo Camargo
Series:
Modern Folktales #1
Published by
Self-Published
on July 20, 2021
Genres:
Contemporary Romance
Length:
11 hours, 36 minutes
Format:
Audiobook
Source:
Purchased
Goodreads
Amazon
, 
Audible
, 
Audiobook
, 
Barnes & Noble
, 
Apple






Jackson James follows the rules. He has to. He's a sheriff's deputy in a super small town with a super big personality. However, strict adherence to the law during the day has been enjoyably balanced by rakish rules at night. Jackson, typically happy to protect and serve (and serve, and serve), starts questioning the value of wayward evenings when getting laid starts to feel more like being waylaid. Could it be that Green Valley's most eligible—and notorious—bachelor longs for something (and someone) real?

Mega movie star Raquel Ezra follows only one rule: always leave them wanting more. Studio execs, reporters, audiences, fans, lovers—no one can get enough of the smart, savvy, and sexy bombshell. But when "generous offers" begin to feel more like excessive demands, years of always leaving has the elusive starlet longing for something (and perhaps someone) lasting.

When Raquel abruptly returns to the quirky Tennessee hamlet, her path crosses with the delectable deputy with whom she spent one unforgettable night. Unfortunately, scandal and intrigue soon follow. Raquel and Jackson must decide which is more important: following their rules? Or, at long last, finding something real.
When I began this book, I had a predetermined impression of Jackson James; the cocky, 'Jack'ass that was destined for a case of leprosy.  He'd sabotaged Ashley's relationship with Drew, had his eye on Jen when she was obviously in love with Cletus, and had generally made a nuisance of himself every time he showed up in a book.  In my head, he was the Rosco P. Coltrain of the Winston Brothers Series – the bumbling deputy left shaking his fist as those darned Winstons sped off in their muscle car.  Green Valley is a small town, and Jackson earned his reputation early on.  It was with smug assurance I began Totally Folked, the first book in the Winston Brothers Spin-off Modern Folktales series by Penny Reid; certain there was nothing I would find likeable about Jackson.
I was completely wrong. There is so much to like about Jackson James.  I didn't think it was possible for someone to even remotely to compete with Cletus Winston in my affection, but Jackson comes pretty darned close!   At the heart, Jackson is just a guy trying to do the right thing.  I am such a sucker for a rule follower.  And Jackson lives his life by the rules.  He's trying to make his parents proud, live a true and honest life, and somehow overcome the follies of his youth.  Understanding these things about his character shines a different light on his past actions.  I was bowled over by his grace and compassion towards the citizens of Green Valley and his earnest desire to be a person worthy of their trust.
The only spike in his road to reform is Rae.  She's drawn back to Green Valley by the memory of Jackson James, the mysterious stranger she'd connected with early on in her career.  Raquel Ezra is a household name, but Rae feels like she doesn't really know who she is anymore.  She might appear to have friends and a fiancé, but none of it is honest.  While she knows there is something lacking in her life, she doesn't know how to go about making things right.  It is a good thing she goes to Green Valley, where there are plenty of folks ready to 'help' her get her life back on track.
I loved the guest appearances by some of my favorite Penny Reid characters.  It was especially interesting to see how the characters have matured and act as mentors toward Jackson and Rae.  Jethro and Cletus are like older brothers to Jackson.  He eventually realizes that he might be the only one still holding his past against him.  I really enjoyed reading more about Sienna and watching the friendship between her and Rae grow.  Sienna is a mentor and a safe haven for Rae.  It reinforces what we already know about Sienna as a person and how one can stay true to oneself even amongst the faked reality of Hollywood.
Totally Folked is a sweet, funny romance.  Jackson and Rae are both sympathetic, likeable characters.  The bulk of the story is watching how they figure out how to be in a relationship, overcome their miscommunications, and how to negotiate their different backgrounds and expectations of what a lasting relationship should look like.    This book could probably be enjoyed as a standalone romance, but I'd really recommend reading the Winston Brothers Series and the prequel Just Folking Around to really appreciate Jackson and Rae's story.  This was not one of Penny Reid's quirkier books, but that didn't diminish my overall enjoyment of the story.
Narration:
I really enjoyed the narration.  Cielo Camargo and Chris Brinkley's performances were perfect for the story and exactly what was needed for the characters. I found it easy to distinguish between the different characters and enjoyed the personalities they were able to impart for Rae and Jackson.  Chris Brinkley should narrate any and every book that takes place in a small town.
Listen to a clip: HERE
Rating Breakdown
Plot
Writing
Characters
Dialogue
Narration (Audio)
Overall:
Related Posts