Review copy was received from NetGalley. This does not affect my opinion of the book or the content of my review.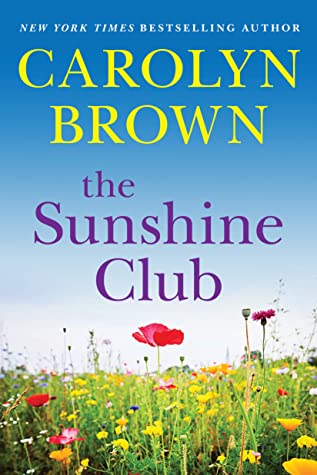 The Sunshine Club
by
Carolyn Brown
Published by
Montlake Romance
on December 7, 2021
Genres:
Life Fiction
Pages:
400
Format:
eARC
Source:
NetGalley
Goodreads
Amazon
, 
Audible




Gussie, Ina Mae, and Blanche have been best friends for more than sixty years. From their humble beginnings of founding the Sunshine Club when they were girls to becoming the matchmaking queens of Newton, Texas, these three were inseparable. When Blanche passes away, Gussie and Ina Mae feel the best way to honor their dearly departed is with a shot of whiskey, some good music, and making a match for Blanche's niece, Sissy.

Never mind that Sissy's in town for only six weeks. Is there a better reason for her to stay? And is there a better prospect than handsome, charming, blue-eyed local preacher Luke Beauchamp? No and no. The attraction is already there. Now it's up to Gussie and Ina Mae to make sure the sparks really get to crackling by Christmas.

The Sunshine Club is back in business. Don't underestimate two feisty women who have their hearts set on a happy ending.
Carolyn Brown writes friendship, small town, and relationships with simple country charm that invites the reader to slip into another world and wish they could kick off their shoes and stay awhile.  Her latest women's fiction tells a cross-generational tale of friendship, family where you make it, small town incidents, a dab of romance, and a dash of winter holiday cheer.
Sissy has just lost her beloved Aunt Bee and feels all the loneliness of no more living family.  She has a thriving family and marriage therapy practice back home in Louisiana, but she is in her aunt's Newton, TX for the next six weeks and her determination to leave is severely tested when her aunt's best friends in the Sunshine Club work devilishly hard to give her a reason to stay.  Sissy adores Gussie and Ina Mae, her aunt's house with its old furnishings and quirky pets, and she even starts to love Newton and its small town oddities.
However, she works hard not to fall for that handsome blue-eyed, kind-hearted preacher man who Gussie and Ina Mae determine as her perfect match.  In fact, she might help Luke with the church Christmas program and enjoy helping with his parishioners in her work capacity and spending time with the man so that resistance is faltering, but she determines to turn the tables on those two scheming old ladies with a bit of matchmaking of her own.  She's not Blanche Ducaine's niece for nothing, right? Meanwhile, the Christmas spirit and a little lesson about family not always being blood and Sissy might have found a reason to stay.
The Sunshine Club is quintessential Carolyn Brown from her feisty older ladies, close friendships and small town gossips, to her down home heartwarming, cozy book vibes. I enjoyed the rich history of friendship and memories that come out as Ina Mae and Gussie share their grief at losing a best friend alongside Sissy.
I didn't realize this one was set during the holiday season until I started reading because I rarely read the blurbs anymore when it comes to her books.  Loved the south Texas small town setting and fun to have the love interests all tied to their little local church.
I thought it was neat that Sissy was a relationship therapist for families and couples when she sees herself as all alone.  And, yes, the author humorously has Sissy realize that what she advises for others might be the best advice she can take for herself.  There is always the hilarious townsfolk and in this case a bossy, hypochondriac leads the pack and then, Blanche's rescue pets- a disabled rooster and a discarded crotchety cockatiel steal the scenes.
While there is a romance, whew boy, is Luke a bit of sexy something for a preacher, but the focus is definitely healing from grief, friendship, and family.  Oh, yes, and a couple side romances for Gussie and Ina Mae to show older gals and guys aren't on the shelf yet.
All in all, it was comfy and engaging.  It doesn't jump into the story, but slips in and slowly builds momentum.  Those who want something easygoing, low angst, and downright fun should give this women's fiction holiday charmer a go.
Related Posts