Review copy was received from Publisher. This does not affect my opinion of the book or the content of my review.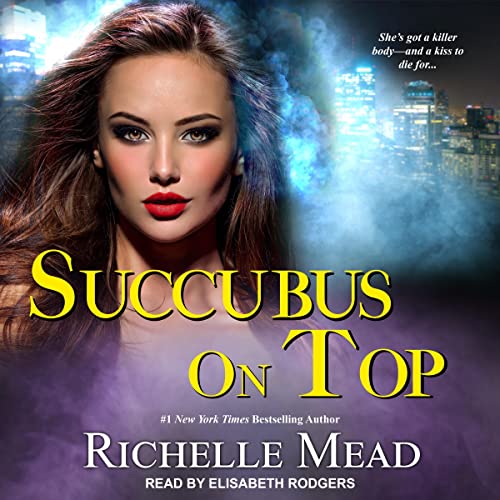 Succubus on Top
by
Richelle Mead
Narrator:
Elisabeth Rodgers
Series:
Georgina Kincaid #2
Published by
Tantor Audio
on October 26, 2021
Genres:
Urban Fantasy
Length:
10 hours, 53 minutes
Format:
Audiobook
Source:
Publisher
Goodreads
Amazon
, 
Audible
, 
Audiobook
, 
Barnes & Noble
, 
Apple





Love hurts, and no one knows it better than Georgina Kincaid. If she so much as kisses Seth Mortensen, the shy, sexy writer she's been dating, she'll drain his life force. Admittedly, the shapeshifting and immortality perks of a succubus are terrific, but it's completely unfair that a she-demon whose purpose is seduction can't get down with the one mortal who accepts her for who she is. . .

It's not just her personal life that's in chaos. Doug, Georgina's co-worker at a local bookstore, has been exhibiting bizarre behavior, and Georgina suspects something far more demonic than double espressos. She could use an assist from Bastien, an irresistibly charming incubus and her best immortal friend, but he's giving Georgina some highly distracting come-hither vibes. Georgina is going to have to work solo on this one-and fast, because soon, Doug's life won't be the only one on the line. . .
I am continuing with the Georgina Kincaid series and also buddy reading it with Berls at Because Reading.  The way the world knowledge is unfolding is a bit slow.  We continue to see Georgina at her day job as assistant manager at the bookstore in Seattle.  She also is continuing a relationship with Seth, her favorite author.
We get a few more flashbacks to the lead up to her marriage but it's hard to say why.  Perhaps because we are also getting her time spent with Seth and she is trying to figure out if she is in love with him.  Is there any hope for their future?  She is constantly worried he will find out things about her past and present to make him reject her. Seth is a pretty stand up guy, however.
An old friend, Bastien, who is an incubus,  the male version of her role, comes to town.  She knows him and has enjoyed working with him in the past.  He is in trouble and she is trying to help him.  I didn't like him.  I don't see him as much of a friend to her; he's a jackass.  She succeeds in helping him and forgives him. Georgina is a better person than I am.
There are weird things going on at the bookstore.  There are lots of people out sick leaving Georgina with double shifts and staffing issues.  Doug's band is going gangbusters after finding a new drummer.  Georgina is worried about Doug's mental health and suspects the drummer is providing drugs.  She can't let her friend suffer and investigates.
The plot with Bastien and his mission was a bit predictable.  The rest of the bookstore and band troubles were less so.  Georgina learns more about her world and other supernaturals.  I still don't feel she knows enough for the length of time she has "lived".  Her connection with Seth is precious and I love watching it build even though he is too good for her.
Narration:
I have totally settled with this narrator as Georgina.  I enjoyed her performance of both males and females and they were comfortable to hear.   I was able to listen at my normal 1.5x speed.
Listen to a clip:  HERE
Rating Breakdown
Plot
Writing
Characters
Narration (Audio)
Overall:
Latest posts by Anne - Books of My Heart
(see all)
Reading this book contributed to these challenges:
Related Posts