Review copy was received from Author. This does not affect my opinion of the book or the content of my review.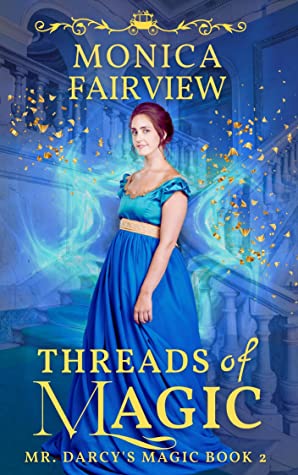 Threads of Magic
by
Monica Fairview
Series:
Mr. Darcy's Magic #2
on January 25, 2022
Genres:
Fantasy
Pages:
298
Format:
eARC
Source:
Author
Goodreads
Amazon





In a magical Regency England, two powerful magicians strive to find a balance between love and duty as they confront enemies who might well be their closest friends.

Elizabeth Bennet may be a heroine, but by defying some of the most powerful mages in England, she has made enemies who will stop at nothing to embroil her in scandal.

So when she is accused of endangering the Royal Mages through her reckless actions, she no longer knows who to trust. Even the gentleman she loves is taking their side. It seems the only person who believes her is the captive French mage who is imprisoned in the cellar at Netherfield.

Meanwhile, Fitzwilliam Darcy is willing to fight to the death to defend Elizabeth, if only she would stop getting herself into trouble. Why does she always have to break the rules? And why does even her sister Jane cause him so many problems?
After the desperate activities in the big climax scene and the stunning betrayal of one of their own in Dangerous Magic, Threads of Magic picks up after a bit of a breather for our intrepid magic-wielding Royal Mages back to defend England from the French.  Fascinating magical world, intriguing plot twists, and a captivating cast of characters and tempestuous romance are what hooked me in the first book and I looked forward to this carrying into Threads of Magic.
Jumping back into the world and story established in book one, Threads of Magic is not a good book to read standalone or out of order.
Though based on Pride and Prejudice and definitely giving a strong nod in that direction, Threads of Magic and its predecessor are an original story that has moved from the introduction into the heart of the conflict.  And, I do not speak of the war with France.  Darcy and Elizabeth are trying for something more than a match of convenience for their compatible magic or because they partnered well fighting off the French, but their love, respect, and trust is tenuous at best.
Elizabeth uses unconventional magic and Darcy eventually stood by her, even in the face of the cries of treachery and betrayal from their own.  But, here they are again, a new situation arises orchestrated by the French, but now Elizabeth is back to being ostracized and labeled a rogue and traitor.  Darcy is pulled in so many directions and he still grieves the loss of his former partner so that he struggles to open up and let Elizabeth get close.
This whole story was a powder keg waiting to blow for their group of Royal Mages and for them as a couple.  The French have had it their way more often than not and the English Royal Mages have had to give up their Hall and regroup.  I felt gripped in the emotion of it all even when I wanted to thump Darcy so many times for his constant pushing Elizabeth away or refusing to open up and communicate with her.
It held the taunt feeling from first to last, but it wasn't all dramatic.  I did love seeing the story move to Netherfield Park and seeing Jane Bennet, Elizabeth's sister, brought into the circle of main characters.  It was no surprise this beautiful-hearted lady has healer magic nor that the magic was as unconventionally learned as her sister's.
After the events of the first book, I was prepared for some good twists.  I enjoyed the addition of the French mage in the dungeon and how they could not be sure of his real intentions just as I appreciated the stunning events at the big money scene.  I wondered at one point in the story if a certain someone was involved, but then got distracted only to find out that I was partly right.  It will be interesting to see what comes next from where things were left at the end of this second segment.  Much is open-ended in set up for the third book.
While this one lacked the awe of introducing a new world of magic and the emotional tension tired me, it was most definitely a solid, intense installment in the series.  Those who enjoy gaslight fantasy should make haste and avail themselves of this series.
Related Posts