Review copy was received from Publisher. This does not affect my opinion of the book or the content of my review.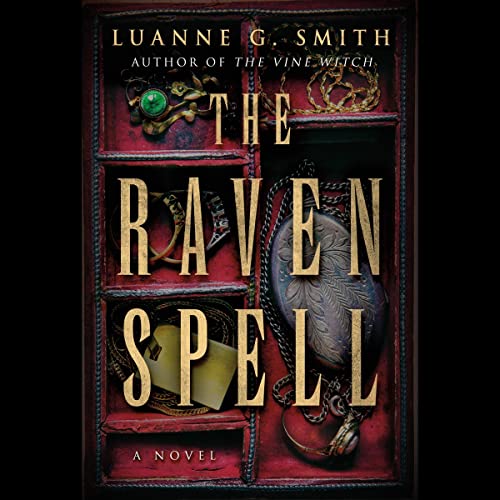 The Raven Spell
by
Luanne G Smith
Narrator:
Susannah Jones
Series:
Conspiracy of Magic #1
Published by
Brilliance Audio
on February 1, 2022
Genres:
Fantasy
Length:
8 hours, 54 minutes
Format:
Audiobook
Source:
Publisher
Goodreads
Amazon
, 
Audible





After a nearly fatal blow to the skull, traumatized private detective Ian Cameron is found dazed and confused on a muddy riverbank in Victorian London. Among his effects: a bloodstained business card bearing the name of a master wizard and a curious pocket watch that doesn't seem to tell time. To retrieve his lost memories, Ian demands answers from Edwina and Mary Blackwood, sister witches with a murky past. But as their secret is slowly unveiled, a dangerous mystery emerges on the darkened streets of London.

To help piece together Ian's lost time, he and Edwina embark on a journey that will take them from the river foreshore to an East End music hall, and on to a safe house for witches in need of sanctuary from angry mortals. The clues they find suggest a link between a series of gruesome murders, a missing person's case, and a dreadful suspicion that threatens to tear apart the bonds of sisterhood. As the investigation deepens, could Ian and Edwina be the next to die?
The Raven Spell it is first book in the new Conspiracy of Magic series.  It is a magical mystery set in Victorian England involving twins who are outcasts in their witchling society and a detective come to town to solve a missing persons case.
Edwina and her sister, Mary, are twins with very different kinds of magical powers.  They are on their own after their father left with no indication of when he will return.  And that would be fine, they have each other and run a little collectables shop in London.  But when they come along on a body thought to be dead and Mary uses her power to take the memory from him, it sets into motion something that could ultimately tare the sisters apart.
Ian, a detective, wakes up in a hospital with no recollection of who he is or why he is in London.  All he knows is the last thing he saw was two women hovering over him.  They may have some answers to why he is missing memories and what his purpose was.  As Ian starts to retrace the steps of his investigation, he is certain he knows something about the sisters and their involvement in the disappearance of a wizard's son and perhaps all the murders happening in the city.  Is it all just coincidence, or have one or both played a part in the deaths.
This is my first book by Luanne G. Smith.  I really liked the set up to the magic and the overlaying of the magical people in the city with the regular folk.  The characters were interesting and I really liked both Edwina and Ian.  I felt bad that Edwina felt so responsible for her twin.  Enough that she has given up every opportunity for a normal life to stay with the sister she loves who is attracted to death.  Ian's memory loss, too, added to the mystery of the story as he tried to piece together the time he is missing and determine who is friend and who is foe.
Overall this is an entertaining first installment with a pretty good teaser of what is to come in the next book.  I was entertained throughout as the details of the sisters and the magical world are teased out.
Narration:
Susannah Jones is one of my favorite narrators for stories.  She has a natural and almost melodic voice that lent itself to this story well.  There were a few times she got to sing in a character voice which I always find amazing.  I was able to listen to this at my usual 1.5x speed.
Listen to a clip: HERE 
Rating Breakdown
Plot
Writing
Characters
Dialogue
Narration (Audio)
Overall:
Related Posts