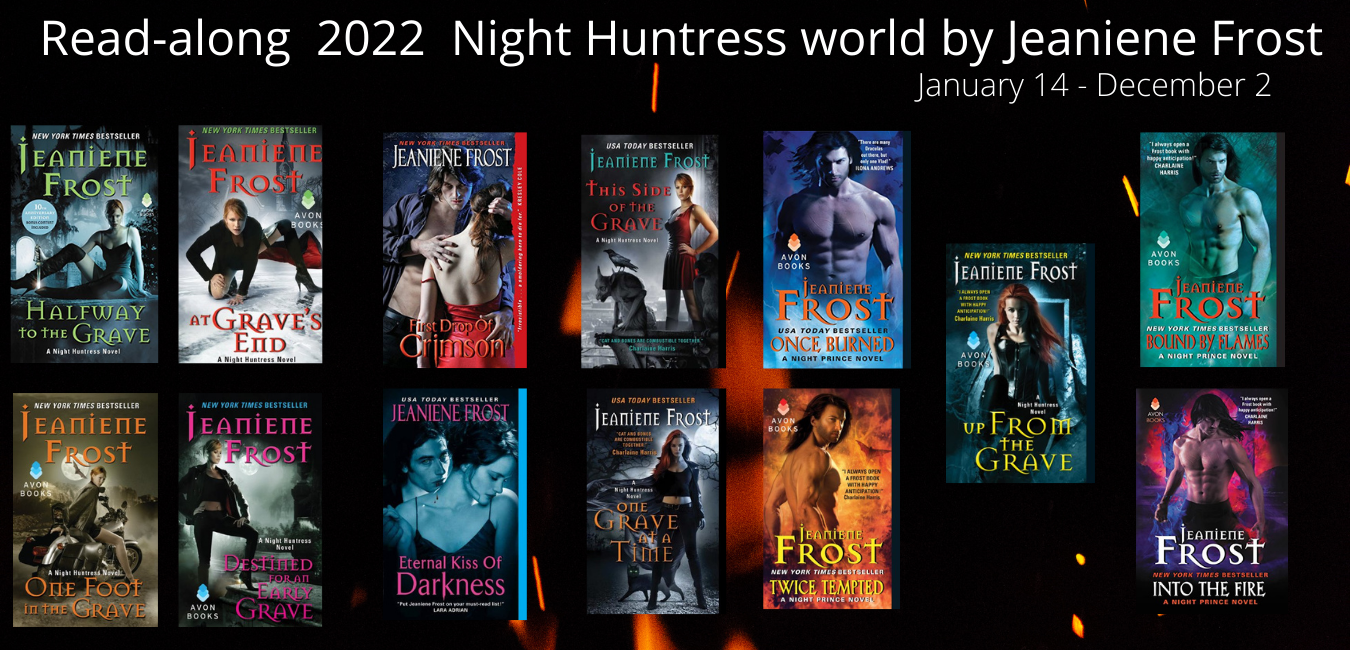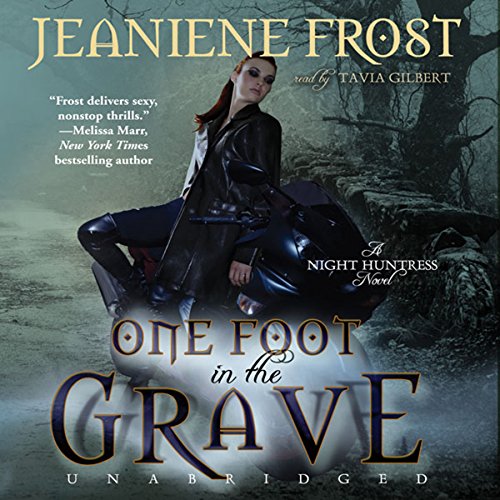 One Foot in the Grave by Jeaniene Frost
Narrator: Tavia Gilbert
Series: Night Huntress #2
Published by Avon, Blackstone Audiobooks on October 13, 2008
Genres: Paranormal Romance, Urban Fantasy
Pages: 357
Format: Audiobook
Source: Library
Goodreads
Amazon,  Audible,  Libro.fm,  Barnes & Noble,  Apple





Half-vampire Cat Crawfield is now Special Agent Cat Crawfield, working for the government to rid the world of the rogue undead. She's still using everything Bones, her sexy and dangerous ex, taught her, but when Cat is targeted for assassination, the only man who can help her is the vampire she left behind.

Being around Bones awakens all her emotions, from the adrenaline rush of slaying vamps side by side to the reckless passion that consumed them. But a price on her head – wanted: dead or half-alive – means her survival depends on teaming up with Bones. And no matter how hard Cat tries to keep things professional between them, she'll find that desire lasts forever … and Bones won't let her get away again.
I'm so excited to talk about
 One Foot in the Grave
,
 in general, I love the second book in a series!  Second books are where often learn deep dark backstories and they often have some great action because the main characters are already set up.  This book is no exception!
SPOILER ALERT! 
I'm probably going to do some spoiling in my comments so if you haven't read this book, well you might learn some things if you keep reading.
**********************
I'd just like to say right off the bat, I don't like Tate. I didn't like him at the beginning of this book. I didn't like him in the middle and I especially didn't like him hanging around the house when Cat and Bones had their marathon sex session.  Cat calls him her best friend, and I say, no he isn't.
The only person I like less is Cat's mother – she is still the worst.  And of course, there is Annette, I like her about as much as Tate.  I wonder, will one of these characters have a redemptive arc?  I have confidence that Jeaniene Frost could manage that with Annette and Tate, but I don't know about Cat's mom. Speaking of which, when we learned that Cat's dad has a very different recollection of the night Cat was conceived, I wasn't surprised at all. It made sense.
I think Jeaniene Frost made an excellent writing choice at the beginning of this book. I highly approve of the time jump.  We get to skip over the months that Cat spent mourning the loss of Bones and the training of the team.
I was also very pleased with the direction this book takes.  There could have been a whole thing where Cat and Bones stayed apart and there would have been so much angsty drama, but instead, we get reunion sex like no other, and then Bones joins Cat's team.  I was surprised that Bones was going to be willing to make new vampires out of the soldiers, but that is a new direction and I look forward to seeing what happens. Will that mean a spin-off story for Juan as a vampire?  Who knows. (I mean all the people who have read these books already know, but I have no idea what is going to happen next!)
In this book, we learn more about how the hierarchy of vampires works and there is a new major power player, Mencheres.  In my area, there is a big car dealership called Mancari's.  So whenever there was a Mencheres scene, I pictured the great vampire as a car salesman.
I think my favorite part of this book was the wedding of Denise and Randy. I liked that Cat has a friend she can confide in after spending her first two decades without friends so I love that she is not alone anymore. Cat and Bones' wedding was a bit of a bummer for me- I would have liked it to happen later in more of a "want to get married" not "have to get married"  situation. But who knows, maybe in a later book there will be a romantic affirmation of vows or something.
I don't know what is going to happen in book 3, but I'm sure we haven't seen the last of Cat's crummy father. And I'd venture to guess it wasn't turning into a vampire that made him suck, he probably sucked before then too!
I almost forgot about the Dave thing at the end. That was surprising.  Boy, there was a lot packed into this book!
What did you like best?
---
Games:
Who said (enter the answer in the Rafflecopter, don't put in the comments)
Who said                              "You're a freak. Why wouldn't you want a freak also?"
There are other options in the rafflecopter for you to enter discussion questions and quotes to share.
The quote for Who said "Well, strike me pink" in Halfway to the Grave is Spade  / Charles.
The villains were Hennessey and the Governor.
---
Share your review/ thoughts on  One Foot in the Grave:
I thought it might be fun to link up reviews so we can find them all easily.  It can be a link to Goodreads or a blog, or wherever you have a review (short or long).
Mister Linky's Magical Widgets — Easy-Linky widget will appear right here!
This preview will disappear when the widget is displayed on your site.
If this widget does not appear,
click here
to display it.
---
Observations and questions you shared from Halfway to the Grave:
(Thank you  so much for sharing!)
Several readers have mentioned they picture Bones in their head as Spike from Buffy.
The difference between the Cat at the beginning and the Cat at the end is extraordinary and I am really going to enjoy re-reading them as Cat grows!
I had forgotten how much I hate Cat's mom.
I just was hooked from the beginning and the ride was fabulous!
Mencheres!  Dave!  Grendel!
I am so disappointed in Don.
When Bones first tried compulsion on Cat, she said that she felt the urge to do it, just a bit. Was it possible for Cat to be compulsed if the vampire was very powerful?
---
Quotes you readers shared from  Halfway to the Grave:
"Don't kiss me like a woman if you're going to treat me like a child."
"I'm saying that I'm a moody, insecure, narrow-minded, jealous, borderline-homicidal bitch, and I want you to promise me that you're okay with that, because it's who I am and you're what I need."
"If you run from me, I will chase you, and I'll find you."
"It's what you reminded me of when we met. An angry, defiant, brave little kitten. And every once in a while you're cuddly like one."
"You're one of the bravest people I've ever met, yet you're scared to death of your own mum. Don't you realize? It's not me you're hiding in a closet—it's yourself."
"Give in to the fear for effect? One stink platter, coming right up."
"You're not a woman," he said finally. "You're the Grim Reaper with red hair!"
"Lucifer's bouncing balls, Kitten, not again!"
"Come and get me, bloodsucker."
"Let's go, Kitten, before you kill someone else. "
"There is only one way to fight, and that's dirty. Clean gentlemanly fighting will get you nowhere but dead, and fast. Take every cheap shot, every low blow, absolutely kick people when they're down, and maybe you'll be the one who walks away."
---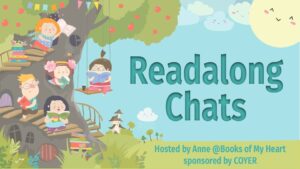 COYER FB Chat – Sunday February 13
Challenge is adopting our Read-along.  You can read about COYER and join that challenge  HERE.   On the Sunday after the review posts, they will host a FB room (like we do for COYER book club) at 12 PT, 2 CT, 3 ET and 9pm Europe, for a one hour chat.  You do not have to join the COYER challenge to participate, only the Facebook group.
---
Here's your to-do list:
Find your copies of these books, borrow them from a friend, get them at the library or buy them.
Read Book 3, At Grave's End, by March 11.
Make note of a favorite quote or two as you read the book.
If you haven't read the books before, make a list of questions you have for the discussion. If you have read them, please don't spoil new readers.
Think of some great questions for Jeaniene Frost for the Q & A post!
Link up your review on Goodreads, FB or other site to the post.
Join the COYER book chat on the Sunday following the post.
Enter the giveaways!
---
Schedule:   
We are doing one book every 3-4 weeks, posting on Fridays. We will have a review for the books with the team here at Books of My Heart plus some of our friends.  We are following the author recommended reading order.
Feb 11:    One Foot in the Grave              –  Victoria @ First of All
Mar 11:   At Grave's End                            –  Kimberly @Caffeinated Reviewer
Apr  1:     Destined for an Early Grave   –  Stephanie @ Once Upon a Chapter  
Apr 29:   First Drop of Crimson               – Kai @ Fiction State of Mind
May 20:  Eternal Kiss of Darkness         – Jen @ That's What I'm Talkin About
Jun 10:    This Side of the Grave              – Brandee @Unconventional Bookworms
Jul 8:       One Grave at a Time                  –  Lorna 
Aug 5:      Once Burned                                –  Lexxie @Unconventional Bookworms
Sep 9:     Twice Tempted                             –  Angela @ Angel's Guilty Pleasures
Oct 7:      Up from the Grave                      –  Melanie
Nov 4:     Bound by Flames                        –  Sophia
Dec 2:    Into the Fire                                   – Berls @ Because Reading
Q & A with Jeaniene Frost
Miss a post?
Jan 14:    Halfway to the Grave               – Melissa @ Tea & Books
---
Jeaniene Frost has also been kind enough to commit to a Q & A post.   I will collect questions for her through September 19th.  I will send your questions to her and she will pick 3-5 questions and send me the response.  I will post her answers in the December 2 post.  So think up some great questions for her!
---
Bonus round – Read a Series in a Month  January 2023:
Jan 8:    Shades of Wicked              –  Carole @ Carol's Random Life in Books
Jan 22:    Wicked Bite                        –  Robin
Feb 5:       Wicked All Night             –   Anne
These are Sunday noon posts.      There will be one COYER FB Chat at the end of the series on Feb 5th.
---
Be sure to enter the giveaways!!!
Giveaway:
For US new print copy of Destined for An Early Grave and for Intl from Book depository.
Grand-Prize Giveaway:
For a US winner, this will be 12 digital copies ( your choice of her books) generously provided by Jeaniene Frost  (US only) but they can be from Amazon, Barnes & Noble or Kobo.
For an Intl winner,  it will be $50 at Book Depository.
Rating Breakdown
Narration (Audio)
Overall:
Latest posts by Anne - Books of My Heart
(see all)
Reading this book contributed to these challenges:
Related Posts