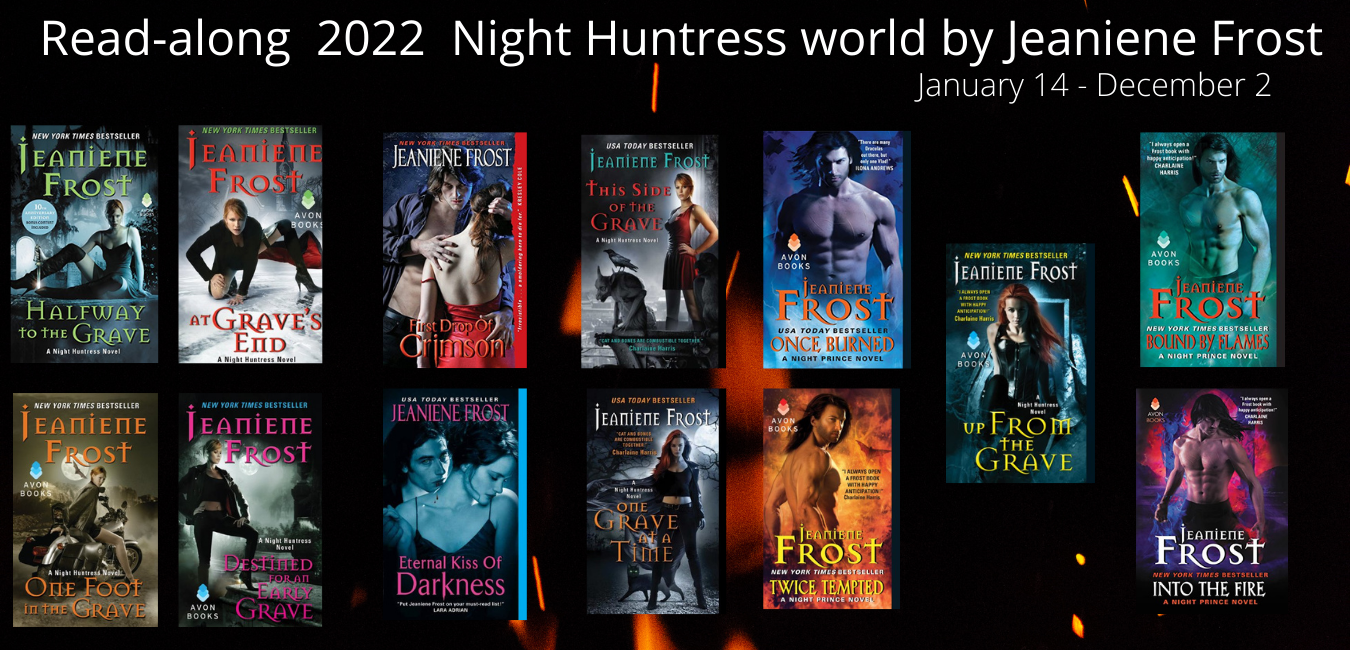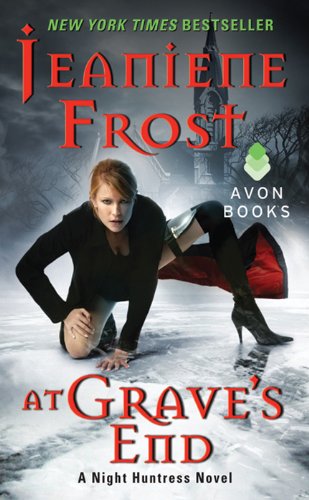 At Grave's End
by
Jeaniene Frost
Series:
Night Huntress #3
Published by
Avon
,
Blackstone Audiobooks
on December 20, 2008
Genres:
Paranormal Romance
,
Urban Fantasy
Pages:
339
Goodreads
Amazon
, 
Audible
, 
Audiobook
, 
Barnes & Noble
, 
Apple





It should be the best time of half-vampire Cat Crawfield's life. With her undead lover Bones at her side, she's successfully protected mortals from the rogue undead. But though Cat's worn disguise after disguise to keep her true identity a secret from the brazen bloodsuckers, her cover's finally been blown, placing her in terrible danger.

As if that wasn't enough, a woman from Bones's past is determined to bury him once and for all. Caught in the crosshairs of a vengeful vamp, yet determined to help Bones stop a lethal magic from being unleashed, Cat's about to learn the true meaning of bad blood. And the tricks she's learned as a special agent won't help her. She will need to fully embrace her vampire instincts in order to save herself—and Bones—from a fate worse than the grave.
At Grave's End is the third book in the Night Huntress series by Jeaniene Frost and perhaps one of my personal favorites so far. While Frost delivers plenty of action, she also shares the emotional side of Cat and Bones' relationship. I consumed this in a single afternoon and again questioned why I have let these books sit in my TBR pile for so long. I will remedy that by reading one a month until I am caught up. It is written and so it shall be done. (which I failed to do! Le-sigh, book lovers with TBR piles, do you feel me?)
When the tale begins, Cat's life is looking pretty darn good. She has an outstanding team, and an incredible relationship with Bones. Aside from vamps recognizing her as the Red Reaper, she couldn't be happier. Although they are married by blood, Bones proposes and is determined to give Cat a traditional wedding complete with a beautiful dress. Cat's relationship with her mother hasn't been well since she hooked up with Bones, and the announcement of the wedding isn't making it any chummier. When Cat's mother Justina calls inviting her to dinner and asking to help with the wedding plans, she can hardly say no. When Cat arrives at her mother's, the tale that unfolds is captivating, suspenseful, tear-jerking, ass-kicking, and hilarious. It kept me enthralled until the last sentence. Did I mention Zombies? Oh, yeah…there are zombies and its epic.
Cat's character growth in this novel was exceptional. She has always been kick-ass, but she matures in this novel. She has this unbelievable strength, and it is definitely put to the test. There are a lot of changes with Tate and while I do not think I will ever love the guy, I appreciate him a little more. Annette is back, the vamp I love to hate. Crap..Frost completely made me flip for her. Mencheres teams up with them and we learn more about him. Then there is Vlad, a super hunky vampire lord with a snarky attitude. I am looking forward to seeing more of him. Bones is divine, scrumptious, stubborn and oh so romantic. Sometimes I forget what a ruthless killer he can be. The interaction between him and Justina was hilarious and had me giggling. I couldn't wait to read what they would say next. Justina was a complete surprise in this novel, and I adore this feisty little woman.
With At Grave's End, Frost gives us one heck of a ride. My emotions were all over the place, as they faced one dilemma after another. There are several villains in this novel, some old and some new. The worst by far is Patra. She is master vampire on a mission and I would not want to mess her. As always, Frost surprises us with a few twists, some new vampire abilities and wickedly good, heart-stopping scenes. My favorite scene happens towards the end of the novel and had my heart racing. Those who love all the steamy interaction between Bones and Cat might be a little disappointed. Frost focuses more on their emotional ties. Those ties made this novel one of my favorites.
I highly recommend At Grave's End and the Night Huntress series to fans of paranormal urban fantasy. Frost offers interesting and unique characters that you become invested in. She spins a tale that offers hours of non stop entertainment.
---
Games:
Who said (enter the answer in the Rafflecopter, don't put in the comments)
Who said
 "So both of us used her for our own selfish reasons. That vampire over there has treated her better than her own family."
There are other options in the rafflecopter for you to enter discussion questions and quotes to share.
The quote for Who said "You're a freak. Why wouldn't you want a freak also?" in One Foot in the Grave is Cooper.
The villains were Max and Ian.
---
Share your review/ thoughts on  At Grave's End:
I thought it might be fun to link up reviews so we can find them all easily.  It can be a link to Goodreads or a blog, or wherever you have a review (short or long).
Mister Linky's Magical Widgets — Easy-Linky widget will appear right here!
This preview will disappear when the widget is displayed on your site.
If this widget does not appear,
click here
to display it.
---
Observations and questions you shared from One Foot in the Grave:
(Thank you  so much for sharing!)  If you can answer any of these numbered questions, you can do so in a comment.
I have to wonder if Bones is joining the team if that will cause some issues as he will probably know a lot more about the vampires they are hunting.  If they are massively and randomly killing humans, they are a fair target.  But if not, he might have some problems.
I still don't like Cat's mom. (Nobody does)
Mencheres was so dramatic when he interrupted the confrontation with Ian 😂
The cat fight (no pun intended) between Annette and Cat was epic!
I couldn't believe Cat was related to Don and the way he treated her like she was not his niece. I wanted to kill him and I was wondering if things would have been different if Don has told her who she was to him from the beginning, would she have helped him all them more since she wanted to kill her dad anyway.
I'm so glad Ian delivered that "I thought if the Alexander didn't kill me, nothing would…" monologue before he was supposed to die. He was this close to being Cat's kebab
Annette was Bones's longest friend. Longer than Spade and Ian.
When Bones first tried compulsion on Cat, she said that she felt the urge to do it, just a bit. Was it possible for Cat to be compulsed if the vampire was very powerful?
On Dave's funeral, it was mentioned that he had a sister. At the end of the book, he was revived as a ghoul. Did his sister know about it or did Don let them continue believing he's dead, like he did to Cat at book 1?
Why didn't Cat suspect Spade of killing that couple on her old house? (He, just like Bones and Hennessy's friends, knew Cat's real name and old address, and his motive might be avenging Bones's broken heart.)
I want to know about Annette more – how old was she when she was turned? Does she love Bones (I think she does)? How old was Bones when he was turned too?!
When Denise asked how Cat convinced the parents to attend their wedding, she said she was practicing using compulsion on human. How did Cat "practice" compulsion?
How did Lazarus know where Bones's cave was?
---
Quotes you readers shared from  One Foot in the Grave:
"Just give her the bottle mate."
"You know that old saying. Once you go dead, no one's better in bed." 😂
"Bloody hell Kitten not again."
"And that, Annette, is called Pilates."
"You can run from the grave, but you can't hide."
"She's my kitten, and no one else's."
"You hated the very sight of me."      "I don't hate you now."
"I've always felt how you treated something weaker than you showed your true character."
" Life's a bitch and then one stabs you."
"I have been stabbed, shot, burned, bitten, beaten unconscious too many times to count, and even staked. None of those held a candle to the pain I felt at seeing his mouth on hers. A soft sound escaped me, barely a disturbance of the air, but it was a sound of pure agony. "
" I've been listening to you snore and watching you cocoon into the bedspread, and I realized I've missed this the most. Holding you while you sleep."
" had found out I might have far longer to fuck up my life than I'd previously imagined."
"Damn people who argued using logic. Talk about unfair."
"I did give Max my best. I sent him you."
" Do you know what you've done? You've gotten on my last nerve."
"I love you. Don't be ashamed of anything we did, even if your prudery is on life support."
"Liam, you're not flirting with a federal agent who's investigating you in a double homicide, are you?"
"Do it your way, but I suggest another one. You could go ahead and beat her bloody, or…you could give me such loud, screaming orgasms that the sound of them blisters her ears. If you have any former-whore-turned-promiscuous-vampire tricks you've been holding back, well, bring them on. I only have one stipulation: You'd better outperform any service you gave to her or anyone else, because if I don't wake up tomorrow red in the face from embarrassment at what you did to me, I'll be disappointed."
---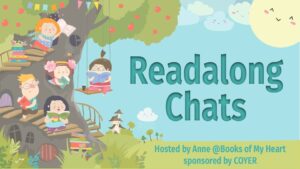 COYER FB Chat – Sunday March 13
Challenge is adopting our Read-along.  You can read about COYER and join that challenge  HERE.   On the Sunday after the review posts, they will host a FB room (like we do for COYER book club) at 12 PT, 2 CT, 3 ET and 9pm Europe, for a one hour chat.  You do not have to join the COYER challenge to participate, only the Facebook group.
If you can't attend, there is also a Facebook messenger chat which has been fun and active, set up following the live chat.
---
Here's your to-do list:
Find your copies of these books, borrow them from a friend, get them at the library or buy them.
Read Book 3.5, A Devil to Pay.
Read Book 4, Destined for an Early Grave, by April 1.
Make note of a favorite quote or two as you read the book.
If you haven't read the books before, make a list of questions you have for the discussion. If you have read them, please don't spoil new readers.
Think of some great questions for Jeaniene Frost for the Q & A post!
Link up your review on Goodreads, FB or other site to the post.
Join the COYER book chat on the Sunday following the post.
Enter the giveaways!
---
Schedule:   
We are doing one book every 3-4 weeks, posting on Fridays. We will have a review for the books with the team here at Books of My Heart plus some of our friends.  We are following the author recommended reading order.
Mar 11:   At Grave's End                            –  Kimberly @Caffeinated Reviewer
Apr  1:     Destined for an Early Grave   –  Stephanie @ Once Upon a Chapter  
Apr 29:   First Drop of Crimson               – Kai @ Fiction State of Mind
May 20:  Eternal Kiss of Darkness         – Jen @ That's What I'm Talkin About
Jun 10:    This Side of the Grave              – Brandee @Unconventional Bookworms
Jul 8:       One Grave at a Time                  –  Lorna 
Aug 5:      Once Burned                                –  Lexxie @Unconventional Bookworms
Sep 9:     Twice Tempted                             –  Angela @ Angel's Guilty Pleasures
Oct 7:      Up from the Grave                      –  Melanie
Nov 4:     Bound by Flames                        –  Sophia
Dec 2:    Into the Fire                                   – Berls @ Because Reading
Q & A with Jeaniene Frost
Miss a post?
Jan 14:    Halfway to the Grave               – Melissa @ Tea & Books
Feb 11:    One Foot in the Grave              –  Victoria @ First of All
---
Jeaniene Frost has also been kind enough to commit to a Q & A post.   I will collect questions for her through September 19th.  I will send your questions to her and she will pick 3-5 questions and send me the response.  I will post her answers in the December 2 post.  So think up some great questions for her!
---
Bonus round – Read a Series in a Month  January 2023:
Jan 8:    Shades of Wicked              –  Carole @ Carol's Random Life in Books
Jan 22:    Wicked Bite                        –  Robin
Feb 5:       Wicked All Night             –   Anne
These are Sunday noon posts.      There will be one COYER FB Chat at the end of the series on Feb 5th.
---
Be sure to enter the giveaways!!!
Giveaway: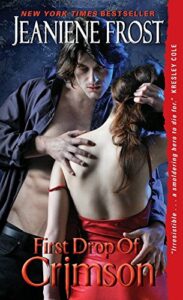 For the US winner, this will be a digital copy ( your choice of her books) generously provided by Jeaniene Frost  (US only) but they can be from Amazon, Barnes & Noble or Kobo. For Intl a print book, from Book depository.
Grand-Prize Giveaway:
For a US winner, this will be 12 digital copies ( your choice of her books) generously provided by Jeaniene Frost  (US only) but they can be from Amazon, Barnes & Noble or Kobo.
For an Intl winner,  it will be $50 at Book Depository.
Latest posts by Anne - Books of My Heart
(see all)
Reading this book contributed to these challenges:
Related Posts