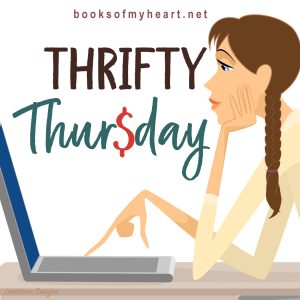 The purpose of Thrifty Thursday is to read a book which was free (at some point).
Audio freebie from Simon & Schuster on December 28, 2021  (special  email from publisher to pick an audio of my choice )
Overall rating 3.84 with 4,943 ratings and  629 reviews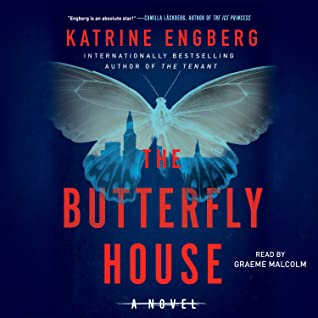 The Butterfly House
by
Katrine Engberg
Narrator:
Graeme Malcolm
Series:
Korner & Werner #2
Published by
Simon & Schuster Audio
on January 5, 2021
Genres:
Mystery
,
Thriller
Length:
10 hours, 1 minute
Format:
Audiobook
Source:
Gift
Goodreads
Amazon
, 
Audible
, 
Audiobook
, 
Apple





Hospitals are supposed to be places of healing. But in the coronary care unit at one of Copenhagen's leading medical centers, a nurse fills a syringe with an overdose of heart medication and stealthily enters the room of an older male patient.

Six days earlier, a paperboy on his route in central Copenhagen stumbles upon a macabre find: the naked body of a dead woman, lying in a fountain with arms marked with small incisions. Cause of death? Exsanguination—the draining of all the blood in her body.

Clearly, this is no ordinary murder. Lead Investigator Jeppe Kørner, recovering from a painful divorce and in the throes of a new relationship, takes on the investigation. His partner, Anette Werner, now on maternity leave after an unexpected pregnancy, is restless at home with a demanding newborn and an equally demanding husband. While Jeppe pounds the streets looking for answers, Anette decides to do a little freelance sleuthing. But operating on her own exposes her to dangers she can't even begin to fathom.

As the investigation ventures into dark corners, it uncovers the ambition and greed that festers beneath the surface of caregiving institutions—all the more shocking for their depravity—and what Jeppe and Anette discover will turn their blood as cold as ice…
It had been awhile since I read The Tenant but when The Butterfly House was one of the free options from the publisher I was thrilled. Police procedurals are usually a comfort read, strange I know,  but they investigate in a somewhat logical fashion and there's usually closure.  It's also an opportunity to "visit" Copenhagen, Denmark in the book.
If you enjoyed these experienced partners previously,  it's a bit different here because Anette is on maternity leave from a surprise pregnancy.  She is bored and struggling a bit with her new roles so she investigates to entertain herself.  She digs up some really good facts and evidence.  Unfortunately, she also goes without backup.
Jeppe is leading the investigation and under a lot of pressure as more bodies are found.  He misses his competent partner.  He's also living at his mother's home while waiting for his apartment to be available after his divorce.  Plus he's dating a new woman and feeling uncertain about her future plans and her children.  So he has plenty of personal issues popping up all along.
The case seems to center around a care home for minor psychiatric patients which closed a few years ago.  There was a patient who committed suicide and a doctor who drowned.  It's a struggle to find the parents, patients some who are adults now, and the medical staff and administrators.  When they do find them, they may only know someone's first name. I was not really able to discern the killer, so it was a shocking journey for me.
Engberg gives us a fascinating investigation with many layers of personal issues and problems which are ordinary but there are people who work through them all the time.  It's intriguing to see the choices they make. These flawed, relatable people make a connection for this story. I enjoyed the personal aspects but I also look forward to the next book, released February 22, 2022 The Harbor, when the team is back together again.
Narration:
I enjoy listening to narration with characters from different countries portrayed. Still I listened at 1.25x speed for the first hour or so to get used to the narrator. I had not listened to him since a couple of years ago, when I had purchased the first book.  I enjoyed the performance and felt comfortable with the male and female voices.  I moved up to 1.5x speed after the start.
Listen to a clip:

---
These are only Kindle freebies I get, or ones through author newsletters which anyone can sign up and get for free. I don't include things like Kindle Unlimited or Prime Free Reading (I do have it). Both Tantor and Audible have occasional free audios (to anyone) and I do include those.  Since I one-click on 1-2 freebies a day or probably at least 5 a week, I came up with this feature to make sure I start reading them.
I think would be fun is if you have read and reviewed  a freebie, link up to your review (Goodreads, blog, facebook or wherever) below.
---
Add your review link here: 
Mister Linky's Magical Widgets — Easy-Linky widget will appear right here!
This preview will disappear when the widget is displayed on your site.
If this widget does not appear,
click here
to display it.
Rating Breakdown
Plot
Writing
Characters
Narration (Audio)
Overall:
Latest posts by Anne - Books of My Heart
(see all)
Related Posts