Review copy was received from Publisher. This does not affect my opinion of the book or the content of my review.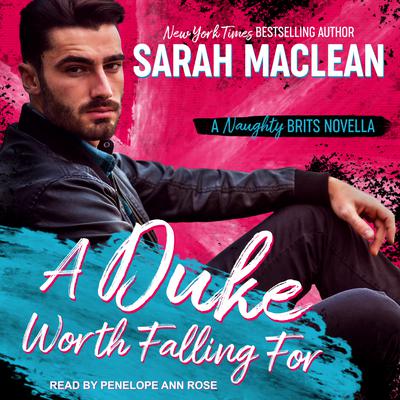 A Duke Worth Falling For
by
Sarah MacLean
Narrator:
Penelope Ann Rose
Published by
Tantor Audio
on March 31, 2022
Genres:
Contemporary Romance
Length:
4 hours, 5 minutes
Format:
Audiobook
Source:
Publisher
Goodreads
Amazon
, 
Audiobook
, 
Barnes & Noble
, 
Apple






Her career in tatters, celebrity photographer Lilah Rose needs somewhere to regroup and start fresh, outside of the spotlight. There's nowhere better to hide than the English countryside, complete with fluffy sheep, rolling hills…and Max, the stern, sexy farmer who tends to them.

But the lazy days and lush nights with Max aren't as far from the spotlight as Lilah thinks. He isn't simply a farmer—he's also a duke: young, handsome and powerful…and too aware of how a title can dazzle, making the man inside invisible. What's the harm in playing the farmer for a while? After all, Lilah isn't staying…
A Duke Worth Falling For is the first Sarah MacLean story I've read that wasn't a historical romance and it looks like it is her first toe dip in the contemporary romance pool.  If this was to test out if her readership will follow her into present day, I think the results will be great.  Her first novella in this genre was relatable with nice grown-up characters, a great Ducal Manor holiday feel and a story of a comeback.
Lilah is a photographer rebuilding her life after getting blacklisted.  Max is Rupert Maximillian Arden, Fourteenth Duke of Weston, Earl Salterton, he is also a man who has never really known if a woman wants him for his title and money or just him.  When he meets Lilah during a photoshoot of some reluctant sheep, he neglects to mention he is the duke and she assumes he is just a farmhand for the estate.  They embark on a no strings affair as Lilah is going back to her life in just nine days.
While they fell in love a bit fast, I think being more vulnerable to another person because this is supposed to just be a vacation fling is part of the reason why.  You can also tell that both Lilah and Max don't let many people see the real them and so that is intoxicating to just be who you are without assumptions due to your title or past.
Lilah is very likeable.  She is resilient and is at the end of her journey to create a new career in photography because it is what she loves and can't imagine doing anything else.  Max isn't really an alpha male but he is a strong man with a lot of responsibility on his shoulders. He can't believe the feelings he has come by for this woman and has a bit of baggage to deal with from his first marriage.  Still together they are fireworks and so strong.  Plus Lilah's revenge against the person who blacklisted her was worth the wait.
Totally a cute novella with a good number of sexy times in it. I do hope that Sarah Maclean has more contemporary stories in her head to give us in the future.
Narration:
Penelope Ann Rose's voice has an exceptional sultry quality that made parts of this story really hot.  I enjoyed how she played both Lilah and Max and was able to really bring out their strengths and vulnerabilities to make them very three dimensional characters in a short time.
Listen to a clip:  HERE
Rating Breakdown
Plot
Writing
Characters
Dialogue
Narration (Audio)
Overall:
Related Posts