Review copy was received from NetGalley. This does not affect my opinion of the book or the content of my review.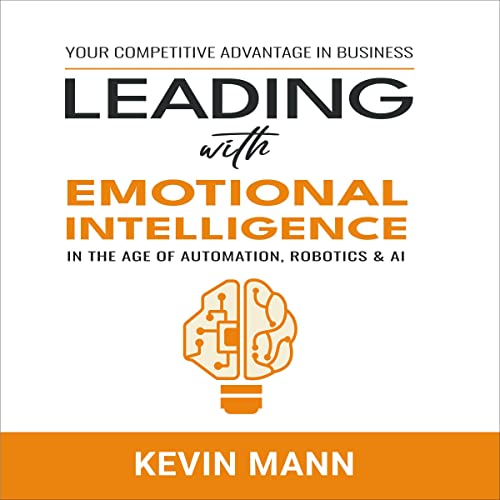 Leading with Emotional Intelligence
by
Kevin Mann
Narrator:
Troy W. Hudson
,
Debbie Grattan
on April 12, 2022
Genres:
Non Fiction
Length:
5 hours, 59 minutes
Format:
Audiobook
Source:
NetGalley
Goodreads
Amazon
, 
Audible
, 
Barnes & Noble




When you look at your organization, you'll find that it lives in two places—its process and values. The human element is the common link between these two. Look closer, and you'll realize that the same emotions that seek to increase a company's productivity are often the same forces that can undermine a company's core values.

Understanding how to direct and control those emotions—both inside and outside an organization—is the core theme of this audiobook. Leading with Emotional Intelligence presents practical and straightforward guidance you can put to immediate use in your business or group. Learn how to tap into the most valuable asset you have and implement strategies to grow revenue, reduce costs, and provide stakeholder value. Many organizations still function in an outdated way, refusing to examine the processes and values that drive their business. Leading with Emotional Intelligence captures lessons learned from interviews I've had with C-level executives, managers, self-made billionaires, mayors, and scientists over the last several years and draws upon research in neuroscience, organizational psychology, and real-world studies.

The techniques provided here are helpful for every type of leader and organization, from the government sector to commercial enterprises, from small businesses to large corporations. Discover concrete steps for modifying your leadership style for employee retention, stakeholder engagement, and to drive away customer dissatisfaction.
I try and read at least one leadership book a month since I became a supervisor.  I think that everyone in their life is in charge of managing or leading others in some way whether it is family, community, in your job or just in the way you interact with others in your life.  It is always interesting to me to look at these books through multiple lenses and see how they relate to my work life and my personal life.
Leading with Emotional Intelligence does what most books in this genre do.  They all talk in vague terms that apply to many areas instead of specifics in a lot of cases.  I get why this is, so the book will be relatable to a larger population.  So I normally like to look for a few take-aways I can use in my day to day operations.  This book did give me a few of those but they weren't necessarily new to me just because I do read other books in this genre.
Be empathetic with your employees.  This seems like a no brainer if you are in a leadership position.  You do need to know who your staff is, what their challenges are and how to put themselves in their shoes to really understand how to motivate, encourage and mentor them.  Just because you empathize with someone's situation/attitude/way of thinking doesn't mean you agree with them.  But it should be used as a tool.  I did agree with the statements made here and have found that being able to empathize with what is happening with my staff I am able to communicate with them better to achieve goals.
I also liked one area that talked about the Rose, the Thorn and the Bud of a situation or process.  The rose is what is going well, the thorn are challenges or things to work on and the bud are the opportunities.  I think every business or leader should be looking at these and know what they are.
Kevin also talked about using the 3 whys to get from the problem to a possible solution.  As someone who works in quality the whys approach was not new to me and many of my tools use a 5 why approach so I was very familiar with the goal of this method.  But it is a good way to get from what the surface problem is to a way to work through it.
Other than that most of the stuff like Labeling, Mirroring and developing the talent you have I was already very familiar with.  I will say the information was presented well and there was only one chapter on sales specifically that I didn't think could be used by anyone.  Kevin jumped off a little bit at the end to talk about eating habits a little in a strange way that I could have done without but overall if you are in a position where you are trying to develop a new culture, connect with employees or facilitate change then Leading With Emotional Intelligence could have something in it for you.
Narration:
Troy W Hudson is a new to me narrator.  He seems well suited to books like this one and talked extremely easily and well throughout the narration.  I liked his style for the book it reminded me of being in a seminar.  It seemed like he was the one that came up with the presentation instead of just presenting it.  I was able to listen at my usual 1.5x speed
Listen to a clip:  HERE
Rating Breakdown
Plot
Writing
Characters
Dialogue
Narration (Audio)
Overall:
Related Posts