Review copy was received from Publisher. This does not affect my opinion of the book or the content of my review.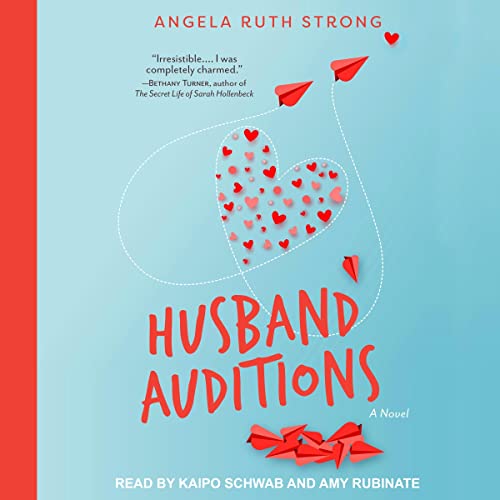 Husband Auditions
by
Angela Ruth Strong
Narrator:
Kaipo Schwab
,
Amy Rubinate
Published by
Tantor Audio
on June 21, 2022
Genres:
Contemporary Romance
Length:
8 hours, 42 minutes
Format:
Audiobook
Source:
Publisher
Goodreads
Amazon
, 
Audible
, 
Audiobook
, 
Barnes & Noble





In a world full of happily-ever-after love, Meri Newberg feels like the last young woman on the planet to be single, at least in her Christian friend group. So when she's handed a strange present at the latest wedding--a 1950s magazine article of "ways to get a husband"--she decides there's nothing to lose by trying out its advice. After all, she can't get any more single, can she?

Her brother's roommate sees the whole thing as a great opportunity. Not to fall in love--Kai Kamaka has no interest in the effort a serious relationship takes. No, this is a career jump start. He talks Meri into letting him film every silly husband-catching attempt for a new online show. If it goes viral, his career as a cameraman will be made.

When Meri Me debuts, it's an instant hit. People love watching her lasso men on street corners, drop handkerchiefs for unsuspecting potential beaus, and otherwise embarrass herself in pursuit of true love. But the longer this game goes on, the less sure Kai is that he wants Meri to snag anyone but him. The only problem is that he may not be the kind of husband material she's looking for . . .
I'm trying out a few new genres this year to see if any really interest me.  I've done some motivational reads, tried Billionaire Romance, Women's Paranormal Romance and now Christian Romance.  Much like any other genre it has been hit and miss.  I've enjoyed the motivational or leadership stuff I've read, given a hard pass to billionaire romances, enjoyed most of the WPR and I'm one the fence for Christian Romance.
The Husband Auditions is a really fun premise.  Our first PoV is Mery, a woman in her early thirties who is the last single lady of all of her friends.  The pull to have a husband and start a family is strong and she is definitely looking for husband material.  Kai, the second PoV, is not husband material at all and he knows it.  He has a very lackadaisical approach to life as he just gets by doing about the bare minimum for everything, waiting for opportunities to fall into his lap.  When Meri becomes a roommate in Kai's apartment he finds opportunity has just fallen into his lap, he just has to convince her to help him.
Meri has been gifted a list of how to catch a husband from a 50s magazine.  She some of the things on the list sound crazy but would it really hurt to try something a little outlandish if it means she gets to meet the man of her dreams?  Meri is talked into trying the list and letting Kai video her in hope he gets enough good material for the show he wants to edit for and she gets to meet a man while also showing women of the world like her they are not alone.  So a partnership is hatched and Meri and Kai are off to try to become YouTube sensations.  With all the quirky things they are doing it doesn't take long to build an audience.  I mean when you literally lasso someone in the city to try to 'lasso a date' you are going to get some views.
The only problem with the Meri Me show they are doing is all the viewers think Kai and Meri should be together instead of trying to set her up with the perfect man.  The attraction between them is growing and everyone can see it, well everyone accept them that is.  Kai is good for Meri, she has changed herself and made choices based on the life with kids she wants instead of just being herself and doing what makes her happy.   Because she is herself with Kai she finally sees how that is more important than trying to become what you think a husband would want.
I would say I enjoyed most of this book.  I ran into a few issues with Meri as she was so willing to try and be someone she wasn't for a future husband.  I struggled with her focusing so hard of marriage that she wasn't just looking for the right man as opposed to any man.  Meri's journey also assuaged her idea that once you get married it is happily ever after.  She didn't realize it is just a new start to a different kind of journey and maybe all of her friends married lives around her were not perfect.
Because this was Christian Romance it is all very chaste and there is a lot of talk about praying and Jesus.  Not that I minded so much but sometimes it felt like it was thrown in at weird times.  Again that is just my non Christian Romance reading take.  But if you have an aversion to talk like that it might bring you out of what is a fun story.  I'm not sure is Christian Romance is for me.  I like the buildup of the romance and I don't need a sex scene so that part was okay but I did miss of few of the intimate moments of a story that isn't in this specific genre.  I will have a try to few more books out in this genre to be sure though.
Narration:
Kaipo Schwab sounded like a narrator I've heard before but I really haven't heard a book by him before.  His voice is smooth and worked great for the character he was playing.  Amy Rubinate I have listened to for multiple series.  She does a fantastic job with the material she was given and I enjoyed her take on Meri.  I was able to listen at my usual 1.5x speed
Listen to a clip: HERE
Rating Breakdown
Plot
Writing
Characters
Dialogue
Narration (Audio)
Overall:
Related Posts