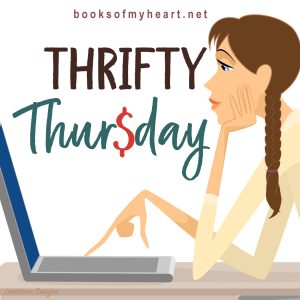 The purpose of Thrifty Thursday is to read a book which was free (at some point).
Kindle freebie on November 28, 2018  (currently 99¢ and in Kindle Unlimited as of writing this post)
Overall rating 4.37 with 1,142 ratings and 168 reviews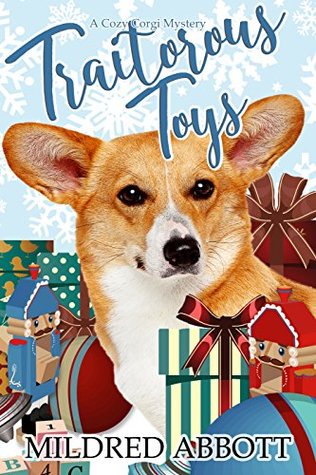 Traitorous Toys
by
Mildred Abbott
Series:
Cozy Corgi Mysteries #2
on December 16, 2017
Genres:
Cozy Mystery
Pages:
282
Format:
eBook
Source:
Purchased
Goodreads
Amazon
, 
Audible
, 
Audiobook





It's Christmas in Estes Park, Colorado: cozy fires, twinkling lights, soft snowfall, and… murder.
The winter holidays in charming Estes Park lulls Winifred Page and her corgi, Watson, into thoughts of spiced chai and gingerbread as they settle into their new home. Fred's dream bookshop is becoming a reality, and with Christmas only days away, her only concerns are spending time with family, enforcing Watson's diet, and finding the perfect gifts.

The toy store beckons Fred and her friend Katie, who dash in out of the cold, during a shopping spree to discover handmade toys, cuddly stuffed animals… and a dying man on the floor.
When Katie's desperate attempts to save the man ends in her being taken in for his murder, Fred once again dons her detective hat. She puts aside her Christmas list and—with Watson sniffing around—begins a list of suspects. But as quickly as clues point to one person, new discoveries shift the spotlight to another.

With Katie's freedom in the balance, Fred has little time to think about gifts or to enjoy the holiday lights and music. A killer is on the loose, one who became violent in a picture-perfect Christmas toy shop, and Fred and Watson can't begin to predict what might happen next…
I read the first book of the Cozy Corgi Mysteries and remember I liked it.  It has some quirky characters in this small town which aren't well developed, but the main characters who recur are developed, unique, and I like them.  The main characters, Fred, and her dog Watson, are definitely likable.  I especially appreciate that Watson is a key character and well involved in her life and story.
Fred has recently moved to Estes Park, Colorado, where her mother lives now, and it's a beautiful setting.  She is also opening a bookstore and the book references are wonderful.  Her process of setting up the business is interesting.
It is a bit unbelievable that so many men find Fred attractive but men are bound to notice someone new and unattached in town I guess. I also wonder as I read on in the series, which I want to do, how someone can die every month or so in a town this size.
Even with these few issues for me,  I really like these books and won't hesitate to read more as I can. Traitorous Toys is also a Christmas story so it fit for the COYER Christmas in July Read-athon.
---
Kindle freebie on June 21, 2019  (currently $2.99 at Amazon and Barnes & Noble as of writing this post)
Overall rating 3.79 with 2,152 ratings and 257 reviews
Play Dead
by
Leslie O'Kane
Series:
Allie Babcock #1
Published by
NYLA
on January 1, 1998
Genres:
Cozy Mystery
Pages:
275
Format:
eBook
Source:
Purchased
Goodreads
Amazon
, 
Barnes & Noble
, 
Apple




At her brand new shop in Boulder, Allie's very first client is a dejected collie whose previous owner allegedly took her own life. But with a natural nose for crime, Allie soon suspects murder—leaving her dejected canine client as possibly the sole witness to the crime.

With the scent fresh, Allie is quickly on the case – but a second murder curtails her investigation. Before taking another step, Allie needs to count her enemies: several suspicious dog owners, a boyfriend with a temper (and a demand for vengeance!), and a mysterious door-to-door salesman with a curious tale to tell…
Play Dead had so much potential but had too many things which are my issues. I'm going to start with those issues.  The quirky was too quirky and not only were the characters unbelievable, all these "clients" asking after the collie, Sage, made no sense and was never finished in the storyline.  Only one made sense and that's the one who killed Sage's owner.
The next thing was so many men finding Allie attractive, which she was, but I draw the line at the married men.  She didn't engage with them but the fact they tried to "date" her didn't work for me.  There is a romance which starts to develop and could be good as the Allie Babcock Mysteries continue.
Allie Babcock is a dog therapist and I love that.  Her work and the dogs she works with in the story are great. I really enjoyed the dog training.  I could have had that without a romance or murder mystery and I would have been happy.   So I think this series might be better as it progresses.
---
Kindle freebie on April 8, 2020  (currently $6.15 at Amazon and $7.49 at Barnes & Noble as of writing this post)
Overall rating 4.01 with 998 ratings and 174 reviews
A New Leash on Love
by
Debbie Burns
Series:
Rescue Me #1
Published by
Sourcebooks Casablanca
on July 4, 2017
Genres:
Contemporary Romance
Pages:
354
Format:
eBook
Source:
Purchased
Goodreads
Amazon
, 
Audible
, 
Audiobook
, 
Barnes & Noble
, 
Apple





A single father searching for a way to connect with his children
A determined woman desperate to save the animals she loves
Or a sweet-eyed puppy who longs to be adopted

With her no-kill animal shelter at risk of losing funding, Megan Anderson is working doggedly to save the animals in her care. She'll do anything for them — even go toe-to-toe with a handsome man who's in way over his head.

Craig Williams has had his share of heartache recently, and he's not in the mood to get the guilt trip from a spirited (and beautiful) animal shelter owner. But the more time they spend together, the more he realizes it's not just animals Megan is adept at saving — she could be the one to rescue his heart.

Soon, Craig and Megan find that the magic of unconditional love can do anything... even lead to their forever home.
I loved this one.  The setting is at a rescue shelter, and the main character, Megan, is the director of the shelter.  I love everything about A New Leash on Love.
I'll start with the shelter.  I really enjoyed learning about how it works, their policies, their fund-raising, and the dogs, cats, and rabbits who are there.  There are four employees including Megan, who we get to know and like. They are pretty well-developed, although the story is from Megan and Craig's point of view.  There are also volunteers who become distinct, real people to me.
Back to characters, they were flawed and lovable, and realistic.  I loved Megan.  She is so caring with the animals.  She certainly has issues, some with her family.  Her past and family development was really well-written.
Craig is a successful businessman, recently divorced, who is dropping off the Christmas puppy who is not working out in the family.   He doesn't start out on the right foot, but he really gets there eventually.  I loved his progress in all his relationships and dealing with his emotions after he stopped suffocating them all. I enjoyed the well-developed characters in his family too.
The relationship with Craig and Megan developed well. They were good for each other and gave much support to each other's lives. The conflicts were realistic and didn't feel contrived.  They dealt with their situations as adults and talked to each other as things happened to them.  They did have a few bad luck moments which made the conflict more but overall it was very authentic with real feelings.
I highly recommend A New Leash on Love for its view into shelter / business workings, dogs and training information,  human relationships and grief,  and well-developed realistic characters.  I really plan to continue with the Rescue Me series. I peeked at the blurb for the next book,  Sit, Stay, Love, and it looks to be a romance between another shelter employee and a volunteer.
---
These are only Kindle freebies I get, or ones through author newsletters which anyone can sign up and get for free. I don't include things like Kindle Unlimited or Prime Free Reading (I do have it). Both Tantor and Audible have occasional free audios (to anyone) and I do include those.  Since I one-click on 1-2 freebies a day or probably at least 5 a week, I came up with this feature to make sure I start reading them.
So I have thought about doing a Thrifty Thursday Challenge someday. For now,  what I think would be fun is if you have read and reviewed  a freebie, link up to your review (Goodreads, blog, facebook or wherever) below.
---
Add your review link here: 
Mister Linky's Magical Widgets — Easy-Linky widget will appear right here!
This preview will disappear when the widget is displayed on your site.
If this widget does not appear,
click here
to display it.
Latest posts by Anne - Books of My Heart
(see all)
Reading this book contributed to these challenges:
Related Posts