The Sunday Post is a weekly meme hosted by Kimberly  @ Caffeinated Reviewer. It's a chance to share news~ A post to recap the past week, and showcase books and things we have received.
---
Don't forget to look at my giveaways on the right sidebar.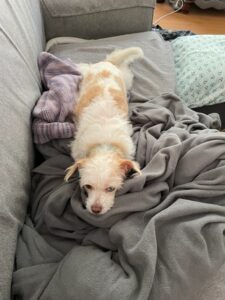 Sunday,  I got up a little earlier than usual, but not early.  I wasn't hungry so I didn't eat. I just cleaned up the kitchen.  Three hours later I went to make myself some eggs. I did more kitchen cleanup though, and reorganized a few things in the kitchen which should work much better.  I need to make a meal plan, again. I did make a new Chicken Wild Rice soup last night which we both really liked so now I have 3 versions of soup my daughter likes. I setup some posts, wrote some reviews, edited and scheduled some posts.   We ate some leftovers for dinner and watched an episode of Worst Cooks.
Monday,  Lulu and I went to pickup our Wegmans curbside order.   I still haven't finished the menu plan but I got ingredients to make one of the things my daughter requested.  After putting the groceries away,  I did finish the menu plan. I created some posts and took care of one giveaway winner.  After dinner, I managed to take Lulu on a bit longer walk, but it's still hot.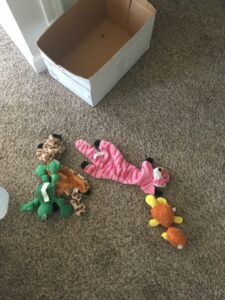 Tuesday,  it was supposed to rain this afternoon, but didn't.  I finished up some posts to schedule, and worked on the upcoming Read-along posts. It was hotter than usual. I talked to my ex about this fall's schedule for our daughter visiting him and attending her first cousin's wedding.  I still walked Lulu after dinner but it was still really hot.  I was going to water but I forgot.  I set up the new air purifier in my room.
Wednesday, I got going pretty quickly.  I set the second air purifier in our office. I watered the flowers, unloaded the dishwasher, and started laundry. Today was the last day to use an Audible coupon so I chose an item from my wish list.  I took my daughter to her chiro appt. I took an Amazon return to UPS, then picked up a few things at Aldi.  Lulu decided we needed all her toys and brought them upstairs to us.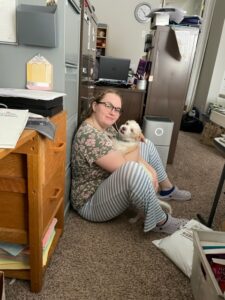 Thursday,  I had the whole day to be at home.  I finished up an audio at bedtime and an ebook when I woke up today.  So I have to start all the new books which can be challenging.  There is a heat advisory and also maybe thunderstorms, but it is cloudy and feels fine at noon.  I watered the flowers, pulled some weeds.  I also went thru some Amazon stuff arriving to get it to where it needs to go.  I had done all the usual tasks and it was pretty early in the afternoon.  I looked forward to writing some reviews and even getting ahead on some small projects. Nope, the Internet went down.  I did my usual software diagnostics, tried both Wifi and Ethernet cable, another computer, rebooted the router.  Then called my provider which took about an hour to get through.  We rebooted the router again and then it worked so I'm not sure what happened exactly.  But I'm glad it's working, although that's a couple hours lost.  We tried two new shows over dinner – Iron Chef and Chopped.  I didn't care for Iron Chef.    I did start both a new audio and a new ebook today and that went well.  Sometimes, it's hard to start a new book until I get into it.  I hung new little solar lights I bought Prime Day on the fence since my daughter asked for more light in the yard but I don't know that it will be what she wants.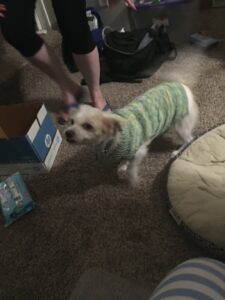 Friday, I got a good start today but it's hot.  I feel like a broken record.  I did finally get back to the sweater I am knitting Lulu.  I knitted a couple of rows earlier in the week.  I only have about 4 inches left.  I started making it about 15 months ago but then Lulu changed weight and I wasn't sure if it would fit. She's lost weight and it was 90% finished so I might as well finish it up.  I updated the linkys in the COYER and Library Love for July and wrote a review.  I made a batch of food for Lulu.  After dinner, I finally finished Lulu's sweater. She liked it.
Saturday,  I love Saturday where I am still busy but more than any other day I can do things in my own order.  I started by updating Ravelry and looking at knitting projects to see what I might do next.  I set up some posts for a couple of audio ARCs I got yesterday. My daughter and I talked about our next knitting projects. I'm going to make her some fingerless gloves.
---

Stacking the Shelves is hosted by Marlene at  Reading Reality.  These are the exciting ARCs I received this week (If you click on the cover, it will take you to the Goodreads entry):
My grateful thanks to Minotaur Books,  Brilliance Audio, and Penguin Audio.
(If you click on the cover, it will take you to the Goodreads entry)
I bought these books with my Prime No Rush reward credits.
I bought this for $3 utilizing a $7 coupon from the last Audible sale.

Now the really scary one. This is all the Kindle and Audible freebies I grabbed this past week. You can see why I need to do Thrifty Thursday to be sure I read a few at least one each month.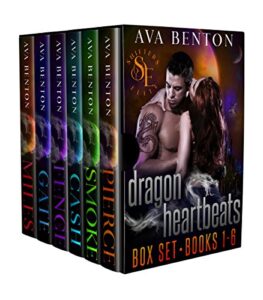 I really meant to cut back on freebies BUT  they are free so I guess that won't be happening.

I'm not including things like reviews posted or upcoming as they are always in the right sidebar. And, my challenge status is also there.
Anne
Latest posts by Anne - Books of My Heart
(see all)