This book may be unsuitable for people under 17 years of age due to its use of sexual content, drug and alcohol use, and/or violence.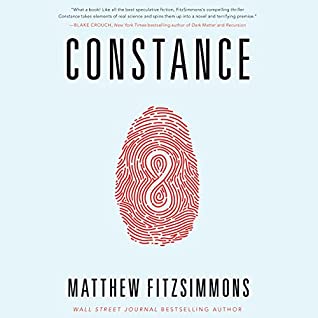 Constance
by
Matthew FitzSimmons
Narrator:
January LaVoy
Series:
Constance #1
Published by
Brilliance Audio
on September 1 2021
Genres:
Science Fiction
Length:
10 hours, 57 minutes
Format:
Audiobook
Source:
Purchased
Goodreads
Amazon
, 
Audible
, 
Barnes & Noble
, 
Apple






A breakthrough in human cloning becomes one woman's waking nightmare in a mind-bending thriller by the 'Wall Street Journal' best-selling author of the Gibson Vaughn series.

In the near future, advances in medicine and quantum computing make human cloning a reality. For the wealthy, cheating death is the ultimate luxury. To anti-cloning militants, it's an abomination against nature. For young Constance "Con" D'Arcy, who was gifted her own clone by her late aunt, it's terrifying.

After a routine monthly upload of her consciousness - stored for that inevitable transition - something goes wrong. When Con wakes up in the clinic, it's eighteen months later. Her recent memories are missing. Her original, she's told, is dead. If that's true, what does that make her?

The secrets of Con's disorienting new life are buried deep. So are those of how and why she died. To uncover the truth, Con is retracing the last days she can recall, crossing paths with a detective who's just as curious. On the run, she needs someone she can trust. Because only one thing has become clear: Con is being marked for murder - all over again.


Trigger warning: Suicide
I remember seeing a lot of talk about this book when it first came out. I know several blog friends who raved about it. So much so that I bought the audiobook. Why did it take me so long to try it? I have no idea. I can say, it was long enough that I completely forgot what this book was about.
This story is set in the future, but not hugely far. If I remember correctly, it was the late 2030s. Cloning is now a thing. The original use of clones was to "replace" highly trained soldiers who died in battle. People who have clones go in to get a "refresh" of their mental information on what is usually every 30 days. If you die, the process to wake up your clone and download your most recent refresh automatically starts. An almost instant soldier with the memories of the one that just died.
Then the company went private once it got out and the public got pissed. Then anyone with a couple of billion dollars can have a clone and a second chance if they die. However, our main character, who is a struggling musician without a band, after her band mostly died in a car crash. She survived, which leaves her with a lot of survivor's guilt. Not to mention that her boyfriend and bandmate is in a coma. Will, her estranged aunt is the one who figured out cloning and gave her a clone, which does come in handy when she does die. The problem is she doesn't know why or how she died.
The idea of cloning has a lot of legal issues, not to mention moral ones. This story doesn't go into harvesting organs of a clone, you get a whole new body. But it leaves a lot of questions about the rights of the clone. At the beginning of this book, it is up to the states to determine how to handle clones. They aren't legal in Virginia. If you kill one, it is considered destruction of property. If you kill yourself while killing someone else, say taking down your plane, did you murder the person who doesn't have a clone. Can you really hold the clone responsible when that body didn't do anything? Who has custody of your children?
All of these things are brought up and there is a case going to the US Supreme Court. It was very interesting timing, as I was listening to this around the same time as the most recent rulings from the Supreme Court were coming down. I found it all to be very interesting timing. I wonder what our current SCOTUS would decide on these issues. Oh wait, I don't have to make that guess, I know they would support life, right??? Sorry, going down the wrong rabbit hole, but the rulings are less than a week old as I'm writing this.
Anyway, this was a great story. Not only did I have the idea and the story to be interesting, I also really fell in love with our main character, Con. I really felt for her because she was being used as a pawn for someone else's mission. I don't want to give away anything else about the story. Just know that it was a lot of fun and very twisty and turny, especially near the end. There is a second book coming out in 2023. I'll be interested to see where it goes.
Narration:
I've listened to January LaVoy before. I can't remember where, but I do remember really liking her performance. This time was no different. She did an amazing job with this story. I just fell right in and felt as if I was just in their world. All the character voices were great and fit the personalities. She always gets the emotions of the scene perfectly. If you've never listened to her, you're really missing out. I highly recommend her work.
Listen to a clip: HERE
Rating Breakdown
Plot
Writing
Characters
Dialogue
Narration (Audio)
Overall:
Related Posts