The Sunday Post is a weekly meme hosted by Kimberly  @ Caffeinated Reviewer. It's a chance to share news~ A post to recap the past week, and showcase books and things we have received.
---
Don't forget to look at my giveaways on the right sidebar.  Last day to enter for Eclipse the Moon.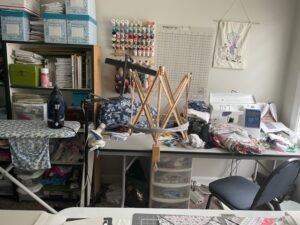 Sunday, I did the usual blog visiting.  I got together the yarn and needles I need for the next project and reviewed the pattern a bit.  I've also been thinking about planting green beans for the summer garden when it's hot. Only the tomatoes and basil seem to love the heat.  I finally pulled the remains of the broccoli and some of the lettuce.  There will still be a fall garden in September. Late afternoon it clouded up and threated to rain which made it a bit cooler. So I did walk Lulu after dinner.
People keep trying to follow me through WordPress and many end up following my Northwomn blog from fanfiction days instead of Books of My Heart.  So I did a post there with information and links to Books of My Heart.  Then I tried to figure out how to create a WordPress button for Books of My Heart with WordPress.  I couldn't get it to work so I emailed Ashley at Nosegraze.  I think because I host with her and it's a multi-blog WordPress site it needed to be slightly different.  Anyway, she created it for me, so that option is available now.
Monday, I didn't get up early enough and I had lots of tasks I wanted to handle.  While I worked every minute, it seems like I only got the basics finished and it was time to fix dinner.  I did manage to wind the skeins of yarn for the fingerless gloves.  I bought a few items at Chirp on deals, then a couple things from the Audible "shorts" sale.  Then I made a quick menu plan because tomorrow I will do a grocery pickup.  After dinner,  I checked the fridge and freezer for ingredients to finalize the Food Lion order.  It started raining!  Yeah we need it and maybe now it will cool down a little. At least I won't need to water tomorrow, it's a downpour.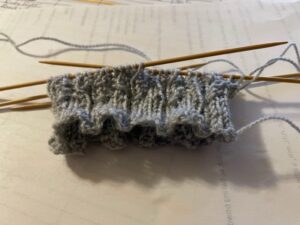 Tuesday, was a day on the run. Both my daughter and I stayed up way too late so we were tired too.  My daughter had an appointment to try contact lenses.  Lulu and I went to Home Depot for seeds for the midsummer planting. I ended up with green beans, carrots and swiss chard. It poured just as we got back in the car.  Then we did the Food Lion pickup.  Sadly they were out of a bunch of things. I was able to add a Sam's Club order but for later.  So I took my daughter and Lulu home and went back out over rush hour to pickup at Sam's club.  I got home in time to put everything away and then listen to the Zoom show of Ilona Andrews and Grace Draven.   Then we had supper late.
Wednesday,  another day in the upper 90s (36C).   I didn't get to Feedly yesterday or a bunch of phone calls.  I worked on things but still didn't get to many things.  It rained hard in the late afternoon again so at least I don't have to water. I made a batch of homemade ice cream (peppermint) while dinner was cooking.  At least I caught up on Feedly. I spent a bunch of time researching information for when my daughter is going to a wedding in October.  I called to see which places would be good for Lulu.
Thursday, I spent more time on research and made a couple of reservations which can be cancelled. I called the garden center I like to learn more of when they would have plants for fall, and which ones. I wrote a review and got some more things set up for the Read-along..  It's been raining again late afternoon but it's not helping cool down because it is so humid.
Friday,  I got a good start on things with reviews written before errands.  my daughter and I got our hair trimmed which I hadn't done since 2017. I picked up an order at Harris Teeter.  Then we went to pick up a used book for her fall classes.  She's taking her classes online again,  English Research & Writing and Quantitative Methods (math!).  I'm excited as I was a tutor for Quant Methods in college and LOVED it. She's always been a whiz so I don't think she will even need me.  I did a bunch of work after dinner looking up gluten-free restaurants for the wedding trip.
Saturday,  I fell asleep early last night and got a good start this morning.  I went out to mow the lawn which is very tall and the battery wore out quickly and I hadn't charged the other one. Silly me.  The temperature is 90F / 32C with about 50% humidity and a north wind. Still it is 97F / 36C for the real feel. It's also partly to mostly cloudy which helps.   This is the coolest day this week which won't be raining.
In between yardwork, I'm writing reviews and drinking water.  I got all the ingredients out for the soup I'm making tonight.  The grass had gotten so tall it took both batteries to mow the backyard.  I got my libraries set up in Libby since apparently Overdrive is going away in 2023.  When I looked at Libby a couple years ago there were some things I really disliked in it but it seems fine now.  I've gotten used to about 20 audio players over the last few years though. I also took apart the Dyson vaccuum and cleaned the canister and the filters.  With lots of breaks, I did get the whole yard mowed and then a shower since I was sticky with grass stuck all over in my sweat.  My daughter wants to try baked oatmeal so I guess I'm making that in the morning.
---

Stacking the Shelves is hosted by Marlene at  Reading Reality.  These are the exciting ARCs I received this week (If you click on the cover, it will take you to the Goodreads entry):
My sincere thanks to Minotaur Books,   Kensington Books,  and Atria Books.                      
(If you click on the cover, it will take you to the Goodreads entry)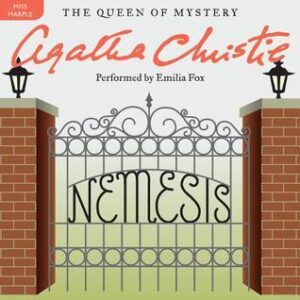 I picked up these deals at Chirp for $2, $5, and $5.  
I got these in the Audible "shorts" sale for $1 and $2.
I bought this one for 99¢ with a No Rush Rewards on Amazon. 

Now the really scary one. This is all the Kindle and Audible freebies I grabbed this past week. You can see why I need to do Thrifty Thursday to be sure I read a few at least one each month.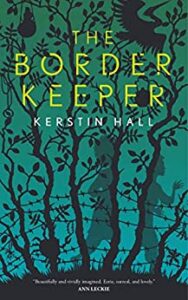 I really meant to cut back on freebies BUT  they are free so I guess that won't be happening.

I'm not including things like reviews posted or upcoming as they are always in the right sidebar. And, my challenge status is also there.
Anne
Latest posts by Anne - Books of My Heart
(see all)