The Sunday Post is a weekly meme hosted by Kimberly  @ Caffeinated Reviewer. It's a chance to share news~ A post to recap the past week, and showcase books and things we have received.
---
Don't forget to look at my giveaways on the right sidebar.  Last day to enter Read-along giveaway!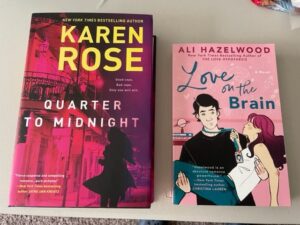 Sunday,  the actual temp is a little cooler because it is cloudy.   More beans are up and much higher.  I got some book mail last night. We had a nice group for the Read-along Facebook chat.
Monday,  I got up a bit early and did some work.  Then Lulu and I went to pickup curbside at Sam's Club and Wegman's. But first I had to unload the soil and cow manure from the car since I forgot to do it before, because it was so hot.  I spent a couple hours trying to figure out what series to read in September for Series in a Month.  I watered the garden during dinner.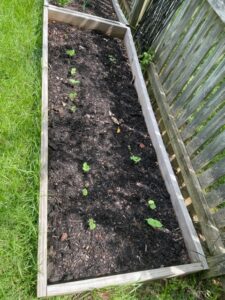 Tuesday,  I got started earlyish.   Something has been digging out the dirt in the two small planters on my front porch which is killing the pansies.  I have impatiens to plant there so I planted those today.  I don't know if it's lizards or squirrels.   I also pulled some weeds when I took Lulu out and watered a bit.   I tried to go through a pile of emails from publishers and decide what I could take to review.  I'm already a bit over loaded.  At least I'm reading well. Now to get the reviews written.  It got very cloudy, didn't rain, so I grabbed Lulu and went out to walk a couple miles. It was humid but only mid 80s than 90s.  I saw the the adult swans across the pond.  I relaxed a bit and knitted.  Then I made a new recipe for Eggplant Parmesan.  Oh yum!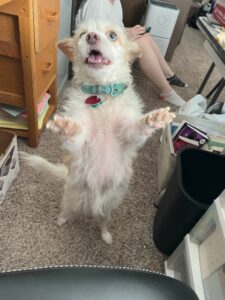 Wednesday, was not an early start and it's an oven again.  I had a bunch of requests approved so I set up the shells for them.  I watered while the soup was simmering.  Then when we had dinner,  it poured rain for a quick storm.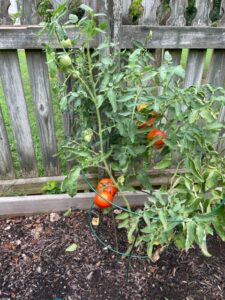 Thursday, was another later start but I got going well on my tasks.  The weather was cloudy and not as hot about 85F / 30C  with a real feel of 92F so I mowed the back yard and did the edging in front before the battery died and it poured rain during dinner.  I did get in a good walk with Lulu before dinner.  After dinner I worked on the menu plan to finalize it so I could create a shopping list.  I'm going to run some errands tomorrow.  I have all these lovely garden tomatoes, about 5-6 for now,  so I looked up recipes for homemade tomato sauces.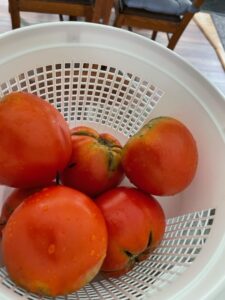 Friday, I did some blog visiting and emails.  I picked tomatoes to make a sauce for dinner tomorrow.  Then I did the errand run to the garden center,  a gluten free bakery, the post office and last to Aldi.  It's too early for fall veggie plants but I did get a few sale perennials.  Another day where I walked Lulu; it was warm but felt nice even though I was a bit sticky afterwards.  After dinner, I finally worked on my garden sheets and documentation to prepare for planting. I added watering information since that may be why I'm having trouble with some plants in the front planter.
Saturday,  today is the best kind of weather.  Not only are temps in the low to mid 80F / 26C +   but the wind is from the north and the humidity is low, so the real feel is the same as the temperature instead of 5-10 degrees warmer. I worked awhile on my garden sheets; this is going to take awhile because I didn't do it last fall after I planted. I did more edging and mowing and planted 2 of the new plants  after hauling out new soil for them. Then I had to stop to come in and make the roasted tomato sauce and take a second shower.  We used the garden tomatoes and basil,  along with some onions, oregano, and 3 heads of garlic. We did end up blending it in the Ninja.    It was yummy!
---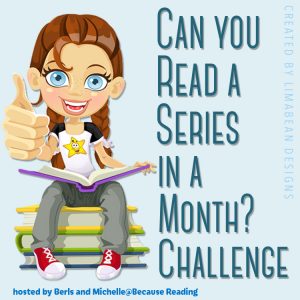 Of course, I'm going to do the Read A Series in a Month Challenge. If you want to see all the rules and the signup it's HERE.   I'll be buddy reading the Will Robie series by David Baldacci with Berls.
The Innocent
The Hit
The Target
The Guilty
End Game
We plan to get the books from the library on audio.
---

Stacking the Shelves is hosted by Marlene at  Reading Reality.  These are the exciting ARCs I received this week (If you click on the cover, it will take you to the Goodreads entry):
 My grateful thanks to PRH Audio,    Delacorte Press,  Gallery Books,  William Morrow,  AceRoc Books,  Berkley Romance.                
(If you click on the cover, it will take you to the Goodreads entry)
NONE.

Now the really scary one. This is all the Kindle and Audible freebies I grabbed this past week. You can see why I need to do Thrifty Thursday to be sure I read a few at least one each month.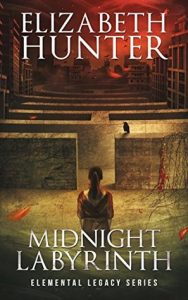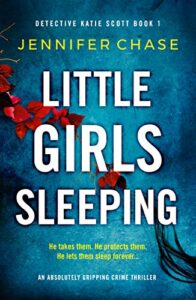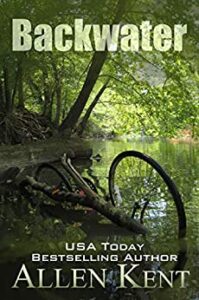 I really meant to cut back on freebies BUT  they are free so I guess that won't be happening.

I'm not including things like reviews posted or upcoming as they are always in the right sidebar. And, my challenge status is also there.
Anne
Latest posts by Anne - Books of My Heart
(see all)