Review copy was received from Publisher. This does not affect my opinion of the book or the content of my review.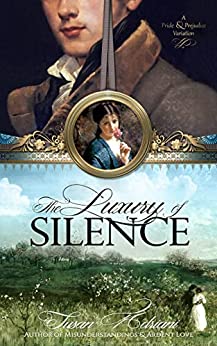 The Luxury of Silence
by
Susan Adriani
Published by
Quills & Quartos Publishing
on June 20, 2022
Genres:
Historical Fiction
Pages:
351
Format:
Paperback
Source:
Publisher
Goodreads
Amazon





"No woman of my acquaintance has ever inspired a fraction of the admiration that I feel for you…You are the only woman to ever touch my heart."

FITZWILLIAM DARCY HAS HAD ENOUGH—enough of the ton and their speculations, enough of matchmaking mamas and their eager daughters, and enough of his family's expectations that he will eventually marry his cousin, Anne.

CRAVING SOLITUDE AND PEACE after discovering his sister with George Wickham in Ramsgate, he accepts an invitation to visit Netherfield Park from his friend Charles Bingley and travels to Hertfordshire, where he hopes Georgiana will recover from her disappointment in relative privacy. Thinking only that his sister might have the good fortune to make a friend there, the last thing Mr Darcy expects is to make one himself.

ELIZABETH BENNET HAS NEVER met a man so used to getting his own way as Mr Darcy, master of Pemberley. Their first meeting is unexpected, their second infuriating, but before the evening ends, they make peace with one another, and an unlikely friendship is forged.

BUT FRIENDSHIP WITH A MAN like Mr Darcy, who soon shows Elizabeth there is more to him than his wealth, reserve, and haughty manners, comes with a steep price—her heart. Will their friendship turn into romance, despite Darcy's professed disinterest in matrimony, or is friendship all they are ever destined to share?
Feeling he has failed as a guardian, when his young sister is duped and possibly ravaged by a fiend, a world-weary gentleman of wealth and position escapes to a friend's country estate and finds what he never thought was possible.  I've enjoyed Susan Adriani's Pride & Prejudice variations in the past, so I got comfy and turned to the first page with great anticipation.
The Luxury of Silence is a variation tale on Jane Austen's Pride and Prejudice.  The variation begins with an event that happened off-page in the original.  For the summer, fifteen-year-old Georgiana Darcy went on a holiday with her lady companion, to the sea-side resort of Ramsgate.  Unbeknownst to Fitzwilliam Darcy, the lady he vetted to be Georgiana's companion was an accomplice in his enemy's schemes to trick his little sister into eloping for her large fortune.  Darcy arrives early to stay with his sister and breaks up the scheme.  He can't believe what almost happened and blames himself for not seeing through Mrs. Younge or that his sister fell afoul of George Wickham.
Between his sister's upset, his own guilt, and a season in London of being targeted by all the matchmaking women after his wealth, he is relieved to accept his friend Bingley's invitation and escape into the Hertfordshire countryside.  A chance meeting with a teasing young lady and later a skirmish caused by his terrible mood slowly brings a healing friendship with surprising and generous Miss Elizabeth Bennet.  He fights the attraction because she has neither wealth or proper family connections to suit his aristocratic family, but falls for her more deeply when her big heart embraces not only his troubles, but his sister's.  She brings them both into her boisterous family and suddenly marriage to oblige the family and do his duty seems impossible.  But, Wickham and his nasty, threatening letters are still out there wanting to gain a fortune through blackmail and destroy Darcy's reputation.
The Luxury of Silence turned out to be much to my liking.  I'm always tickled to find low angst romances full of sparkling dialogue and entertaining characters, a slow burn romance, and lots of family antics.  I loved the friends to lovers romance and the playfulness as Elizabeth draws Darcy out of his brooding making him laugh, smile, and more than tolerate her zany family.  The author took the time to show the building friendship develop.  Elizabeth's bevy of sisters were a wonderful addition as they take in shy, regretful Georgiana and make her one of their pack of girls.
There weren't a lot of challenges and little action to speak of.  It was a gentle, sweet romance with touching non-romance moments and the occasional external struggle caused by family or friends who had their own reasons for not wanting the couple together.  The biggest moment of conflict came through the villain, George Wickham, threatening to speak of what happened at Ramsgate and destroy Georgiana and Darcy.  This would definitely appeal to sweet historical romance fans who like stories set in Regency and particularly Jane Austen settings
Related Posts