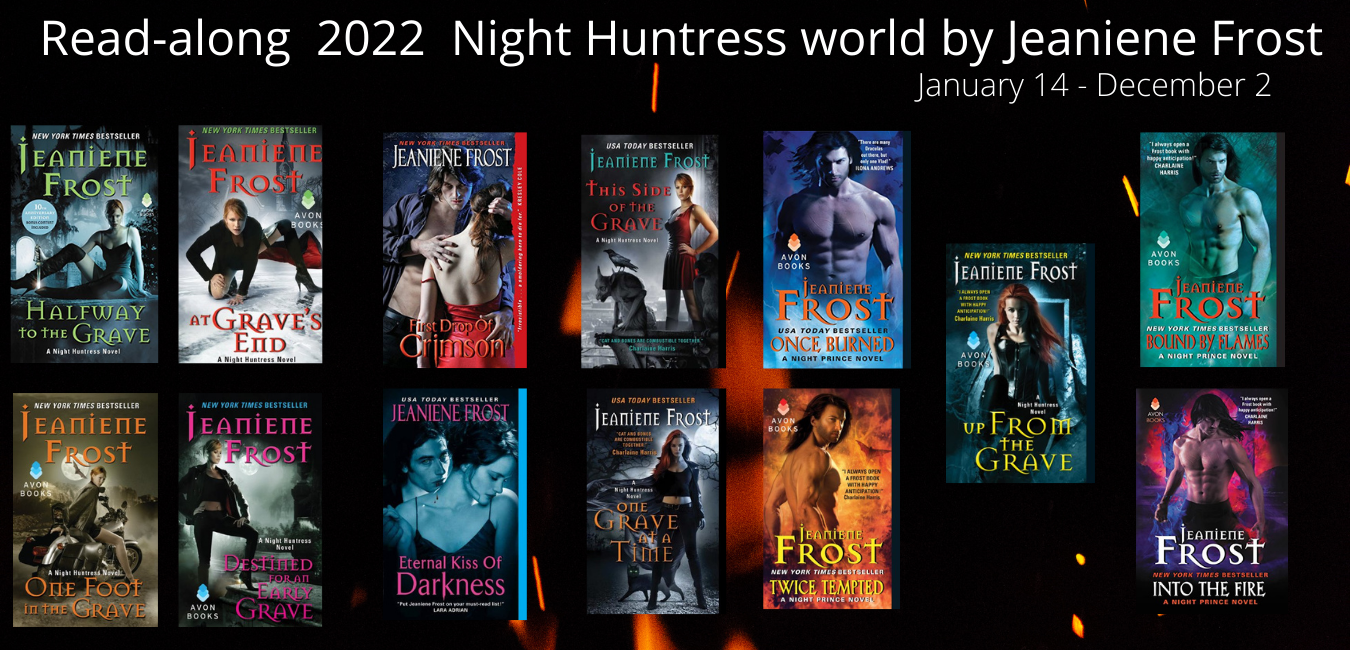 Bound by Flames
by
Jeaniene Frost
Series:
Night Huntress #11
Published by
Avon
on January 27, 2015
Genres:
Paranormal Romance
,
Urban Fantasy
Pages:
390
Format:
eBook
Source:
Library
Goodreads
Amazon
, 
Audible
, 
Audiobook
, 
Barnes & Noble
, 
Apple





Leila's years on the carnie circuit were certainly an education. What she didn't learn: how to be a vampire, or how to be married to the most famous vampire of them all. Adjusting to both has Leila teetering on a knife edge between passion and peril, and now the real danger is about to begin…

Vlad must battle with a centuries-old enemy whose reach stretches across continents and whose strength equals his own. It isn't like Vlad to feel fear, but he does…for Leila, because his enemy knows she is Vlad's greatest weakness. As friend and foe alike align against him—and his overprotectiveness drives Leila away—Vlad's love for his new bride could be the very thing that dooms them both…
Continuing the search for Vlad's archenemy, the newly married pair are struggling as partners.  Vlad's history makes him overprotective of the one he loves the most and Leila's history makes her need to be independent and feel like an equal partner even if she's a newly made vamp swimming in the deep end of the pool.
Bound by Flames is the third in the Night Prince series and twelfth entry in the Night Huntress World .  The urban fantasy series needs to be read in order and works best when read within the Night Huntress World books since those characters crossover into this series and there is an assumption the reader is au currant with it all.
After the events of Twice Tempted, I was aware we'd be reading about the ongoing chase to get to Szilagyi who keeps coming after them and those they love.  The ongoing hatred has been there for centuries and dips into Vlad's human past.  I appreciated that Leila wanted to do her part and understood the struggle within their relationship when she was faced with Vlad the Master Vampire and lord of his own people who had been devastated by love in the past and wanting him to treat her as a modern woman.  I get her frustration, but at the same time she really needed to get who she was with now- if she wanted modern equality and someone who gave her a pass on rookie impulsiveness, she fell in love and committed to something that didn't exist and trying to change him is as futile and more so than trying that on in a normal relationship.  
But, that said, Vlad does grow and surprise her when they go through something horrific and he can still get past fear and let her stand at his side when confronting an enemy who really needs to be eliminated.
As to that horrific situation, I don't normally spoiler a big event in a book, but I also don't want to not prepare readers who struggle with certain triggers. There is abduction (yes, another one- and I kinda wish this wasn't becoming the go-to for this particular series) and there is torture and what is essentially a rape scene.  The scene has purpose in the plot and isn't gratuitous, but it is there and there are after effects to be dealt with.  The positive from it was the way it showed Leila and Vlad's deep love and need for each other.  Her concern was all him as was his for her.  Revenge and retribution took a back seat to their need to be there for each other.
Night Huntress fans will appreciate that Cat, Bones, and Mencheres are involved for a segment of this one as is a certain Ghoul Queen.
There was an impressive surprise twist and additional baddie added to the mix and that thread will carry into the final Night Prince book upping the ante on the situation where this ended.  I was left intrigued and wanting to read on to see how that complex situation will be resolved.  
Bound by Flames was an emotional and intense book going a little darker than previous books, but it makes a good setup for a big finale so it does its job, fabulously, leaving readers in high anticipation for the next book.
"You'll get a lot of 'no' RSVPs to your next party," I said, brushing the smoldering bits from my costume. His smile only widened. "This isn't the first party I've thrown where fewer guests left than arrived." 
---
Games:
Who said (enter the answer in the Rafflecopter, don't put in the comments)
Who said                              "You're the only one still in denial about who you married."
There are other options in the rafflecopter for you to enter discussion questions and quotes to share.
The quote for Who said  "Of course. Who else could cause such trouble? "  in Up From the Grave is Juan.
The villain was Trove assisted by Madigan.
---
Share your review/ thoughts on Bound by Flames:
I thought it might be fun to link up reviews so we can find them all easily.  It can be a link to Goodreads or a blog, or wherever you have a review (short or long).
Mister Linky's Magical Widgets — Easy-Linky widget will appear right here!
This preview will disappear when the widget is displayed on your site.
If this widget does not appear,
click here
to display it.
---
Observations and questions you shared from Up from the Grave:
(Thank you  so much for sharing!)  If you can answer any of these numbered questions, you can do so in a comment.
When Cat found out that Denise knew Bones' plan to fake his death, she thought she was the only one who wasn't in on the plan. BUT. On chapter 12, when they were arguing about meeting Madigan, Bones said "But anyone who sees me will swear I'm completely harmless." So, she was IN on the plan because Bones HINTED at it to her. She just thought he meant something different.
I wish Cat and Bones' story hadn't ended but Jeanine did a great job on the ending but I have to wonder did she think of doing another spin off – one about a grown up Katie?
Assuming we eventually get stories about her, it'll be interesting to see how they keep Katie under wraps once she's grown up.
Why did Cat never think about the fact she could have drank some blood from Vlad (of course, Bones wouldn't have been happy, but he wasn't happy anyway) and she would have been able to get inside the enemy's place to look for their friends!
---
Quotes you readers shared from  Up from the Grave:
"You're too pretty for me to refuse, Bonesy," he said with a regretful sigh. Then he winked at me, "But not so pretty that I'm doing it for free. "
""I love you, Kitten." How puny those words seemed compared to the feelings strafing mine, but his voice vibrated as he said them. Then he crouched beside me. "I would never hurt you that way save for one reason: to keep you safe. I can live with your anger, your retribution…bloody hell, despise me if you must, but don't expect me to behave as though you aren't the most important thing in my life. You are, and I will let no one, yourself included, bring you to harm."
"We were never properly introduced," I said in a vicious purr. "I'm the Red Reaper, and you're dead."
"You lying, manipulative sod," Bones snarled, striding over to him. "If you were solid, I'd beat the treachery out though that would take all of my considerable strength."
"You're famous for your honesty, so things must really be bad if you're lying to make me feel better."
"Get off, luv, I'm high as a bloddy kite. No telling what I'll do."
"Shame on you, Crispin. Married how long, and you haven't spanked your wife with a metal spatula yet?"
"for I love you, you wretched, pig-headed guttersnipe. I also love that arrogant, overprivileged dandy smirking at us as well as the emotionally fractured, malfunctioning psychic who sired me. And you, Crispin, love a bloodthirsty hellion who's probably killed more people in her thirty years than I have in over two centuries of living, so again I say, don't bother trying to convince her that she isn't who she is."
"You've got to try this. It's like Cristal and O-Negative had a love child."
"We prefer blender beaters for our kitchen utensil kink," I said with a straight face. "
"Only a fool chooses to live in ignorance when knowledge is so easily obtained."
"Now all you need is to make a V with your hand and say in a death rattle that you have been and always shall be his friend," Ian noted with heavy irony."
---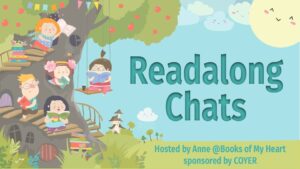 COYER FB Chat – Sunday November 6
The COYER Challenge is adopting our Read-along.  You can read about COYER and join that challenge  HERE.   On the Sunday after the review posts, they will host a FB room (like we do for COYER book club) at 12 PT, 2 CT, 3 ET and 9pm Europe, for a one hour chat.  You do not have to join the COYER challenge to participate, only the Facebook group.
If you can't attend, there is also a Facebook messenger chat which has been fun and active, set up following the live chat.
---
Here's your to-do list:
Find your copies of these books, borrow them from a friend, get them at the library or buy them.
Read Book 12.5, Outtakes from the Grave. This one is longer than some of the books!
Read Book 13, Into the Fire, by December 2.
Make note of a favorite quote or two as you read the book.
If you haven't read the books before, make a list of questions you have for the discussion. If you have read them, please don't spoil new readers.
Link up your review on Goodreads, FB or other site to the post.
Join the COYER book chat on the Sunday following the post.

Enter the giveaways!
---
Schedule:   
We are doing one book every 3-4 weeks, posting on Fridays. We will have a review for the books with the team here at Books of My Heart plus some of our friends.  We are following the author recommended reading order.
Nov 4:     Bound by Flames                        –  Sophia
Dec 2:    Into the Fire                                   – Berls @ Because Reading
Q & A with Jeaniene Frost
Miss a post?
Jan 14:    Halfway to the Grave               – Melissa @ Tea & Books
Feb 11:    One Foot in the Grave              –  Victoria @ First of All
Mar 11:   At Grave's End                            –  Kimberly @Caffeinated Reviewer
Apr  1:     Destined for an Early Grave   –  Stephanie @ Once Upon a Chapter  
Apr 29:   First Drop of Crimson               – Kai @ Fiction State of Mind
May 20:  Eternal Kiss of Darkness         – Jen @ That's What I'm Talkin About
Jun 10:    This Side of the Grave              – Brandee @Unconventional Bookworms
Jul 8:       One Grave at a Time                  –  Lorna 
Aug 5:      Once Burned                                –  Lexxie @Unconventional Bookworms
Sep 9:     Twice Tempted                             –  Angela @ Angel's Guilty Pleasures
Oct 7:      Up from the Grave                      –  Melanie
---
Jeaniene Frost has also been kind enough to commit to a Q & A post of 3-5 questions.  I will post her answers in the December 2 post.
---
Bonus round – Read a Series in a Month  January 2023:
Jan 8:    Shades of Wicked              –  Carole @ Carol's Random Life in Books
Jan 22:    Wicked Bite                        –  Robin
Feb 5:       Wicked All Night             –   Anne
These are Sunday posts.      There will be one COYER FB Chat at the end of the series on Feb 5th.
---
Be sure to enter the giveaways!!!
Giveaway:
For a US winner, this will be one digital copies ( your choice of her books) generously provided by Jeaniene Frost  (US only) but they can be from Amazon, Barnes & Noble or Kobo.
For an Intl winner,  it will be a print copy of Wicked Bite from Book Depository.
Grand-Prize Giveaway:
For a US winner, this will be 12 digital copies ( your choice of her books) generously provided by Jeaniene Frost  (US only) but they can be from Amazon, Barnes & Noble or Kobo.
For an Intl winner,  it will be $50 at Book Depository.
Latest posts by Anne - Books of My Heart
(see all)
Reading this book contributed to these challenges:
Related Posts