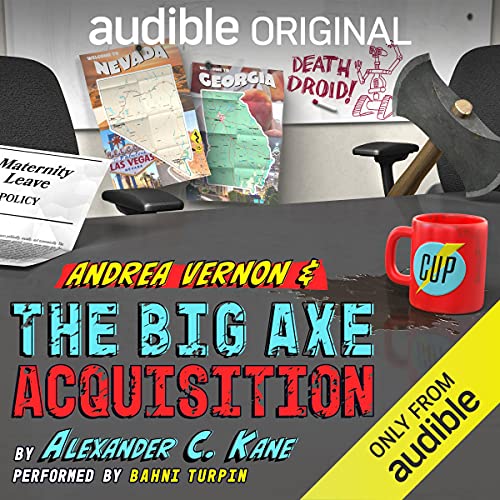 Andrea Vernon and The Big Axe Acquisition
by
Alexander C. Kane
Narrator:
Bahni Turpin
Series:
Andrea Vernon #3
Published by
Audible
on July 15, 2021
Genres:
Urban Fantasy
Length:
9 hours and 14 minutes
Format:
Audiobook
Source:
Purchased
Goodreads
Audible





The supervillains of DESTRON have conquered the country, The Big Axe has been imprisoned, and the heroes of the Corporation for UltraHuman Protection have been reduced to hiding behind a force field surrounding New York City.

And if that's not enough, Andrea Vernon is pregnant. With a Little Axe.

But Andrea's not one to sit on the sidelines. She has to make a plan to save the country, rescue her boyfriend, and figure out what exactly people do with babies. And a whole new slate of enemies is coming for CUP, led by the newly installed dictator of America, Dr. Robotfury, and his ingenious mecha-administrative assistant who bears a rather frightening resemblance to Andrea.

It's a lot to wrap up before you go on maternity leave.
This is the third, and what appears to be, final book in the Andrea Vernon series. This is a series that has brought a lot of joy into my life. It is full of humor and action and a lot of wit. And if you've read my reviews, you know that those are the things that make me happy. Oh, and wonderful characters which this book also has.
This series is about a corporation of superheroes who are contracted to protect different locations, cities, counties, boroughs of New York, etc. This story starts at a really low point for Andrea and CUP (Corporation for Ultra-human Protection). DESTRON (a superhero corporation which is run by supervillains), has taken over the US and captured The Big Axe, Andrea's boyfriend. Andrea is a person who isn't good at showing her feelings or commitment. She refused to move in with The Big Axe (and he is always called The Big Axe, never anything else) or even tell him that she loved him, though she very much did. The Big Axe would jump at marriage if he didn't know that it would make Andrea run away. But now, he's captive and she learns she's pregnant with his baby. So that throws a lot of feelings her way.
We also get to know a lot more about Ms O, Andrea's boss. She's been a great character throughout the series, but we really get a lot of insight into her character in this book. She always has the best sayings. I wish I could remember some to share her wit. It is the one thing  I wish audiobooks had that ebooks do, a way to highlight lines to go back for reference.
Anyway, this story wraps up the series arc very well. I still really want more stories from these characters. I will miss Andrea, Ms O, The Big Axe, Inspector Well Actually, GLLAARREE!! (not sure if it is actually spelled this way, but it is how it sounds) and the others. I miss seeing what new superpowers Kane will create next, along with the name to go with them.
I guess I will have to see what else Alexander C Kane has to offer. I did see he has a dragon book coming out soon. And has another series called The Orlando People. Not sure if it will be as good as this, but I might have to give it a try.
Narration:
Bahni Turpin is the perfect narrator for this series. She nailed every single character with all of their quirks. She's great with GLLAARREE!!, and the way they talk at the top of their lungs and drawn out syllables. The way she always puts the pauses when Inspector Well Actually speaks, "Well, actually, …" I love her southern accent for Ms O, she may be Korean, but she was raised in the South with the accent that goes with it. This is a series that looked interesting when I first saw it, but when I saw Bahni Turpin was the narrator, I had to pick up the series. I'm so glad I did. I just wish there was more of them.
Listen to a clip: HERE
Rating Breakdown
Narration (Audio)
Overall:
Related Posts