Review copy was received from NetGalley. This does not affect my opinion of the book or the content of my review.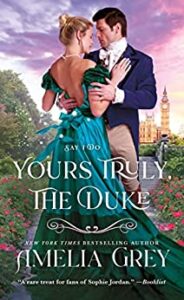 Yours Truly, the Duke
by
Amelia Grey
Narrator:
Henrietta Meire
Series:
Say I Do #1
Published by
Blackstone Audiobooks
on March 28, 2023
Genres:
Historical Romance
Pages:
367
Format:
eARC
Source:
NetGalley
Goodreads
Amazon
, 
Audible
, 
Audiobook
, 
Apple





Fredericka Hale needs a husband, and fast. She's been caring for her deceased sister's three young children, and now a childless cousin has petitioned the court for custody. Fredericka is powerless to stop her, but having a husband might sway the ruling. The last thing Fredericka wants is a hurried-up marriage to a man she doesn't know—much less love, but she'll do it for the children. So when the handsome Duke of Wyatthaven shows up with a proposal, she accepts. He'll help her, and in return, they'll lead separate lives. But distance cannot keep them from their powerful attraction.

At the top of his game in London, the Duke of Wyatthaven has no interest in marriage. However, if Wyatt doesn't marry by week's end, he'll lose a sizable inheritance from his grandmother. When Wyatt's solicitor finds Miss Fredericka Hale, Wyatt considers this little hiccup solved. Miss Hale is lovely, and intelligent. Most importantly, she prefers country life to London, so he's free to continue his life as usual. But when circumstances force Fredericka and the children to show up at the duke's door, Wyatt can't deny he's always been under her spell. Will the duke give up his bachelor lifestyle and give into the fiery passion growing between them?
Yours Truly, The Duke is the first book of the new Say I Do series by Amelia Grey, featuring one of my favorite tropes, a marriage of convenience.  Fredricka needs a husband or she might lose her sister's children. Wyatt needs a wife or he will definitely loose his grandmother's inheritance.  It seems like an ideal situation; they will marry, each will get what they need and sometime later they will figure out when to get back together to produce the needed heir.  Both should have been able to go on with their lives independently but fate had other things in store for them.
Like I mentioned, this is one of my favorite tropes in any genre but especially so in historical romance.  When Fredricka's sister died tragically, she took over the care of her sister's children.  Being an orphan herself, she wants them to know how loved they are, but three children under the age of 10 are a lot to handle.  Jane was her sister's best friend and a member of the peerage.  Jane cannot have children of her own and has decided she can be a better mother to the children and is attempting to get custody.  When Fredricka married Wyatt she assumed that with his title she would not be at risk, but Jane is still pushing her suit and Fredricka needs Wyatt to play dutiful husband or she may loose the children she loves so much.
Wyatt thought he could run off, get married and then go back to living his life just the way he had always done. He wasn't planning on marrying for years yet, so when Fredricka shows up at his door, children in tow, to play the perfect family he was not prepared.  While he didn't want to play family quite yet, he did make a promise to help Fredricka keep the children.  Spending time with her is starting to get to him.  There is something about his little wife that is crawling under his skin and the more time he spends with her the more he wants to spend with her, even if most of what they do is fight.
I enjoyed this story.  The children are dealing with some traumatic feelings after the death of two parents.  Fredricka was doing a really good, if not strict, job at being their caretaker but when Wyatt enters the picture she gets a glimpse of what being in a real family would be like with him and part of her longs for that more than anything.  She also sees that it can be fun, not measured out fun like she has been doing, but real unplanned fun.  Fredricka and Wyatt are a great match as they both see life in very different ways.  I enjoyed the sexual tension between them and hoped they'd figure it all out sooner, rather than later.  It was fun watching the friction between them build, until it finally ignited.
Overall, I enjoyed the entire story.  Fredricka has some serious self worth issues and doesn't think anyone could want her since she has been neglected most of her life.  Those parts might have got a little tedious since I felt the author reminded us too much.  Still it was an enjoyable story and I look forward to other books to the series.
Rating Breakdown
Plot
Writing
Characters
Dialogue
Overall:
Related Posts