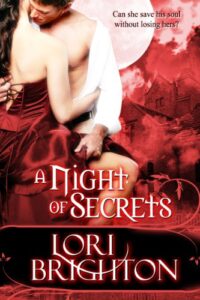 A Night of Secrets
by
Lori Brighton
Series:
Night #1
Published by
Self-Published
on February 7, 2011
Genres:
Historical Romance
,
Paranormal Romance
Pages:
291
Format:
eBook
Source:
Purchased
Goodreads
Amazon




Grayson Bellamont has spent years on the Continent, fighting a war he cares nothing for. It is only while in the chaos of battle that he can hide what he truly is. Returning to England, he finds his sister murdered and his seven-year-old niece missing. All over the country his friends are mysteriously dying. Grayson sets out to uncover the truth and locate his niece before it's too late. All leads point to Meg James, a vicar's daughter. Instinct tells him Meg is innocent, but the clues he uncovers warn she's guilty. One thing is clear, Meg awakens a warmth inside of him he thought long dead and Grayson is torn between a sense of duty and his desires.

Vowing to honor a promise, Meg concocts a lie to keep a stranger's child safe. She had no idea that protecting the child would mean putting her own life in danger. When Grayson arrives asking questions, Meg's unease flares. Who is this mysterious man who seems to appear and disappear as quickly as a spirit? A man with strength like no other? As he pushes ever closer, taking over her senses with his touch, his kiss and his unexpected honor, she realizes she has even more to lose. Meg is falling in love with Grayson, but will he believe her when the truth will condemn the one person he trusts the most?
A small village vicar's daughter hides dark and dangerous secrets and the new owner of the neighboring estate is more than he seems.  The bucolic countryside is roused when a local ne'er do well lord is found murder forcing shadowy truths to be revealed.
I do love a good gothic-style historical fantasy so I was pleasantly surprised when I finally picked up A Night of Secrets where it had lain languishing on my device bookshelf and gave it a go.  The story opens with an intriguing and mysterious prologue before chapter one beings a few years later in a different setting.
There are hints of the supernatural in the opener, but then I wasn't sure if I'd picked up the right vibes when the step forward into chapter one gave a hint of antagonistic romantic attraction and a murder mystery.  It kept me wondering only as far as the next chapter where the hints became facts.
Meg James the oldest surviving daughter of a tarnished former vicar and her family are living quiet and poor in their home village harboring because they're harboring a secret.  The family reputation keeps them outside polite country local society and her only friend is the abused wife of a spoiled rake of a lording living nearby.
Gray has tracked the answers to his sister's murder and his deceased sister's child to the James family.  His encounter with the spirited Meg has him reeling.  Meg is definitely hiding something and the lies pile up, but is she a murderess or hiding one?  Something and someone dark is in this village and he needs to get answers- and resist the temptation that is Meg James.  So, why is he wondering if she can accept the astonishing truth of who and what he is?
While this story grabbed my interest from the first page and I loved that it has a paranormal aspect paired with Regency period romance and a good murder mystery, I did struggle with the romance development.
I felt this pair were all over the place with each other right from the first scene.  For someone who claims to be trying to repair the family reputation through her own actions and also claims to need to keep secrets to protect the youngest girl in her household, Meg's actions and mouth were out of alignment with those claims.  She drew attention and she provoked unnecessarily.  Grayson is tracking down his missing niece and the answers to his sister's murder, but waffles when he knows the truth though he is demonstratively decisive in other ways. Then there is the insta-lusty that hits this pair right away and drives the relationship.
But, for all that, I didn't want to put the book down and I was into Meg and Grayson's story.  They both had good hearts who loved their families and were both loyal, natural protectors.  I enjoyed the reveal that I only got an inkling of not long before the others discovered the truth of what was going on.
All in all, this plunge into a new to me author and a new series was a success and I want the other two stories that are part of the series.  Those who enjoy a mash of genres like paranormal romance and historical romance with mystery need to add this spicy offering to the wish list.
The purpose of Thrifty Thursday is to read a book which was free (at some point).
Kindle freebie on July 17, 2012  (currently $4.99 on Amazon and in Kindle Unlimited as of writing this post)
Overall rating  3.79 with 518 ratings and 50 reviews
Related Posts