The Sunday Post is a weekly meme hosted by Kimberly  @ Caffeinated Reviewer. It's a chance to share news~ A post to recap the past week, and showcase books and things we have received.
---
Don't forget to look at my giveaways on the right sidebar.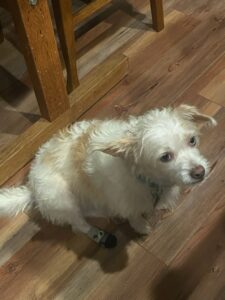 Sunday,  I read a bit instead of getting up early.  Then I did my blog visiting.  It's rainy but scattered. We ordered photos from my daughter's graduation. Then we tried to organize projects for the week.
Monday, it didn't rain as much as expected.  Still it drizzled.  I took Lulu for a walk even with light rain.  I reworked my schedule since I had some books read but not others.  I setup up some promos for June is Audiobook month.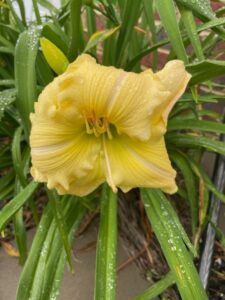 Tuesday, the rain projected for this week and the heat seem to not be happening.   We did the usual walking.  Then I ran errands to take fabric to the upholsterer for the cushions I'm having made for the swing,  picked up RX at Harrist Teeter and  groceries at Wegmans.   I also looked at a bunch of financing stuff for the house projects.
Wednesday, walking, more financing research. The financing for the windows I wanted was approved.  Then it was off to chiro appts and to pick up a couple things at Aldi.  We cut and bent the cattle panels into the tomato cages I wanted.  Then the bugs got bad so I showered and went to fix dinner. Lulu was licking and irritating one of her paws so we put a sock on it. Very effective.
Thursday, I can't believe it's June.  Lulu and Marley were out at the same time.  Usually, Lulu runs to the door but today she actually came over to say hi to Marley through the fence with me.   Now we are trying to get Kayla used to me. So I went with my daughter for her shorter walk. She growled but got over it quickly. Then we took Lulu and Abby.   I'm planning for June reads, doing financing paperwork. I spent most of the afternoon picking up leaves from bush trimming, helping to make the tomato cages,  cutting all the weeds at the back fence, putting sticks in the new raised bed. For dinner, we had takeout to celebrate my daughter's birthday which is Saturday.  Then we had "party snack bowl" and lemonade for Nancy Drew night.  It's an online game she likes.  We watched and she did everything.
Friday, I got an early start with lots more to do. I did my computer work and then went out to pick up more trimmings from the bushes.  I put more sticks in the new raised bed, also the leaf piles from along the fence, then two compost barrels.  I helped with the big ladder for cleaning out the gutters.  We made the last tomato cage. Then we installed the new cabinet over my toilet in the master bath. I baked cupcakes and homemade frosting for dinner birthday celebration.  Then my ex gave her presents from him.  I'm just sharing the new varieties blooming. There are at least 8 kinds of daylilies blooming.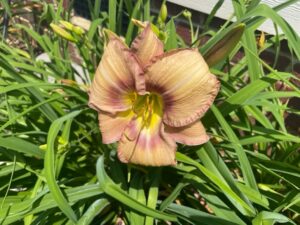 Saturday,  it's my daughter's birthday!  I'm making blueberry scones for breakfast and bacon.  Another new daylily variety has bloomed. There are the final tasks and pack up as my ex is leaving today. There was the baseboard to replace in the bathroom.  We tested the smoke alarms and put new batteries. We tested the 12 volt battery in my Volt. It's doing well 12.4 resting and 14.6 running.  I replaced the furnace filters.  Then we loaded up returns for Lowes in the car.
---
How do I do it?
I am trying to figure out some things about social media use with my blog.  If you could answer my survey, that would be great. It is 5 questions, estimated to take 2 minutes.
If you have any tips for me, please comment.
---
May Reading:  I had a hectic month which meant less reading.  I managed to read 20 books. Audiobooks continue to help me read more. Some count for more than one challenge.  I listened to 12 audiobooks, read 3 library books,  20 COYER reads,   and  7 books which I already own.
All Library books (including ones not reviewed on the blog)  2023 Library Love Challenge
I did manage to read 7 books I own (goal is 3 per month):
🎧 Vicious by VE Schwab
Instinct anthology by LJ Hachmeister et al
Marcus by Anna Hackett
Bachelor Beast by Grace Goodwin
More Than Stardust by Vivien Jackson
🎧 Last Dragon Standing by Rachel Aaron
🎧 Tricked by Kevin Hearne
---

Stacking the Shelves is hosted by  Reading Reality.  These are the exciting ARCs I received this week (If you click on the cover, it will take you to the Goodreads entry):
Thanks so much to Del Rey,  Minotaur Books,  Partners in Crime Tours,   Simon & Schuster Audio,  Brilliance Audio.                        
(If you click on the cover, it will take you to the Goodreads entry)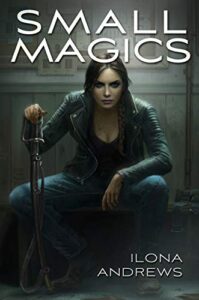 Somehow I didn't have this anthology of shorts in the Kate Daniels World. It was on sale for $1.99 so I used my No Rush Shipping Rewards to buy it.

Now the really scary one. This is all the Kindle and Audible freebies I grabbed this past week. You can see why I need to do Thrifty Thursday to be sure I read a few at least one each month.
I really meant to cut back on freebies BUT  they are free so I guess that won't be happening.

I'm not including things like reviews posted or upcoming as they are always in the right sidebar. And, my challenge status is also there.
Anne
Latest posts by Anne - Books of My Heart
(see all)