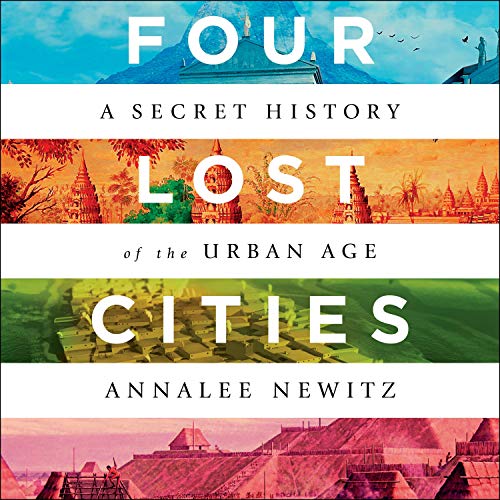 Four Lost Cities: A Secret History of the Urban Age
by
Annalee Newitz
Narrator:
Chloe Cannon
Published by
Highbridge
on February 09, 2021
Genres:
Non Fiction
Length:
8 hours and 14 minutes
Format:
Audiobook
Source:
Library
Goodreads
Amazon
, 
Audible
, 
Libro.fm
, 
Barnes & Noble
, 
Apple
In Four Lost Cities, acclaimed science journalist Annalee Newitz takes listeners on an entertaining and mind-bending adventure into the deep history of urban life. Investigating across the centuries and around the world, Newitz explores the rise and fall of four ancient cities, each the center of a sophisticated civilization: the Neolithic site of Çatalhöyük in Central Turkey, the Roman vacation town of Pompeii on Italy's southern coast, the medieval megacity of Angkor in Cambodia, and the indigenous metropolis Cahokia, which stood beside the Mississippi River where East St. Louis is today.

Newitz travels to all four sites and investigates the cutting-edge research in archaeology, revealing the mix of environmental changes and political turmoil that doomed these ancient settlements. Tracing the early development of urban planning, Newitz also introduces us to the often anonymous workers-slaves, women, immigrants, and manual laborers-who built these cities and created monuments that lasted millennia.

Four Lost Cities is a journey into the forgotten past, but, foreseeing a future in which the majority of people on Earth will be living in cities, it may also reveal something of our own fate.
I first learned of this book on the Factually Podcast with Adam Conover. I really enjoyed that conversation and always wanted to hear more about these four cities. I kinda forgot about it until I was looking for my next audiobook and I stumbled upon this one. I'm glad I did. It was a really great look back at human history and human connection with cities from several different ages.
This book looks at four different cities in different times, locales, cultures and even the growth and demise of the cities. It was really interesting seeing how each of these cities came to be and how the people of these cities lived. She talks about the reasoning why these people gathered in the cities and why they abandoned them. Pompeii being the only one that was abandoned quickly and not on the resident's terms. It was also interesting hearing how Titus visited Pompeii after the eruption. And how he helped the refugees build new lives in new cities. It wasn't all that different, and probably more humane than what is done today when I see natural disasters and how the American government responds.
Some of these cities I had heard of before this book, I think everyone has heard of Pompeii. I was aware of Angkor, mostly because my Astronomy class is in college, but it didn't go into the entire city, just the temple of Angkor Wat. I knew a little bit about Cahokia, but only from fiction stories (Laurell K Hamiltion's Merry Gentry series where the fae lived in the mounds of Cahokia). I had never heard of Çatalhöyük. To even think there was cities in 7500 BCE, is wild to me.
I really enjoyed how she focuses on the average person, not the wealthy or powerful. She takes a deep dive into several individuals and families and how those people lived. How they interacted with their neighbors. Most of the time, when you hear people talk about history, it is all about famous, wealthy and powerful people. It rarely looks at people like you and me. I really enjoyed seeing how these people lived.
The author visits each of these locations and talks with experts and discusses what past archeologists thought compared to what we've learned since. I found the lidar mapping of Angkor to be really fascinating. The city ended up being much bigger than people thought, the jungle just took the city back after it was abandoned.
Çatalhöyük in Central Turkey
Approximately 7500 BCE to 6400 BCE
Population estimated to be around 10,000 people
Pompeii in Italy
Approximately 740 BCE to 79 CE
Population estimated to be around 11,000 people in 79 AD
Angkor in Cambodia
Approximately 802 CE to 14th century CE
Population estimated to be around 750,000 to one million people
Cahokia in East St Louis, Illinois
Approximately 1050 to 1350 CE
Population estimated to be around 40,000 people
Narration
I thought Chloe Cannon did a great job with the narration. She kept it interesting in the way she presented so much factual data without sounding like a monotone professor (I haven't listened to many history books, because I always felt they would feel like Ben Stein from Ferris Bueller's Day Off "Anyone?") That is not at all what this was. I felt she really took me on the journey with the author. I would listen to her again.
Related Posts