The Sunday Post is a weekly meme hosted by Kimberly  @ Caffeinated Reviewer. It's a chance to share news~ A post to recap the past week, and showcase books and things we have received.
---
Don't forget to look at my giveaways on the right sidebar.  Read-along giveaway ends tonight!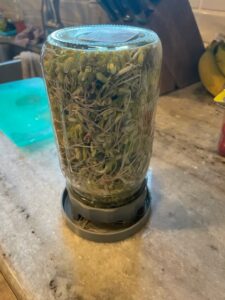 Sunday, I stayed up a bit later to finish a book, woke up at my earlier time, then fell back asleep.  The temperature is a bit lower but the humidity a bit higher the next couple days.   My daughter woke with a stuffy nose and sinus. It's hard to believe I have been on Instagram a month roughly.  I am just getting settled with getting all my posts and sales/deals shared there.  I haven't really looked at other people's posts very much – sorry – but that's the next phase.  I'm growing bean sprouts. I'm surprised how much protein are in bean sprouts.
Monday,  another hot day but bearable when I got out early to shovel and move more dirt. The tall raised bed is full and ready for planting.  I added compost dirt to another backyard bed and more to the front bed.  I'd say I have a third or fourth of it left.  I still have garden currently planted which will need it. We walked the girls and it was a little warm.  I ate a quick bite and then went out to the garden centers.  I was able to get my lettuce and broccoli plants at the usual place. Then I got a chyrsanthemum at Home Depot.  At another garden center, I got a couple clearance perennials.  It was hot by now.  I brought in the plants to plant later.  I did some computer work.  Before dinner, I put in the lettuce and broccoli in the new raised bed I finished filling with compost this morning.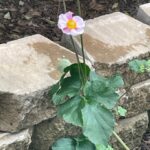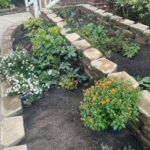 I have lots blooming now: Toad lily, anemone,  asters and chrysanthemum,  azalea and gardenia, and a daylily.
Tuesday,  the last day it is supposed to be so hot. We walk the dogs and my daughter goes back to sleep. I'm trying to catch up on reviews and setups.  I went to pick carrots for dinner and it started raining.  It wasn't in the maps – I had just looked.  After dinner, Lulu threw up on the sofa.  I cleaned up and put the sofa cover and her blankets in the wash.  Luckily, when I had the sofa reupholstered I had a separate cover of the same fabric made which I could take off and wash – because dog.  Lulu doesn't go on the loveseat or other chairs.
Wednesday,  today will still be hot. Sigh. After walking, I made a run to Trader Joes and Wegmans.  It's not very close to us, but they are next to each other, so I only go once every 3-4 weeks.  They both have some good produce and gluten free products I can't find elsewhere.  I was looking for some of their new gluten free stuff.  I found most of it to try.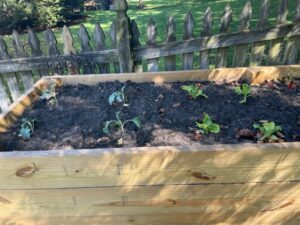 Thursday,  finally we have cooler, around 80 which is a good 20 degrees less than last week.  But the humidity today is medium high so I'll be doing laundry and cleaning and indoor tasks today.  After the walk, I trimmed Lulu's nails. The fridge is chock full of leftovers so that's what we will have tonight and tomorrow.  Usually, I make new stuff every night and we have leftovers for lunch but we are behind.
Friday,  finally the cool and low humidity. So today is dirtball day to do the yard work. I didn't sleep well so I didn't get going quickly. I blew leaves, mowed, trimmed and edged the whole yard. The leaves are along the back fence ready to go into the compost bins.  I used the spreader to do weed n feed in the back yard and west side.  I had to alternate tasks because my batteries needed charging which doesn't happen often, but I had forgotten to charge one after using it last time.  I have Greenworx for the leaf blower, trimmer and lawn mower.  I have Ryobi for the edger. I moved more of the compost dirt into the front beds.  I think I have just 2 wheelbarrows of dirt left which I want to use when I rotate crops in the other garden beds. I used a couple of tomato cages to prop up the toad lily and anemone since they were getting so tall and falling over.   I got my daughter to walk Lulu. I watered everything a bit since some plants were new and there's little to no rain projected this week.  I was really stiff after dinner but I played one game with my daughter since we didn't go to Game Night.
Saturday,  another beautiful day.  We will have nice weather around 80F / 27C with low humidity all week.  There will be rain overnight on Sunday and then perhaps all next weekend.  I went out to walk Lulu and ran into the neighbor with Abby so we walked together all the way to the pool and back.  With the great weather, we were shocked the playground and tennis courts and pool were empty.  Tomorrow is the last day for the pool this season and I haven't gone there yet. I did some post setups and edits. I did the front and east sides with weed n feed.  I made a batch of Lulu food adding in bean sprouts for more protein.
---

Stacking the Shelves is hosted by  Reading Reality.  These are the exciting ARCs I received this week (If you click on the cover, it will take you to the Goodreads entry):
My thanks to Berkley.                             
(If you click on the cover, it will take you to the Goodreads entry)
I purchased both of these 6 book series for 99¢ each with my No Rush Shipping Rewards.

Now the really scary one. This is all the Kindle and Audible freebies I grabbed this past week. You can see why I need to do Thrifty Thursday to be sure I read a few at least one each month.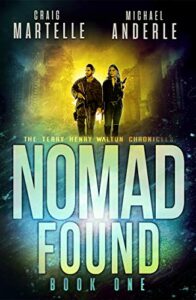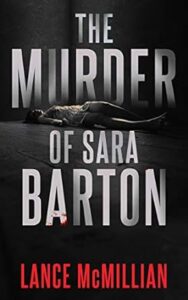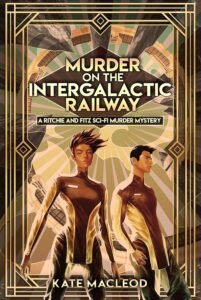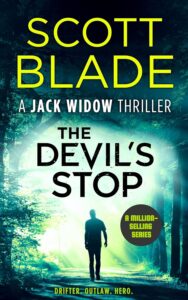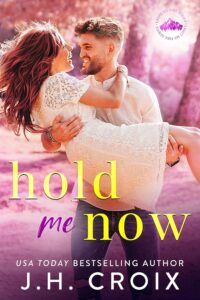 I really meant to cut back on freebies BUT  they are free so I guess that won't be happening.

I'm not including things like reviews posted or upcoming as they are always in the right sidebar. And, my challenge status is also there.
Anne
Latest posts by Anne - Books of My Heart
(see all)