Review copy was received from Publisher. This does not affect my opinion of the book or the content of my review.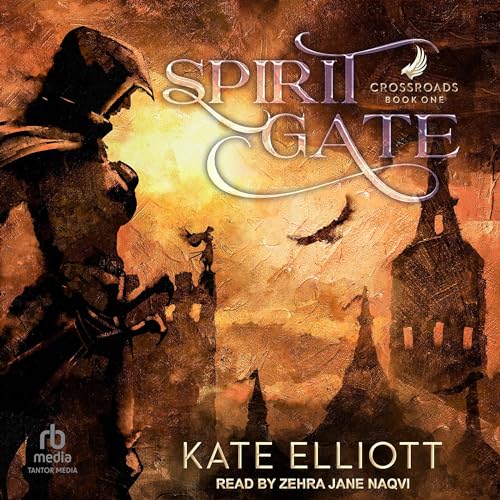 Spirit Gate
by
Kate Elliott
Narrator:
Zehra Jane Naqvi
Series:
Crossroads #1
Published by
Tantor Audio
on September 26, 2023
Genres:
Science Fiction Fantasy
Length:
26 hours, 50 minutes
Format:
Audiobook
Source:
Publisher
Goodreads
Amazon
, 
Audible
, 
Libro.fm
, 
Barnes & Noble
, 
Apple





For hundreds of years the Guardians have ruled the world of the Hundred, but these powerful gods no longer exert their will on the world. Only the reeves, who patrol on enormous eagles, still represent the Guardians' power. And the reeves are losing their authority; for there is a dark shadow across the land that not even the reeves can stop.

A group of fanatics has risen to devour villages, towns, and cities in their drive to annihilate all who oppose them. No one knows who leads them; they seem inhumanly cruel and powerful. Mai and Anji, riding with a company of dedicated warriors and a single reeve who may hold a key to stopping the deadly advance of the devouring horde, must try, or the world will be lost to the carnage. But a young woman sworn to the Goddess may prove more important than them all . . . if they are not too late.

A haunting tale of people swept up by the chaos of war, this is superlative fantasy adventure, rich in texture, filled with color and excitement, masterfully crafted by a brilliantly gifted storyteller.
Spirit Gate is the first book in the Crossroads trilogy, an old school epic fantasy.  The world has a very Middle Eastern type setting with sands, people with brown skin who eat yogurt etc.  There are many different religions with gods, some seem the same some are different.  There used to be guardians that distributed justice to the land although no one has seen one in 70 years.  The world is quite large and in our journeys with the characters we get to see much of it.  But being old school there seems to be a lot of rape and mentions of rape.  This a slave society and slaves are to be used how slaves have always been used.
The story start out so cool, I was really into the first few chapters.  The Reaves are an order of public servants.  Giant Eagles choose a person to be bonded to and they travel the lands arbitrating disputes and helping with the law.  The Reaves used to work with the Guardians who then distributed justice, but no one has seen a Guardian in generations, so long that we are to wonder if those are just stories or if they are real.
Joss, a Reave, attempts to go to one of the Guardian's sacred places to see if they can be found.  He and his Reave lover, Marit, travel to one such place and make a few discoveries but none that will help them in their current predicament.  When they split, Marit discovers the taint has come to the land and she may not get out of her situation alive.  Then we skip 19 years later…that always throws me for a loop.
The book really slows down then and we follow two separate sets of characters.  Joss, a broken man, 19 years later who lost the love of his life and never forgave himself.  He is still a Reave but they've demoted him time and time again as he breaks the rules still looking for a purpose.  The Reaves are stretched thin and something isn't quite right.  Joss and a small team are headed on the road to see if they can figure out why they haven't heard from some of the other locations and try to find support for the upcoming troubles just on the horizon.
The other set of characters was jarring to jump to.  Captain Anji and his new bride, Mai, travel from her home village to his new posting.  But all is not what it seems and soon they are forced to go into The Hundred lands with his army looking for a new life.  Along the way, they meet and team up with Joss to see if they can find a way to stop an army that is looking to destroy everything in their path.
'If you are afraid, don't do it. But if you do it, don't be afraid.'
Pacing is going to be a big problem for some readers.  The start is strong but then after the 19 year jump the pacing slows as there are new character introductions and an entire new group of people are introduced.  Sometimes it was confusing because a chapter before would move in time but then we would move to a different character and it would go back to go over the same period of time for them.  When I read a book I follow that a lot better than when I listen so there were a few times I had to go back a little to make sure I knew where we were in the story.
Kate Elliot is a really good story teller and the start of the book is great and the last 100 pages or so really worked too.  There is just a lot of stuff in the middle that took awhile and might have meandered just a bit. If you have been reading fantasy for years like myself, there will be something in this story for you.  However if you've never read any older fantasy books this will have some thing that may bother readers with sensitivity to slavery, rape and sacrifice.  This could have done with a little slimming in the middle.
Fear is its own challenge, the first battle that must be won. And after that, the war on despair.
 Narration:
Zehra Jane Naqvi was a good fit for this story.  I have listened to her before for some of the works by Debbie Cassidy  Her voice lent well to the Middle-Eastern or South Asian feel of the characters and the story.  The performance was really good, her voice was distinguishable between characters and lent well to the overall performance.  I was able to listen to my usual 1.5x speed.
Listen to a clip: HERE
Rating Breakdown
Plot
Writing
Characters
Dialogue
Narration (Audio)
Overall:
Related Posts