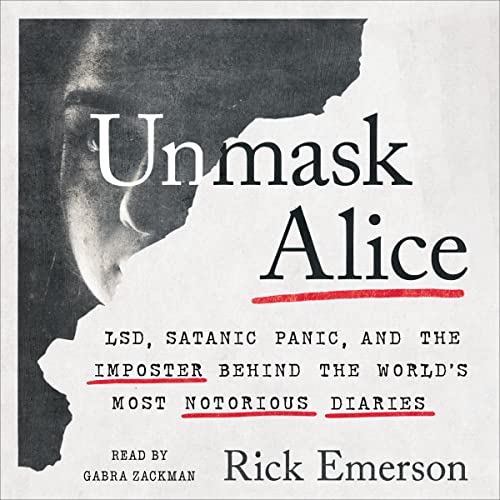 Unmask Alice
by
Rick Emerson
Narrator:
Gabra Zackman
Published by
Indie
on April 12, 2022
Genres:
Non Fiction
Length:
9 hours and 50 minutes
Format:
Audiobook
Source:
Purchased
Goodreads
Amazon
, 
Audible
, 
Audiobook
, 
Barnes & Noble
, 
Apple




Two teens. Two diaries. Two social panics. One incredible fraud.

In 1971, Go Ask Alice reinvented the young adult genre with a blistering portrayal of sex, psychosis, and teenage self-destruction. The supposed diary of a middle-class addict, Go Ask Alice terrified adults and cemented LSD's fearsome reputation, fueling support for the War on Drugs. Five million copies later, Go Ask Alice remains a divisive bestseller, outraging censors and earning new fans, all of them drawn by the book's mythic premise: A Real Diary, by Anonymous.

But Alice was only the beginning.

In 1979, another diary rattled the culture, setting the stage for a national meltdown. The posthumous memoir of an alleged teenage Satanist, Jay's Journal merged with a frightening new crisis—adolescent suicide—to create a literal witch hunt, shattering countless lives and poisoning whole communities.

In reality, Go Ask Alice and Jay's Journal came from the same dark place: Beatrice Sparks, a serial con artist who betrayed a grieving family, stole a dead boy's memory, and lied her way to the National Book Awards.

Unmask Alice: LSD, Satanic Panic, and the Imposter Behind the World's Most Notorious Diaries is a true story of contagious deception. It stretches from Hollywood to Quantico, and passes through a tiny patch of Utah nicknamed "the fraud capital of America." It's the story of a doomed romance and a vengeful celebrity. Of a lazy press and a public mob. Of two suicidal teenagers, and their exploitation by a literary vampire.

Unmask Alice . . . where truth is stranger than nonfiction.


Trigger Warnings: suicide, drug use, satanism, AIDS
I remember reading Go Ask Alice by Anonymous, the "real" diary of a teenage girl in the seventies who got into drugs, when I was a kid. I can't remember how old I was, but I remember reading it. I also read Jay's Journal, a boy's journal where he gets involved with satanism in the late seventies. There was also It Happened to Nancy, which is yes, another diary, this time with AIDS in the 90s. I never read that one. It wasn't until I listened to Unmask Alice that I found out there were more of these teenage diaries published. All of these books had rave reviews from critics and parents and teens were both told that they really should read these stories. And it went on like this for a very long time and the books are still listed as non-fiction in many areas.
Anyway, Unmask Alice starts off with an author's note explaining how he researched this book. He also tells us to let him tell the story and he will get into more detail about sources at the end of the book, which he did. Early in the book, he tells us the history of LSD, which was very fascinating. I knew some of it, but not as much as he gave me. Then he also tells the story of Beatrice Sparks, the "psychologist" who had the diaries and did the "editing" of them. I put psychologist and editing in quotes because, well, it seems that Sparks made it all up, including her college education. The dairies were a story she wrote, the best work of her career, and she was not even able to take credit for them.
I also liked how we get to learn about Alden Barrett, who was the child that Jay's Journal was based on. Unlike Alice, he was a real boy. His mother gave his journal to Beatrice after he had killed himself. She felt that if his story would help one child, it would be worth sharing his heartbreaking story. And the real story is very heartbreaking. As heartbreaking as it was, it was not sensational by itself. So Sparks decided to embellish, but not enough that people in the town couldn't figure out that Alden was Jay.
Sparks was able to do pretty well for herself, selling books by the millions. Alice made the bestseller list and libraries couldn't keep it in stock. There was even a made for TV movie with both Andy Griffith and William Shatner as characters. But her story is a bit tragic itself. That doesn't excuse all the lying and misrepresenting herself that she did. And the lies were neverending. I won't go into them all, but I don't know if she ever did anything without lying about it.
Narration:
I've listened to Gabra Zackman before. She is an amazing narrator. I've listened to her perform both non-fiction like this such as I'll Be Gone in the Dark, and fiction such as the Unbound and Menagerie series by Rachel Vincent. I loved her work in all of them. When I saw Unmask Alice as an Audible Daily Deal and saw her name as the narrator, it caught my eye. Then realizing what the story is about, I decided I wanted to learn more. I'm really glad I did. I love when I find fun stories that I would never have picked up, just because the narrator's name caught my eye. This has happened to me a few times. I hope it never stops. If you've never listened to Zackman, I highly recommend her work.





Listen to a clip: HERE
Related Posts