Review copy was received from Publisher. This does not affect my opinion of the book or the content of my review.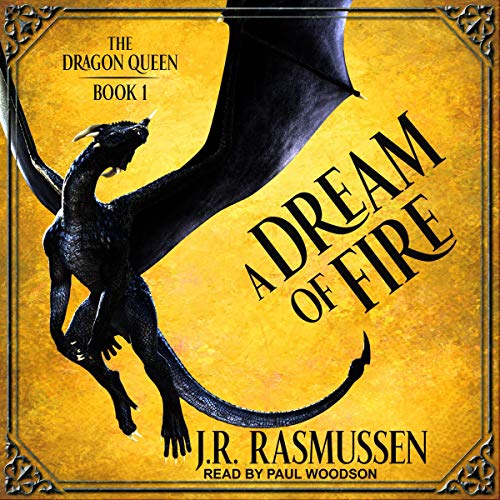 A Dream of Fire
by
JR Rasmussen
Narrator:
Paul Woodson
Series:
The Dragon Queen #1
Published by
Tantor Audio
on October 29, 2019
Genres:
Fantasy
Length:
10 hours, 38 minutes
Format:
Audiobook
Source:
Publisher
Goodreads
Amazon
, 
Audible
, 
Audiobook




Jason MacBain is the perfect agent. Tall, dark, and deadly, he is a man who lives by simple rules-kill the bad guys and protect the world. Closed off from his emotions, Jason has never believed in love and doesn't need anyone. But all that changes the night he meets Bella Moretti...

Isabella Moretti is a famous chef struggling to reclaim her life after she survives a vicious attack. Moving back to Chicago to recover and be closer to her family, Bella meets Jason and is frightened by the passion he stirs inside her. But now that Jason has found Bella, he is determined to claim her as his. And when her stalker reappears, Jason is under pressure to gain her trust, find a way to keep her safe, and do whatever it takes to end the threat to her for good.

Bella is forced to trust Jason with her safety, but does she dare trust him with her heart?
A Dream of Fire is the first book in a new Dragon Queen series.  It is unusual because instead of being about someone with magic or power in a world with dragons, it is about the guy with no magic that teaches at a school for magic.  
Griffin lost his magical parents when he was young to the Dragon wars.  He was taken to the school to be trained as a magician but it became apparent in his teens that he didn't have any skill with magic.  Normally he would have been sent away but the King and Queen let him stay at the Magistery and later become a teacher of other magical children.  
Griffin has never been thought of as much other than the magicless teacher until a Black Dragon decides Griffin is the best person to warn of a dangerous plot.  The only problem is no one is taking Griffin seriously, few believe he even spoke to a Dragon let alone that a Dragon would help the humans after the bloody war practically knocked them out of existence.
This is a tale with hidden mysteries in a cavern, dragon politics, human politics and a world that could open up into exploration of other magical type creatures.  With something driving the kids in the school to want to burn themselves, a secret book, a magical harp and an elixir that would make it possible to kill any color of dragon with fire – there are many mysteries just waiting to be unfolded.
A Dream of Fire reads like a middle grade novel. I liked the idea of taking someone non-magical and making them the focal point of the story.  Showing how there are different ways to contribute to situation and sometimes it helps if you can see it from a different perspective. Griffin is a good friend and a likable character overall with a few adversaries at the school.   
My only issue with this was the pacing was a bit slow and there is a lot of dialogue between Griffin and others.  I could have had a bit more action happening or show me events instead of the tell me about it dialogues. I did enjoy the end and how everything tied together overall leading into the next book in this series.
Narration:
Paul Woodson is a new to me narrator.  He did a good job with the performance and I could tell the differentiation between characters well.  Griffin's voice felt like a perfect fit for him. I listened to this at my normal 1.5x speed
Listen to a clip:  HERE
Rating Breakdown
Plot
Writing
Characters
Narration (Audio)
Overall:
Related Posts