Review copy was received from Publisher. This does not affect my opinion of the book or the content of my review.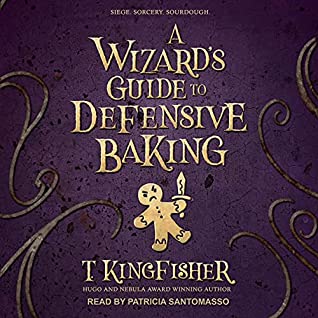 A Wizard's Guide to Defensive Baking
by
T Kingfisher
Narrator:
Patricia Santamasso
Published by
Tantor Audio
on October 12, 2021
Genres:
Fantasy
,
Young Adult
Length:
8 hours, 30 minutes
Format:
Audiobook
Source:
Publisher
Goodreads
Amazon
, 
Audible
, 
Libro.fm
, 
Barnes & Noble
, 
Apple






Fourteen-year-old Mona isn't like the wizards charged with defending the city. She can't control lightning or speak to water. Her familiar is a sourdough starter and her magic only works on bread. She has a comfortable life in her aunt's bakery making gingerbread men dance.

But Mona's life is turned upside down when she finds a dead body on the bakery floor. An assassin is stalking the streets of Mona's city, preying on magic folk, and it appears that Mona is his next target. And in an embattled city suddenly bereft of wizards, the assassin may be the least of Mona's worries…
T. Kingfisher is one of my new favorite author finds this year and so far it doesn't matter if it is Young Adult, Middle-Grade (like this book is) or a PG-13 Fantasy book all of them have been fantastic so far. A Wizard's Guide to Defensive Baking is no exception.  It is a standalone book about a 14-year old girl with a magical talent when it comes to bread who is caught up in a scheme to take over the city and will need to protect it and the Duchess.  This book was so much fun.
The first thing I really liked about this book was the humor.  There is a lot of it mixed in with the story and T. Kingfisher's humor is really my kind of humor.  She has a great way with a turn of phrase and situational comedy and makes it all very funny for me.  This is told in first person from Mona's perspective so we get to be in her head.  It is pretty fun in there to be honest.  She accidentally made a sourdough starter familiar when she was terrified and now it is sorta alive, burbles at her when she comes to feed it or grab some material off it to make bread and she has named it Bob.  Mona has spent most of her time working in her aunt's bakery and making fantastic baked goods.  She magics the cookies to dance and has a great routine going.  That all changes the day she opens the store to find a dead body in the middle of it.
Now she is a suspect of sorts, or has definitely ended up on someone's radar.  There is also a lunatic out on the prowl looking for people with any magic and killing them.  She is on  the run from him too.  Good thing she has found a ally in street kid with a lot of street smarts and a gingerbread man she might have magicked just a little more than she was supposed to, to help her out.
This is such a fun and entertaining story.  Following Mona on her journey as she finds out just how much talent and creativity she has for baking bread-like products and making them to fantastical things was so entertaining.  I was really sad at the end this was a standalone novel since I loved being in this world with a wizard who learned how baking could help to save a kingdom.  Also her Aunt was hilarious and I loved how she tried to care for Mona and was a force unto herself.  If you are looking for something a little fun and uplifting this should work just great for you even if it is Middle-Grade.
"When you're different, even just a little different, even in a way that people can't see, you like to know that people in power won't judge you for it."
"If you have ever prepared for a siege in two days, then you know what the next few days were like. If you haven't, then you probably don't. Well…a big formal wedding is about the same (and because we do cakes, I've been on the periphery of a few), except that if things go wrong in a siege you'll all die horribly, and in formal weddings, the stakes are much higher."
Narration:
Patricia Santomasso has an extensive catalog of audiobooks under her belt and it can be heard in her presentation of this story.  Even though she has roughly 140 titles narrated, she is a new to me narrator.  I had a great time listening to her rendition of this story.  She really captured how young our hero is and never made her sound like she was really in her 20s.  I was able to listen to this audiobook at my usual 1.5x speed.
Listen to a clip:  HERE
Rating Breakdown
Plot
Writing
Characters
Dialogue
Narration (Audio)
Overall:
Related Posts