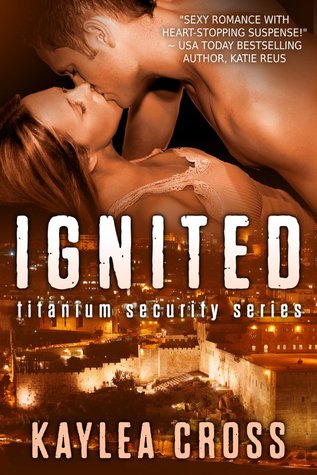 Ignited
Series:
Titanium Security #1
on June 15, 2013
Format:
eBook
Goodreads
Amazon
, 
Audiobook




When her father is murdered by a Taliban cell in the tribal regions of Pakistan, Khalia Patterson reluctantly steps into his shoes to carry on the legacy of Fair Start Foundation, a non-profit group dedicated to furthering the education of girls. There she meets Hunter Phillips, the ex-SEAL and head of her Titanium security team, and quickly learns that coming to Pakistan might prove to be a deadly decision.

Battling demons of his own, Hunter grudgingly leads Khalia's protective detail as a favor to his boss. From their first meeting it's clear she's going to be trouble, and that the cell that killed her father is hell bent on taking her out as well. Keeping her alive is one of the toughest assignments he's ever faced, yet through one harrowing situation after another she continually impresses him with her strength and inner courage. Even though he fights his feelings for her, it's a losing battle. And when the job is over, he doesn't know how he'll let her go.
The purpose of Thrifty Thursday is to pick a book which was free (at some point) and review it.

Free for Kindle on August 16, 2014
When I go looking through my Goodreads shelves for a Thrifty Thursday choice, I try to alternate genres but it will still be one of my favorite genres like urban fantasy, romantic suspense, paranormal romance or contemporary romance. Yes, I like romance in most of my stories and humor.
Romantic suspense is especially great because there is mystery and action as well as the romance. I think they can turn up the heat because of the suspense and high emotions, the sex tends to happen faster. Otherwise, it would seem too fast. Under pressure, our main couple both tend to show their true colors plus some need for comfort or to affirm life.
The Titanium Security series is in the current popular setting of a security firm made up of ex-military men. They do protection, and in this case, the one protected is a smart, lovely woman who picks up a charitable project, after the Taliban killed her father. Khalia is attending the opening of the school which was her father's dream.
The leader of the protection team is Hunter. He hasn't had a wealthy background but he is smart and hardworking. He is hurting from the loss of his best friend on a mission recently in the area.
I really liked Hunter and Khalia. For the most part, I found them believable and enjoyable. They connect in their grief and their personal integrity with caring about others. They do hit the sheets pretty quickly for the reasons common in romantic suspense. The sex was not too much. I like sex in a book but not without plot or dialogue and not too detailed in description. I enjoy intimate conversation just as much, and this was done well in this story.
I feared for their lives, was invested in their safety, probably more than their romance. My emotions were either too caught up in that, or the events didn't allow quite enough personal time for me.
Without giving things away, I thought the suspense plot would go a little further but maybe that is in the next book. There were definitely many fun, supporting characters and I can see them as having their own stories in future books in the series.
So this is good one! I never know what I am going to get when I read these freebies. I enjoyed IGNITED by Kaylea Cross and would read more in the series.
Latest posts by Anne - Books of My Heart
(see all)
Related Posts