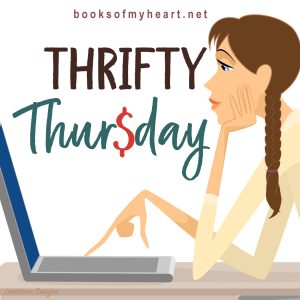 The purpose of Thrifty Thursday is to read a book which was free (at some point).
Kindle freebie on November 19, 2012  (currently free  as of writing this post)
Overall rating 3.94 with 1,255 ratings and 184 reviews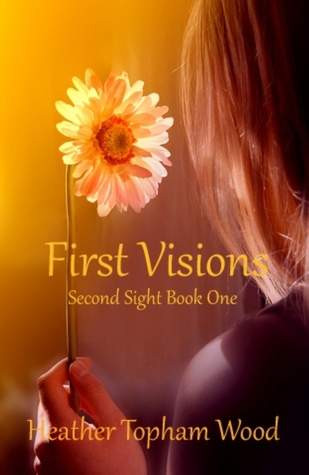 First Visions
by
Heather Topham Wood
Series:
Second Sight #1
Published by
Self-Published
on May 1, 2012
Genres:
Paranormal
,
Romantic Suspense
Pages:
230
Format:
eBook
Source:
Purchased
Goodreads
Amazon
, 
Barnes & Noble
, 
Apple


Two years ago, 21-year-old Kate Edwards became deathly ill and slipped into a coma. While unconscious, she crept into the mind of a missing boy and awoke with the knowledge of his location. Friends and family were skeptical and wary of her new ability to see into the minds of others. Their fears prompted Kate to keep her psychic powers a secret. Feeling alienated, she dropped out of college and spent most of her days holed up at her mother's home.

Now another child has been abducted. Police detective Jared Corbett seeks out Kate for her help in solving the case. Reluctantly, Kate agrees and they must work together to bring 8-year-old Cori Preston home to her family. Although attracted to one another, Jared has a girlfriend with ties to the abduction case and Kate is sarcastic and guarded since her coma. With visions she can't control and an uncontrollable attraction to the detective, she wonders if she can leave the past behind and finally stop hiding from the world. Otherwise, Cori may be lost forever.
ICYMI is a post from my early days of blogging at Yummy Men & KickAss Chicks.   You can see the original review here.
Yummy Man – Jared Corbett
Kick Ass Chick – Kate Edwards
---
First Visions by Heather Topham Wood has my favorite kind of thing which is psychic powers or magic. In this case, Kate has visions. She has helped the police to solve some child abductions. A new policeman, Jared , comes looking for help when his girlfriend's little sister is kidnapped. It has a Goodreads rating of 4.00.
Kate grows during this book. She starts out as a whiny, hiding from life, barely new adult person. I didn't like her too much. I understand her problems and why she is hiding but I wanted her to stop hiding and do something. Finally, she does and starts making progress.
Jared is an attractive and honorable guy. He has an interesting background and police work can be fascinating and exciting. His girlfriend is too much of a stereotype. She does not fit for a good guy really, unless he was in a man whore phase. And then she wouldn't be a girlfriend. So maybe that isn't such a cliché, but otherwise she is. I do like the way he understands Kate and how he treats her.
The writing in the book seems amateur. The characters act out in stereotype fashion. I think what makes it feel wrong is the story is told in so many details, as opposed to showing us with dialogue and events. So it feels too much like a bunch of facts with no emotional connection.
There is nothing really wrong with the plot but it is straightforward. But the police seem incompetent compared to the technology and techniques used on television these days. Since this is fiction, I would think they could get a few more breaks or information more quickly. I suppose the slow down allowed Kate and Jared to have time together to get to know each other, or adjust emotionally to reality but it didn't seem to use the time to advantage that way.
By end of the First Visions, things are wrapped up nicely and the future looks interesting. I do appreciate it is not a cliffhanger. It is more of a HFN (happy for now), which is perfect in urban fantasy type series. Will I read on? I am not sure. It has the possibility to improve and the bare bones are the type of story I prefer. But there are so many books at the moment I am dying to read, so it might be awhile before I get back to this series.
---
These are only Kindle freebies I get, or ones through author newsletters which anyone can sign up and get for free. I don't include things like Kindle Unlimited or Prime Free Reading (I do have it). Both Tantor and Audible have occasional free audios (to anyone) and I do include those.  Since I one-click on 1-2 freebies a day or probably at least 5 a week, I came up with this feature to make sure I start reading them.
So I have thought about doing a Thrifty Thursday Challenge someday. For now,  what I think would be fun is if you have read and reviewed  a freebie, link up to your review (Goodreads, blog, facebook or wherever) to the first post today here.
Latest posts by Anne - Books of My Heart
(see all)
Related Posts