Review copy was received from NetGalley. This does not affect my opinion of the book or the content of my review.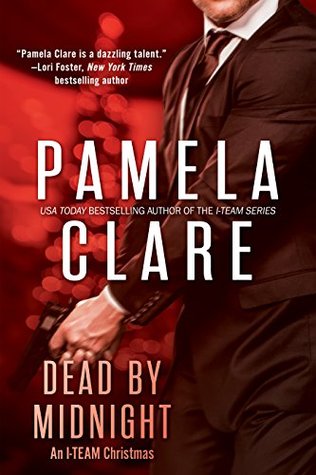 Dead by Midnight
by
Pamela Clare
Series:
I-Team #7.5
on November 15th 2015
Genres:
Romantic Suspense
Format:
eARC
Source:
NetGalley
Goodreads
Amazon
, 
Libro.fm





Marc and Sophie Hunter, Gabe and Kat Rossiter, Holly Andris and the rest of the I-Team gang find themselves in the same historic Denver hotel celebrating the approach of Christmas at different holiday parties. What starts out as a fun winter evening with friends soon becomes a brutal fight to survive when the hotel is taken over by a group of ruthless narco-terrorists who will stop at nothing to get what they want.

On the outside, Julian Darcangelo, Zach McBride, Nick Andris, and others join together with the FBI's Hostage Rescue Team in a desperate bid to free their friends, knowing that if they fail, the people they love will be…

Dead by Midnight.
I picked Dead by Midnight up when I saw it on Netgalley. It surprised me in many ways. My review for Seduction Game was just published a month ago. So I thought it's a well-loved series with many favorite characters and a holiday novella; it might be just the perfect interlude between review books or more serious reading.
Well, it was 2 out of 3. Dead by Midnight is a whole book, not really a novella.  Otherwise, it's perfect.  I savored my treasured characters and the holiday party.  It was wonderful to see them further along in their lives and catch up on their jobs and families.
There was an added kick with a team coming in from Kaylea Cross's series – Hostage Rescue Team. (The first book in that series is Marked and it is currently free on Kindle. I can't wait to read it. Now.  I like her other series Titanium Security.)
I highly recommend the series and this holiday story, it's sexy and exciting and kick-ass with lots of action and old friends.
Giggle worthy quote:   
"What's this we heard about guys on the inside?" Evers asked.

"My SWAT captain, Marc Hunter, was at a Christmas party with his wife in the hotel when the shooting started, " Irving said. "He got away and took out four men on the roof who were setting up a Browning M2. They also had a Russian RPG-7."

Low whistles.

"Damn!" someone said.

"Hunter's still inside, together with two men from Cobra."

"How did Cobra come into this?" DeLuca asked.

Dixon got to his feet.

Jesus, could he give it a rest?

"They took an MH-6 to the rooftop in defiance of my orders, sir. I told them to stand down but –"

Julian cut him off. "The wife of one of their operatives is a hostage and was reportedly wounded in the initial firefight. She's an operative herself. Her special skill involves gathering intel through close personal contact.  We don't know how badly injured she is, but she could be a resource for us."

Tuck snorted. "You know what this tells me?"

"What, man?" Evers asked.

"Moreno took the wrong damn bunch hostage."
Latest posts by Anne - Books of My Heart
(see all)
Related Posts