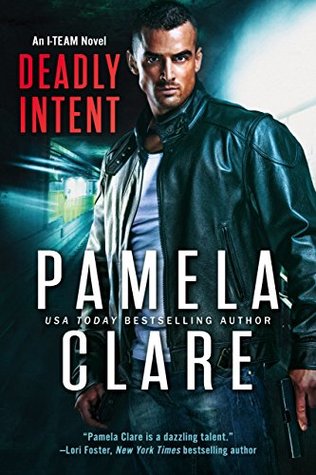 Deadly Intentt
by
Pamela Clare
Series:
I-Team #8
Published by
Self-Published
on February 21, 2018
Genres:
Romantic Suspense
Pages:
318
Format:
eBook
Source:
Library
Goodreads
Amazon
, 
Audible
, 
Audiobook
, 
Barnes & Noble
, 
Apple





Secrets buried in the sand…

Former US Army Captain Mia Starr has built a new life for herself in Denver, far away from camel spiders and sand—and the terrible secrets of her first deployment to Iraq. She isn't looking for a relationship, especially not with an intrusive photojournalist. Joaquin Ramirez might be sexy, but in her experience, photojournalists only want to make a buck off other people's suffering. Still, the universe must have a sick sense of humor because it keeps throwing her together with Joaquin, making the desire she feels for him harder and harder to resist.

An undeniable attraction…

As a Pulitzer Prize-winning news photographer, Joaquin has everything a single, straight guy could want—except the right woman. When he meets Mia while shooting a crime scene, he immediately sees beyond her cold exterior to the vulnerable woman beneath. Though the police consider her a suspect, he's sure she's innocent. Someone is killing soldiers—and trying to pin the blame on her. Unable to resist the pull between them, Joaquin stands by her, only to find himself snared in the killer's net as well.

A twisted soul hungry for revenge…

Mia can't help it when the heat between her and Joaquin melts away her preconceptions. As their passion explodes, danger draws ever closer. When it becomes clear that Mia is the killer's true target, she must trust Joaquin with a secret that could ruin her … or risk losing the love of a lifetime.
I love the I-team series SO MUCH.  I thought it was ended in 2015, when there was a holiday novella Dead by Midnight which was amazing.  In addition to the romance, there is always a suspenseful mystery sort of plot with plenty of action.  The author always brings a bit of humor to the story, as well as compassion for others.
So I missed out on Deadly Intent when it was released in 2018 so I picked it up at the library.  It includes another member of the I-team and a new ex-military lady caught up in a mess.  The suspense was chilling and poor Mia didn't have emotional support through family or friends until Joaquin stepped into her world. Joaquin had some of his own issues with work but luckily his extended family and friends came to the rescue.  His level of caring and concern for others is heartwarming. Mia was strong and smart, enduring more harassment than she deserved.
There were bits of all our favorite I-team players from the past.  So while you don't have to read the previous book, I would because they are wonderful. There's not a bad one in the series.   The wide circle of family and friends make a good book, great.  There is another book in the series after this, but it is a crossover with her other series which I am just starting.
"The eighty-year-old lady across the street reported the gunshots to police and saw a man in a black hoodie run out of the house. She tried to record him with her phone but had technical difficulties and ended up making a very fine video of her own face."

"Nice."
Latest posts by Anne - Books of My Heart
(see all)
Reading this book contributed to these challenges:
2019 Library-Love
BTB 2019
COYER Hunt
Related Posts