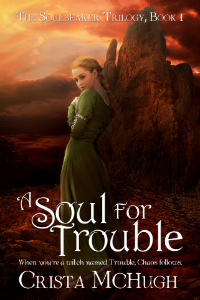 A Soul for Trouble
by
Crista McHugh
Series:
Soulbearer #1
on April 2, 2012
Genres:
Fantasy
Pages:
343
Format:
eBook
Source:
Purchased
Goodreads
Amazon
, 
Audible
, 
Audiobook



When you're a witch named Trouble, chaos follows.

Arden Lesstymine (known to everyone as Trouble) likes attention as much as the next girl, but this is getting ridiculous. When an insane stranger is murdered at the inn where she works, Trouble becomes the next Soulbearer for the disembodied god of chaos, Loku. Yes, it comes with the ability to channel the god's limitless power, but at the cost of her sanity -- literally.

Now she has a sexy but cynical knight claiming to be her protector, a prince trying to seduce her to his cause (and his bed), and a snarky chaos god who offers a play-by-play commentary on it all, whether she wants to hear it or not. To make matters worse, a necromancer wants to capture the soul of Loku for his own dark purposes, and the only way he can get it is by killing her first.
the purpose of thrifty thursday is to pick a book which was free (at some point).
Goodreads rating:   3.79 with 1, 093 ratings and 110 reviews
Currently it is FREE on Amazon, Nook, and Kobo.
A Soul for Trouble seemed like a good pick.  It got 4.5 stars by RT Book Reviews, and was one of the top 10 in Self-Published Fantasy Blog-Off which had over 270 entries. You can read about SPFBO  and the 10 finalists here.  I was trying to pick a fantasy novel for this month but it has strong romantic elements.  I didn't like either aspect very much.
The fantasy story was fairly simplistic and kind of ridiculous. The soldiers and knights in the story were too emotional for my taste. Instead of following orders, they did what they wanted based on whether they liked someone.
The romance featured a love triangle with two men and Arden. Arden is a virgin nicknamed Trouble, due to her witch magic. Arghh. I don't like love triangles; I don't like romances with virgins. (OK, I do like love triangles where it is obvious the guy I ship is going to get the HEA.)  I don't really prefer YA. There is no sex.
The romantic scenes are a distraction from the plot rather than working with it. Normally I love suspense, mystery, fantasy or any genre with romance in it. I did not enjoy it here. Based on Arden's situation in life, it is hard to fathom she could be a virgin.
In the beginning, when she works as a barmaid, she is not considered attractive. When she starts on her travels, all of a sudden, men find her so. The treatment of women is poor, in a very old-fashioned way. Women are sold and have no property, etc.  Yet Arden is allowed to be snarky and speak her mind. These are disconnects for me.
The Soulbearer series was originally to be a trilogy, however, it looks like there are 4 books. While not to my taste, it was easy and quick to read. You might enjoy it more, and it is free.
Rating Breakdown
Narration (Audio)
Overall:
Latest posts by Anne - Books of My Heart
(see all)
Related Posts