Review copy was received from NetGalley. This does not affect my opinion of the book or the content of my review.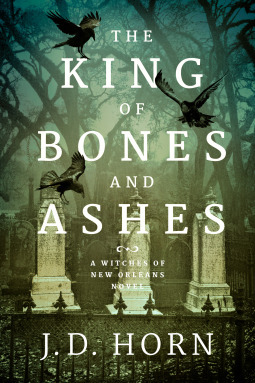 The King of Bones and Ashes
by
JD Horn
Series:
Witches of New Orleans #1
Published by
Amazon
on January 23, 2018
Genres:
Urban Fantasy
Pages:
320
Format:
eARC
Source:
NetGalley
Goodreads
Amazon
, 
Audible
, 
Libro.fm
, 
Barnes & Noble




From the bestselling author of the Witching Savannah series comes the first book in a fascinating trilogy following the quest of a young witch to uncover her family's terrifying secret history…

Magic is seeping out of the world, leaving the witches who've relied on it for countless centuries increasingly hopeless. While some see an inevitable end of their era, others are courting madness—willing to sacrifice former allies, friends, and family to retain the power they covet. While the other witches watch their reality unravel, young Alice Marin is using magic's waning days to delve into the mystery of numerous disappearances in the occult circles of New Orleans. Alice disappeared once, too—caged in an asylum by blood relatives. Recently freed, she fears her family may be more involved with the growing crisis than she ever dared imagine.

Yet the more she seeks the truth about her family's troubled history, the more she realizes her already-fragile psyche may be at risk. Discovering the cause of the vanishings, though, could be the only way to escape her mother's reach while determining the future of all witches.
This book is what I like to call a slow stroll.  If you are patient, not in any hurry to get where you are going and just want to take in the scenery, then you will probably have the temperament needed to get to your destination.
I'm a pretty patient reader and so I'm fine with wandering around blind in a story for a little while as an author skips around to different characters points of view to build the ambiance and stage the story to come. I actually expected that a little bit for this story because it is set in New Orleans and it seemed like it wanted to encompass the laissez faire attitude of the city.  Still, this flow isn't going to work for some readers.
The King of Bones and Ashes has the feel of a gothic suspense.  The thing it did best was give us an introduction into all the witching families of New Orleans that are going to be in play and some history on their family dynamics.  Some witches are feeling the decline of magic more acutely than others and with power available for magic waning, some witches are willing to go to extremes to hold on to what they can.
This had some fantastic start up character building in it with a lot of room to grow.  Each character given a PoV in the story shows us a very interesting surface and hints at some depths behind it.  I think character development in the next books will show just how three dimensional all the characters of the story are.  Alice, (the young witch locked in an asylum for years) in particular, I think we have only scratched the surface of who she really is down to her core.  Evangeline is the other.  She is a natural witch who loved one man and then after he died fell in love with his father.  It was different but I still found myself wanting them to figure out a way to work through their past.
There isn't a lot of action in the story until the end.  So if you were thinking going into this that it is more of a horror novel, I think you will be disappointed.  There is definitely a boogey man and some gore but it isn't until the very end and I thought it would be a little scarier throughout. Mostly this is a story about a witch family and a secret they have kept for generations.
The concepts and ideas for the story are well planned but I struggled to follow a few times due to number of characters, PoV change ups and general pacing of the story.  I loved the mix of both magic and voodoo and the different families that were part of each.  I just wanted the flow of the story to feel a little smother because it got a bit jumpy at times.
I will continue the series as this is a solid foundation. I read J.D. Horn's Line series and enjoyed most of it.  But I'm hoping that the next book picks up the pace a little to a solid stride.  
Related Posts