Review copy was received from Publisher. This does not affect my opinion of the book or the content of my review.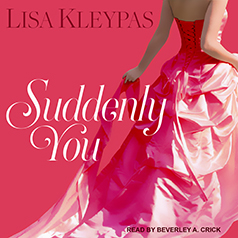 Suddenly You
by
Lisa Kleypas
Narrator:
Beverly Crick
Published by
Tantor Audio
on June 30, 2018
Genres:
Historical Romance
Length:
9 hours, 30 minutes
Format:
Audiobook
Source:
Publisher
Goodreads
Amazon
, 
Audible
, 
Libro.fm
, 
Barnes & Noble




She was unmarried, untouched and almost thirty, but novelist Amanda Briars wasn't about to greet her next birthday without making love to a man. When he appeared at her door, she believed he was her gift to herself, hired for one night of passion. Unforgettably handsome, irresistibly virile, he tempted her in ways she never thought possible, but something stopped him from completely fulfilling her dream.

Jack Devlin's determination to possess Amanda became greater when she discovered his true identity. But gently bred Amanda craved respectability more than she admitted, while Jack, the cast-off son of a nobleman and London's most notorious businessman, refused to live by society's rules. Yet when fate conspired for them to marry, their worlds collided with a passionate force neither had expected. . . but both soon craved.
What do you get yourself for your birthday when you are going to be a thirty-year old virgin?  Well,  a night with a man, of course. No sense sitting on the shelf, never touched, when there is a perfectly good Madam who can provide just the man to see to your curiosities.  Except what if said Madam decides instead to send someone who isn't a lover for hire but a man she thinks you'd be perfect for?
Suddenly You had a great premise and I really loved the meeting of Amanda and Jack.  It is clear right off to the reader  he isn't a man of the night sent to take her virginity, but Amanda is pretty adorable with him and he is completely intrigued by her.  Jack was just there to talk about an idea for her to write a book for him; he was completely surprised to be in a situation where he gets a much more intimate glimpse at the quirky novelist.
Jack was easy to like, with his blend of charm, with just a small tinge of brokenness.  He is a self-made man and has some very progressive ideas on women's rights. He pushes Amanda to reach higher for herself and try to do more than she thinks she can.  Why can't she do something just because she is a woman. Thank you, Jack, you are a breath of fresh air in the Historical Romance genre.
I very much enjoyed about 80% of this book.  The only issue I had was the wrap up of the story, taking far too long.  There seemed to be about 3-4 extra chapters that just didn't need to be there.  I think it might have ended a little better for me if we stopped at the proposal and then had an epilogue.  But this is being nitpicky.
It was just enough fluff to substance for me and a nice change up from Lords and Dukes to a man who works hard for a living.  Jack is dashing and Amanda is a little naïve and sometimes too pragmatic but overall likeable and someone you could relate to.  Just a fun time all around.
Narration:
Beverley A. Crick was able to capture the Irish accent of Jack and perform the story well.  It was easy to follow and I felt connected to the main characters. This was a solid audio performance.
"How do I look?" Amanda asked.

Jack shook his head ruefully as he glanced at her. No one could mistake the remaining flush on her cheeks, or the soft sparkle of her eyes, or her lusciously swollen mouth, for anything other than the results of physical passion.

"Like you've been ravished," he said flatly.


She astonished him by smiling. "Hurry, please. I want to go inside my house and consult a looking glass. I've always wanted to know what a ravished woman looks like."
Listen to a clip:

Related Posts