Review copy was received from NetGalley. This does not affect my opinion of the book or the content of my review.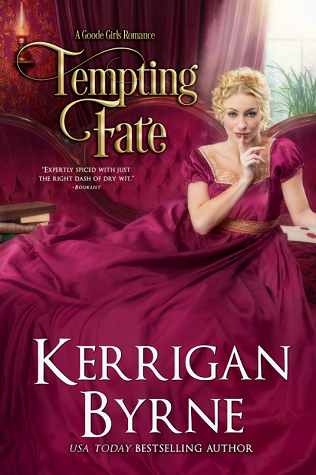 Tempting Fate
by
Kerrigan Byrne
Series:
Goode Girls #4
Published by
St. Martin's Press
on June 1, 2021
Genres:
Historical Romance
Pages:
230
Format:
eARC
Source:
NetGalley
Goodreads
Amazon
, 
Audible
, 
Barnes & Noble
, 
Apple





Disfigured in fighting pits as a lad, Gabriel Sauvageau has lived his entire life without the touch of a woman. As the brains and brawn behind London's most ferocious smuggling syndicate, he knows he doesn't deserve shy, bespectacled Felicity Goode. But that doesn't stop him from watching her. Guarding her.

Wondering if her gentle touch would soothe his savage soul.

Though she wiles away hours immersed in the pages of romance novels, shy and anxious Felicity Goode has vowed never to become a bride. How can she share a life—not to mention a bed—with a man, if she can't bring herself to share a simple conversation without trembling and stuttering? Once news of her obscene inheritance circulates through the ton, she is barraged, not only by a slew of suitors, but also several distressing threats against her life.

What she needs is a bodyguard.

The large, scarred ruffian she finds on her stoop is exactly what she has been looking for.

So, why does his presence make her tremble in ways that have nothing to do with fear?
Tempting Fate is the fourth book in the Goode Girls series.  It can absolutely be read as a standalone as I had not read any of the other books prior to this one.  Tempting Fate's hero reminded me slightly of the Phantom of the Opera.  A man who hid in the shadows for most of his life, scarred, broken and mostly alone.  Gabriel had his brother but that was it until he met Felicity.
Felicity is the softest of the Goode girls.  She is the one everyone else tries to protect.  She has a kind heart and would rather be tinkering in her garden than out in the world.  She cannot fathom why someone hates her and wants her dead.  In a misunderstanding, she ends up hiring Gareth/Gabriel to guard her from this threat.  He was only lurking to get a last look at her before leaving town to start a different life.  With his face, as fixed as a doctor could make it, he still looks almost the monster.  He can't figure out why this woman doesn't seem to see him as such.
Gareth protects Felicity as she tries to secure a husband and gets to learn so much more about the woman he has had a fascination with for years.  He also gets to protect her from a few ambushes, because she is not wrong someone wants her out of the picture.  I really liked this play on both Beauty and Beast and Phantom of the Opera.   Gareth has never really been seen by another person, so it was unexpected that this highly sheltered woman would have seen him so clearly.
The build up to the bad guy was a little off.  It needed maybe just a little more discovery so the reader had a chance to guess a few things before they popped up towards the end.  But I liked the pacing of the romance and how Gareth empowers Felicity to make her own choices and be brave in the world.  This was a story that made me want to go back and read some of the others in the series as they seem like they would have been a lot of fun too.
"Goodness, forgive me! I was… lost in a book and forgot that I'd left the door ajar."

"Lost?" he echoed in that dark, low timbre that did little to settle the tumult in her belly. Or lower. "It seemed to me you were actively trying to crawl inside."
Rating Breakdown
Plot
Writing
Characters
Dialogue
Overall:
Related Posts