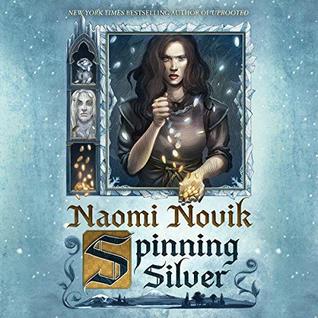 Spinning Silver
by
Naomi Novik
Narrator:
Lisa Flanagan
Published by
Random House Audio
,
Del Rey Books
on July 10, 2018
Genres:
Fantasy
Length:
17 hours, 56 minutes
Format:
Audiobook
Source:
Purchased
Goodreads
Amazon
, 
Audible
, 
Audiobook
, 
Barnes & Noble





Miryem is the daughter and granddaughter of moneylenders, but her father is not a very good one. Free to lend and reluctant to collect, he has left his family on the edge of poverty - until Miryem intercedes. Hardening her heart, she sets out to retrieve what is owed and soon gains a reputation for being able to turn silver into gold. But when an ill-advised boast brings her to the attention of the cold creatures who haunt the wood, nothing will be the same again. For words have power, and the fate of a kingdom will be forever altered by the challenge she is issued.

Channeling the heart of the classic fairy tale, Novik deftly interweaves six distinct narrative voices - each learning valuable lessons about sacrifice, power and love - into a rich, multilayered fantasy that listeners will want to return to again and again.
I have enjoyed all my listens to this author's work.  I'm more than halfway through the Temeraire series.  Uprooted is one of my all-time favorite audiobooks.  So I was very excited for Spinning Silver.  It did not disappoint.
Russian fairy tales set in a historic fantasy world are not pleasant places for women.  They have no rights, no choices. They are the property of men: their fathers, their husbands or their church.  They are told who to marry or sent to convents. If they marry, they become brood mares and servants unless their new husband is wealthy enough to have servants.
This type of setting generally makes me spitting mad. BUT, in this story, we have the tale of at least three main females, from all walks of life, who survive and overcome what life hands them. Wanda is the daughter of a drunk, whose mother has died. She doesn't have enough to eat, works hard and gets beaten when he is drunk.  Miryem is the daughter of a moneylender, who is good at lending all their money but not collecting. So she is also hungry but has a home with a loving family.  Irina, is the loved daughter of a Duke, whose mother has died.  She is isolated with the new stepmother being the focus, but she has wealth enough to live comfortably.
There are many points of view in this story. The three main females primarily, but also Wanda's little brother and Irina's old servant. There are plenty of men who have a limited view of women but they learn. These women are strong, smart and so capable. That's not to say it is easy. It is VERY hard. I love this kind of story with a strength of spirit where the characters learn and grow and fight to achieve their goals. While the men do so for power and wealth, the women do so to feed, nurture and protect those they love.
Narration:
Lisa Flanagan did a very fine performance with all the voices. Both her male and female voices were good. It was especially important to have some differentiation in the three main females as then one can tell who is in this section of the story. The pacing was comfortable at 1.25 speed. Best of all, this was such an enjoyable presentation.
Listen to a clip here:

Rating Breakdown
Plot
Writing
Characters
Narration (Audio)
Overall:
Latest posts by Anne - Books of My Heart
(see all)
Reading this book contributed to these challenges:
2018 Audiobook Challenge
2018 New Release Challenge
COYER BSBB
Related Posts