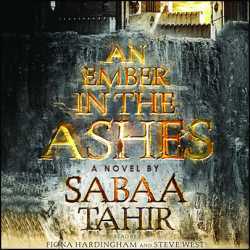 An Ember in the Ashes
by
Sabaa Tahir
Narrator:
Steve West
,
Fiona Hardingham
Series:
An Ember in the Ashes #1
Published by
Penguin Audio
on April 28, 2015
Genres:
Young Adult
,
Fantasy
,
Dystopia
Length:
15 hours, 22 minutes
Format:
Audiobook
Source:
Library
Goodreads
Amazon
, 
Audible
, 
Audiobook
, 
Barnes & Noble





Under the Martial Empire, defiance is met with death. Those who do not vow their blood and bodies to the Emperor risk the execution of their loved ones and the destruction of all they hold dear.

It is in this brutal world, inspired by ancient Rome, that Laia lives with her grandparents and older brother. The family ekes out an existence in the Empire's impoverished backstreets. They do not challenge the Empire. They've seen what happens to those who do.

But when Laia's brother is arrested for treason, Laia is forced to make a decision. In exchange for help from rebels who promise to rescue her brother, she will risk her life to spy for them from within the Empire's greatest military academy.

There, Laia meets Elias, the school's finest soldier—and secretly, its most unwilling. Elias wants only to be free of the tyranny he's being trained to enforce. He and Laia will soon realize that their destinies are intertwined—and that their choices will change the fate of the Empire itself.
I might be late to the party in my praise of Sabaa Tahir's debut novel An Ember in the Ashes, but seeing as the final and fourth book in the series is due out in January, this is the perfect time to get caught up!  I discovered An Ember in the Ashes when it popped up in my library app, after I'd placed a hold for another book.  I was hooked from the first chapter and knew I'd stumbled upon something extraordinary.  But let me start at the beginning:
Once upon a time, there lived the Scholars, who wielded science and logic against superstition to establish an enlightened and tolerant society.  However, all of their learning was no match against the unbreakable steel crafted by the Martials, who oppressed and enslaved the Scholars.  The Martials' dominion has stood for over five hundred years, viciously squashing any attempts at resistance.
Laia, a young Scholar with a secret family history, is thrust into a nightmarish adventure  when her brother is taken by the Martials for unknown crimes.  As an unwilling participant in the schemes of the Scholar Resistance movement, she leaps from one life-threatening challenge to another, in order to save her beloved brother.
But don't feel like the Martials, as the ruling class, have it easy.  This is a harsh, and for lack of a better word, martial, society. (Think babies-left-on-rocks-to-die level of harsh.)  Through brutal training and strict social hierarchies, very young Martial children learn that their first and only loyalty is to the Emperor.  In this culture, Elias, the heir to a powerful Martial family, does whatever he has to in order to survive while longing for escape.
Elias and Laia's lives couldn't be more different, but their motivations and struggles to fight for freedom draw them to each other as the story progresses.  They are surrounded by a cast of richly developed supporting characters; underdogs, loyalists, fighters,  innocents, and fantastic villains.  Each seems to encompass a particular characteristic of Laia or Elias, and who Laia or Elias would be if they'd made different choices.
The world building was complex and original.  It resembled the social structure and time period of Ancient Roman, with interesting elements of Middle-Eastern mythology.  Although there are references to the modern world (ruins, lost technology), it is unclear what resulted in a de-evolution of the society to Ancient days (a mystery that I hope is explained by the end of the series).
An Ember in the Ashes was a awesome discovery and I was thrilled to have taken the chance on a new (new to me, at least) author.   I loved this book and can't wait to see where Tahir takes the characters.  The action and suspense of this story keeps one engrossed until the last page and will have one scrambling for the next book.
Listen to a clip here:

Rating Breakdown
Plot
Writing
Characters
Dialogue
Narration (Audio)
Overall:
Related Posts