Review copy was received from Publisher. This does not affect my opinion of the book or the content of my review.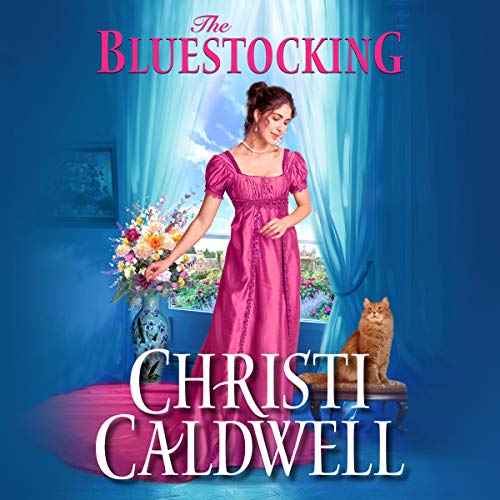 The Bluestocking
by
Christi Caldwell
Narrator:
Tim Campbell
Series:
Wicked Wallflowers #4
Published by
Tantor Audio
on May 7, 2019
Genres:
Historical Romance
Length:
10 hours, 30 minutes
Format:
Audiobook
Source:
Publisher
Goodreads
Amazon
, 
Audible
, 
Audiobook
, 
Barnes & Noble






Gertrude, the eldest Killoran sister, has spent a lifetime being underestimated—especially by her own family. She may seem as vulnerable as a kitten, but given the chance, she can be as fierce as a tiger. Her adopted brother, Stephen, has just been snatched back by his true father, and she'll be damned if she relinquishes the boy to the man reviled throughout London as the Mad Marquess.

Still haunted by a deadly tragedy that left him publicly despised, Lord Edwin holds only hatred for the Killorans—the people he believes kidnapped his son. And not one of them will ever see the boy again. But when Gertrude forces her way into the household and stubbornly insists that she remain as Stephen's governess, Edwin believes he may have found someone madder than himself.

With every moment he shares with the tenderhearted Gertrude, Edwin's anger softens into admiration…and more. Is it possible that the woman he loathed may be the only person who can heal his broken soul?
The best thing about Historical Romance novels is you can usually jump into any book in a series with absolutely no trouble.  That is completely true of The Bluestocking, the fourth book in the Wicked Wallflowers series.
What a fun sort of enemies to lover's tale.  Lord Edwin lost his wife and unborn child to a fire years ago; he assumed his little boy also perished in said fire.  But he's found his son years later, living with a crime family gone respectable. Stephen grew up in the streets; he is a rough and tumble boy, quick with a knife and slight of hand.  He is about to go home to the father he can't remember and learn how to become an aristocrat; he is not exactly happy about it. Good thing Edwin can be a patient man even if it tears him up inside to try to get to know the boy he thought dead.
Gertrude is his sister but has been like a mother to him his entire life and in a swell of determination and nerve has decided she will stay with Stephen until he is settled into his new life, even if she is despised by the father.  She doesn't blame him really since her father was the source of the fire that killed Edwin's wife and baby all those years ago.
I loved the struggles Edwin had coming to terms with his growing feelings for Gertrude and finding that the daughter was nothing like the father and maybe had more reason than even he did to hate the man that sired her.  I completely enjoyed Stephen and all his shenanigans adjusting to his new life back with his father. Gertrude is fantastic; she is a flawed woman and has been underestimated by her family most of her life. This is her chance to show what she can do and the bond between Stephen and Gertrude is kinda adorable.
I had a lot of fun with this book and really liked the ending of it and the growing romance between Gertrude and Edwin. I enjoyed it so much I put the rest of the series on my to be read list.
"I loved him long before you knew him," he said hoarsely. "I loved him when your family ripped him from my life, and I love him even now, angry and hating me as he does."
He kissed her as though he sought to memorize the feel and taste of her. As if she were the only woman in the world. And she, Gertrude Killoran, long invisible to all, felt what it was to be wanted and hungered for . . . and so very much alive because of it.
Narration:
I believe this is the first book I've listened to performed by Tim Campbell, which is a surprise as he has a lot of books under his belt and it shows. You could tell he is a seasoned narrator and the flow of his performance was pretty flawless. I'd definitely listen to something else narrated by him. I listened to this book at my normal 1.5x speed.
Listen to a clip:  

Rating Breakdown
Plot
Writing
Characters
Dialogue
Narration (Audio)
Overall:
Related Posts