Review copy was received from NetGalley. This does not affect my opinion of the book or the content of my review.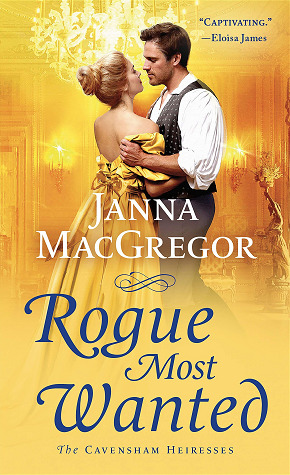 Rogue Most Wanted
by
Janna Macgregor
Published by
St. Martin's Press
on June 25, 2019
Genres:
Historical Romance
Pages:
384
Format:
eARC
Source:
NetGalley
Goodreads
Amazon
, 
Barnes & Noble




There's one creed all Cavensham men subscribe to: they fall in love completely, and decidedly. But what happens when the woman you fall in love with is already your wife? Rogue Most Wanted is the next book in the sparkling, romantic Cavensham Heiress series by Janna MacGregor.

SHE NEEDS TO MARRY HIM

Miss Theodora Worth needs to marry fast in order to keep the land within her family. It's been her heart and home for years, and she'll not lose it to anyone. There's just one problem—as a woman who was raised in isolation by her grandfather, she's completely incapable of pouring a cup of tea, never mind wooing a man. She'll need a little matchmaking help from her sprightly next-door neighbor in order to find a convenient husband…

SO THEY'LL FORM A FAKE ENGAGEMENT
Lord William Cavensham's heart was broken years ago, and since that day he vowed to never love again. But his spirited Great Aunt Stella has demanded he marry, or he'll not inherit a single penny from her. And she's got just the woman in mind—her beautiful and completely hapless next-door neighbor, Thea…

BUT PERHAPS IT'S NOT SO FAKE AFTER ALL

Thea and Will agree there's no sense in really, truly marrying each other. Will wholeheartedly believes he's incapable of love, and Thea refuses to live out the rest of her days married but lonely. They agree to fake an engagement until the week is out—and in the meantime, Will vows to help Thea find the man of her dreams. But the more he helps her, the more Will believes Thea might be the one to mend his broken heart. And despite meeting scores of suitors to help save her land, Will may be the rogue Thea wants the most after all…
Rogue Most Wanted isn't really a fitting title for this, but I guess Nice Guys I Can't Marry For No Reason isn't a catchy title. I liked quite a few things in this book, but it had one thing that didn't really work for me at all.
But, let's talk about the good stuff first. Both main characters are very likeable.
Thea ran the estate, she now has to fight for, over the last years as her Grandfather's mental health declined. She is smart, independent, and dreams of marrying for love. Since she spent the last years living with her ailing grandfather, she has none of the normal skills of the gentry, silly stuff like dancing, pouring tea, general etiquette. However, she does have the Scottish estate and a very sizable inheritance so it should be no trouble finding someone to marry when her title is challenged.
William had his heart broken at a young age and you can see how that has really shaped his life. He is no rogue though, he's barely had any experience with women. He is the younger son, not set to inherit but helps to run various family estates and integral to the family. He is also the favorite of his Great Aunt Stella, who lives right next door to Thea, and the match making biddy is determined to get those two together. She will even go so far as to disinherit him *wink, wink* if he doesn't marry Thea.
Great Aunt Stella is actually my favorite character of the series and if her meddling is involved in the other books of the series, I think it would be worth reading them just for that. She was absolutely hilarious on every page she made it on.
The issue I had was after the main characters get to know one another a little more they both still cling to the mantra of "but I can't marry him/her for no reason". There is nothing in their way really until about the 85% mark and I'm not sure that needed to be there, or it could have been introduced earlier. Shrugs, it is just a pet peeve of mine when characters keep repeating the same words over and over even when they make no sense. There was nothing in the way of them getting married other than Thea said within the first two minutes of meeting William that she wouldn't marry him.
Overall, this is a cute story and the first half of the book flows really well. The second half could use a little pacing or introduction of the conflict a bit earlier. I'd figured out where the title papers were hidden very early on and was just waiting for them to be found in the last minute.
Rating Breakdown
Plot
Writing
Characters
Dialogue
Overall:
Related Posts