Review copy was received from Publisher. This does not affect my opinion of the book or the content of my review.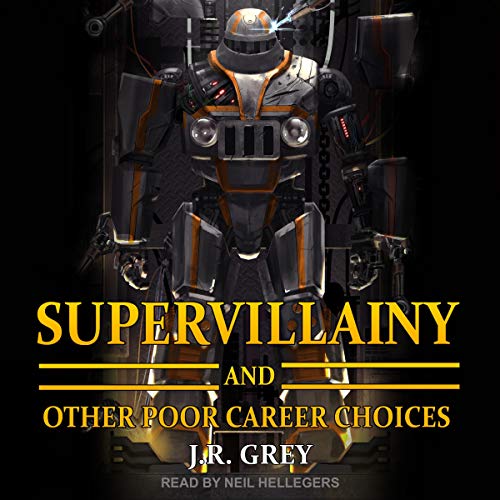 Supervillainy and Other Poor Career Choices
by
JR Grey
Narrator:
Neil Hellegers
Published by
Tantor Audio
on October 21, 2019
Length:
7 hours, 32 minutes
Format:
Audiobook
Source:
Publisher
Goodreads
Amazon
, 
Audible
, 
Audiobook




Engineer.
Survivor.
Supervillain.

When a down on his luck engineer ends up coming into possession of a rundown suit of power-armor, he sees an opportunity to make some quick cash by selling it off to the nearest supervillain.

Unfortunately for him, what should have been a quick and easy sale to pay off his debts quickly grows into an ongoing series of events that serve only to drag him deeper and deeper into the criminal underbelly of the city he calls home.

In no time at all, Erich finds himself fending off Neo-Nazi gang members, crazed capes, and the dangerous affections of his newest employer's criminally insane daughter.

All he wanted to do was make a quick buck.
Erich is hiding out in some hole in the wall town, just trying to stay low.  He has a past and the last thing he needs is someone digging it up. The best thing about this town is that there are no superheroes running around saving the day. Crime is rampant, which is why he pays one of the villainous gangs for protection, but he is about to make a deal that will land him unintentionally on #teambadguy.  Hindsight is 20/20 and Erich just put himself on the radar of one of the supervillain gangs in the city.
Supervillainy and Other Poor Career Choices reads a bit like a comic book.  Sure, Erich is on team bad guys but there is someone even worse that is killing his new employer's people left and right.  Erich just did what anyone with his skill set, past and motivations would do and built a super suit he pilots. Erich might be tech savvy but that is about it; he has no game with the ladies, makes terrible decisions and might even have crossed some lines he can't come back from.  Erich is still a little likable and you feel a little bad for him and the position he has gotten himself into, until you don't.
My one issue is this seems like it ends abruptly.  Here we are fighting the bad dude and have just figured out his end game goals and there is a scene that looks like we are headed into that backstory I mentioned and then poof it's done.  I was listening to the audio so I thought maybe I didn't download the entire book, but I had. This is written like there will be a sequel but it didn't feel like it finished telling the story we were in.  It read more like Part I of a bigger book.
Overall this is a fast-moving story.  It's pretty short and there are many action scenes, that were a tad brutal.  The humor that is normally thrown in to lessen the brutality was missing a little and when you mention the muck on the bottom of your super suit being a former person, well eww, just eww.  Still I was interested in a few of the side characters and exploring Erick's past, so I was disappointed when we got to the end.
Narration:
Neil Hellegers is a new to me narrator.  He made Erich more likable than I think he would have been in my own head with his performance and I thought that his voice was enjoyable for all the characters.  I listened at my usual 1.5x speed.
Listen to a clip:  HERE
Rating Breakdown
Plot
Writing
Characters
Narration (Audio)
Overall: